What could be better than a three-day holiday weekend? Whether you decide to staycation at home or take advantage of the time off by visiting a new place, most people would agree that getting an extra vacation day is a good thing.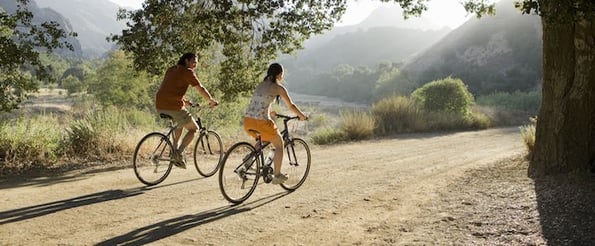 The trouble is, once you get back into the office to a deluge of emails and only four days left to get your job done, it can feel overwhelming.
Trust us, we've been there too. That's why we've put together our best tips for getting back on track after a three-day weekend -- without derailing your four-day workweek. (And if you don't have time to read the full blog post, we understand -- here's a quick video summary.)
How to Be Productive During a Four-Day Week
Before you sign off
1) Reorganize your schedule for a four-day week.
Before you head out for the long weekend, take a look at your calendar for the week ahead. Reschedule your appointments that fall on the day off. Then, reorganize the rest of your week so your schedule isn't overloaded with meetings the second you get back to the office.
I like to use Trello for my to-do list and my calendar so I can see my meetings and my action items all in one place. Its responsive interface makes it easy to move tasks and meetings around so I'm not swamped the day I get back.
2) Set expectations with your out-of-office message.
If you know you won't be able to respond to emails until the end of your first day back, tell people that in your out-of-office auto-reply. If you want people to flag urgent matters for you, ask them to write "Urgent" in the subject line. Whatever your style is for getting back to work when you've been away from your inbox, let people know so they can help you stay sane when you get back into the office.
Here's my one of my favorite out-of-office messages from HubSpot Principal Marketing Strategist, Sam Mallikarjunan:
3) Block off time for responding to emails in advance.
Book yourself off a window of time to dedicate solely to replying to emails. If you schedule this before you leave the office, you won't be scrambling on your first day back trying to balance everything you need to do.
Plus, this system helps you avoid multitasking, which is estimated to cost businesses billions of dollars in productivity loss each year. Check out some of the data on this from Fuze and Visual.ly:
Source: Fuze
4) Create a reasonable to-do list for your return.
While it's fresh in your mind, make a list of what you have to prioritize when you get back into the office. It's easier than trying to remember it three days later, and your future self will thank you for getting organized in advance.
Again, I like using Trello, but there are various tools and strategies you might use to keep your list organized and doable. I also use the on-paper bullet journaling method to keep track of tasks that are in progress. This method leaves more room for personal style and creativity, too.
5) Schedule emails, blog posts, and social media posts that need to go out on the holiday.
Don't forget to schedule marketing emails and social media content to go out while you're away from your desk. If you're a HubSpot Marketing customer, you can use Social Inbox and the email tool to schedule these items, or you can manually schedule them using the social apps themselves.
When you get back to work
5) Check in with your team.
Whether it's virtual or in-person, have a quick stand-up meeting with your team to review what everyone's focusing on to ensure that nothing slips through the cracks. The meeting also gives you all a chance to catch up on how you spent your time off and how to prioritize the week ahead.
Make sure you're holding a productive meeting by keeping the meeting short and making sure to recap with follow-up materials via email. CT Business Travel also suggests setting an agenda ahead of time so everyone in the group can prepare to talk, which is especially helpful for introverts who may not feel as comfortable speaking off-the-cuff in a group.
Here's an example of what the HubSpot content team's meeting agendas look like, with a helpful breakdown of how much time will be spent on each topic for maximum efficiency:
6) Prioritize your to-do list.
Take a look at your to-do list. It's probably a bit longer than on a typical Monday, right? Sort through your list and determine what needs to be prioritized and what can wait until the next day.
Behavioral scientist Dan Ariely says that the two hours after waking up in the morning are the most productive time of day, when you have the greatest capacity for higher-level decision making and cognition. Take a couple minutes when you first get into the office to review your to-do list and determine which most important tasks should be taken care of first thing in the morning, and which can wait until the afternoon.
I use different-colored Trello labels to designate which items are the highest priority, and which I can push until later in the week:
7) Triage your email inbox.
We also encourage organizing your inbox using multiple inboxes, which help you organize you sort messages in a way that makes them easier to wade through when you get back into the office. Use labels like "Needs Action" or "To-Do List" to easily visualize which emails are of highest priority.
When you log back into your email, sort and label your messages according to which need replies immediately, and which can wait until later in the week. You might need an entire day to read every single email you received, but by using this system, you can quickly sort through your inbox and skip ahead to the messages you have to return ASAP.
8) Don't burn out.
You might feel stressed at the prospect of only four days in the week to accomplish your entire to-do list. However, there is such a thing as working too hard, and burnout could end up sabotaging your productivity as the week goes on if you don't take enough breaks.
Remember tip #6? Prioritize your to-do list and determine what can be accomplished by one person over the course of a workday. You could try the Pomodoro Technique, which calls for 90 minutes of work, followed by 30 minutes of rest to regroup and recharge. This technique helps you align your most and least productive times with your working and resting periods, respectively, and there are timers you can download to keep track of your status.
My method for not burning out over the course of the workday is slightly different but still effective: I downloaded an app called Daily Water that reminds me to drink a glass of water once per hour. When the reminder goes off, I get up from my desk, drink water, and walk around. Taking regular breaks achieves greater productivity than working nonstop, and so do drinking water and exercise. Here's what my hydration break schedule looks like:
If you're feeling dehydrated and want to try this method, other apps include Waterlogged and Hydro Coach.
Have a Good Weekend
When possible, try to unplug when you have time off and make the most out of your time off by doing other fun activities outside of your role. With the help of these steps, we hope you have a great holiday weekend -- and a great next week, too.
What are your strategies for getting organized after a long weekend? Share with us in the comments below.