A few weeks ago, I experienced virtual reality for the first time. One of my colleagues brought her Oculus into the office and let our whole team try it out. I picked the VR mini golf experience, which I wasn't initially excited for -- I've never really liked mini golf. But when I slid on the Oculus, I was pleasantly surprised.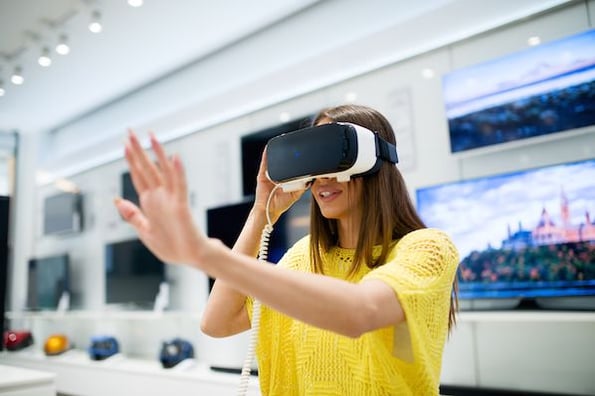 Entering the realm of VR mini golf was refreshing. Instead of playing on a grimy, green mat in a dingy amusement park, I was enjoying a round of putt-putt on a clean, sleek golf course floating in the clouds.
Even though the environment and obstacles on the VR golf course were obviously not realistic, I still felt like I was there. After my first putt, I tried walking toward the ball. I ended up slamming into a pillar in the office. When I dangled my foot over the platform, I freaked out. I thought I was going to fall for a split second.
After too many double bogeys in a row, I slid off the Oculus and returned to reality. I felt like I was just transported to a different world. I couldn't believe how well VR played to my senses and tricked my brain into thinking I was on a mini golf course in the sky, even though I knew I was in an office.
The experience made me want to try to it again. Heck, I even thought about buying an Oculus.
But before you drop $400 on a VR headset like I almost did, you should know you can have nearly as much fun playing VR mini golf as you can interacting with VR apps that you can download on your iPhone or Android.
Below, we'll list 11 of them, most of which are free and work with affordable headsets like Google Cardboard.
11 Virtual Reality Apps That You Won't Be Able to Put Down
VirtualSpeech
Jaunt VR
NYT VR
Orbulus
Discovery VR
Google Arts & Culture
Inside Abbey Road
InCell VR
Minos Starfighter
Romans from Mars 360
VR Street Jump
1. VirtualSpeech
Practicing a speech without an audience can be helpful, but the experience doesn't emulate the pressure of an evaluating crowd. You can nail a dry run ten times in a row on your own, but when you actually step on stage and see your audience, the nerves can debilitate your abilities.
Fortunately, VirtualSpeech can help you hone your public speaking skills -- the app places you on a virtual stage with a virtual crowd, where you can practice your speech or presentation in front of an audience that imitates the mannerisms and sounds of real people. Their movements and sounds are fully customizable, so you can ramp up the distractions and virtual judgement as much as possible. And at the end of your virtual speeches, the app will analyze and score your verbal and nonverbal communication.
You can also add your own slides into your virtual presentation, practice for job interviews, learn how to network, and sell in a wide range of sales situations.
So far, people mostly use virtual reality to entertain themselves. But VirtualSpeech stands out as one of the first VR apps that can actually train you to become a better professional.
Available on: IOS and Android for Free
2. Jaunt VR
Jaunt VR wants to make immersive storytelling the future of entertainment. The app offers hundreds of 360-degree films, shows, documentaries, tours and concerts, all in virtual reality.
When you put your headset on, you'll transport to a virtual room where you can choose from a massive collection of immersive experiences, segmented by 20 different channels. At the touch of a button, you can tour the awe-inspiring Redwood National Park, go through the San Francisco Giants pre-game routine and take the field with them during opening day, or sit back and enjoy Emmy winning documentaries.
Jaunt's content is already engaging on its own, but in virtual reality, you'll actually feel like you're experiencing the events they've documented.
Available on: IOS and Android for Free
3. NYT VR
For years, journalists have been surrogates for the general public by writing articles and creating videos about events that most of the world could never experience on their own. But in 2015, the New York Times decided to take their role as surrogates to the next level -- they launched the NYT VR app to make journalism immersive.
Since then, they've created over 300 VR news reports that tell some of the publication's most captivating stories -- virtual reality has a knack for evoking empathy and interest in audiences.
And by placing the public into a life they might never live but definitely need to experience for themselves, like the lives of three refugee children from Ukraine, Sudan, and Syria, the Times' VR stories can compel the world to help those who are truly in need.
Available on: IOS and Android for Free
4. Orbulus
Teleporting to a destination at the press of a button is probably a long way from becoming a reality, but, in virtual reality, it's, well, a reality. If you want to visit a location before you pay for an expensive vacation, or if you just want to see more of the world but don't have the funds, check out Orbulus. You can experience the sights and sounds of various cityscapes and landscapes -- ranging from Paris at night to the northern lights in Scotland.
Available on: IOS and Android for Free
5. Discovery VR
Have you ever wanted to swim with sharks? Or play with pandas? Well with the Discovery VR app, you still can't really do those things ... but you can get pretty close. When you put on your headset, the app immerses you in the habitat of different animals, landscapes, and cityscapes. This is the most fun you'll have learning about science since watching Bill Nye the Science Guy in middle school.
Available on: IOS and Android for Free
6. Google Arts & Culture
Google Arts & Culture partnered with more than 1,200 international museums, galleries, and institutions from 70 countries to create the most accessible and immersive art and history experience in the world. By offering guided virtual tours of the world's most famous museums and curated exhibits, you can learn about the artwork, artifacts, and stories that have molded the many unique cultures of our world.
Available on: IOS and Android for Free
7. Inside Abbey Road
Legendary artists -- like The Beatles, Queen, and Oasis, among many others -- have all recorded their best hits at Abbey Road, and the music created in the famous studio will continue to impact our culture for many years to come.
Google and Abbey Road decided to create Inside Abbey Road to guide the public through a virtual tour of the studio, allowing you to explore the origin place of some of the most popular songs in the world.
The tour starts with a nine-part series of the studio's history from the 1930s until now. After that, you can explore different recording rooms that famous musicians have used, and even enter a mixing studio to try your hand at producing music.
Available on: IOS and Android for Free
8. InCell VR
Most of us probably vowed to never touch a book about the human cell after suffering through high school biology class. But would you be willing to learn about it again if you could shrink down to microscopic size and explore an actual cell? Better yet, would you do it if you could race a virus in it?
InCell VR let's you do just that. When you play the game, you'll speed through a human cell with a robot assistant who helps you protect it from malicious viruses.
InCell VR is a traditional racing game and an educational lesson blended into one experience. You have to gain points and dodge obstacles to save the cell before the virus can destroy it, and you'll learn little tidbits about biology along the way.
Available on: IOS and Android for Free
9. Minos Starfighter
Minos Starfighter is like the modern, first-person version of the arcade game Galactica. By just tilting your head, you can maneuver a spaceship and blast your enemies in space battles, leveling up to face more challenging enemies as you destroy each wave. The game has never-ending play, so you can upgrade your ship and weapons to fend off your enemies as they become stronger.
Available on: IOS and Android for $0.99
10. Romans from Mars 360
Playing Romans from Mars 360 might be the perfect training session for combating an alien invasion. Endless waves of martians bent on world domination are attacking your castle, and since you're a roman soldier, you can only defend your castle with a crossbow. As you earn more points, you can upgrade your crossbow to shoot flaming arrows and summon earth's elements like fire, earth, ice, and lightning to squash your enemies.
Available on: IOS and Android for Free
11. VR Street Jump
Remember Frogger? Well, VR Street Jump is the modern, first-person version of the classic game that almost feels too realistic -- you'll feel like you're actually dodging traffic. When you're playing the game, just remember to look both ways. Or else a car might send you soaring across the road.
Available on: IOS and Android for Free