Listening to audiobooks about selling might be the most convenient yet effective thing you can do for your professional development. After all, it's an easy habit -- simply download an audiobook, put in your headphones, and listen while you commute, walk the dog, take out the trash, or fill out your latest expense report (late night delivery order, I see you.)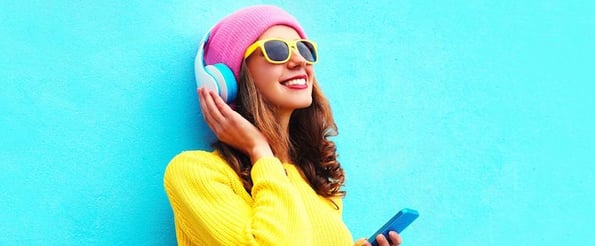 To help you find the best choices, here are the top nine sales-related books available for listening.
Best audiobooks for salespeople and sales leaders
Way of the Wolf: Straight Line Selling: Master the Art of Persuasion, Influence, and Success
Long Story Short: The Only Storytelling Guide You'll Ever Need
Presence: Bringing Your Boldest Self to Your Biggest Challenges
The Challenger Sale: Taking Control of the Customer Conversation
Influence: The Psychology of Persuasion
Lean In: Women, Work, and the Will to Lead
Fanatical Prospecting: The Ultimate Guide for Starting Sales Conversations and Filling the Pipeline by Leveraging Social Selling, Telephone, E-Mail, and Cold Callin
Pitch Anything: An Innovative Method for Presenting, Persuading, and Winning the Deal
How I Raised Myself from Failure to Success in Selling
By Jordan Belfort
Length: 7 hours and 28 minutes
This extremely practical book dives into the strategies and techniques of Jordan Belfort -- the real life "Wolf of Wall Street." You'll learn how to recover from the most crippling failures, increase your personal fortune, and become a master negotiator, speaker, closer, and businessperson. Belfort also shares much of his personal history, making this an engaging read for anyone who likes a little color with their informational content.
You might be thinking, "Wasn't Belfort a horrible person? Shouldn't I ignore his advice, not follow it?" Belfort actually begins the book by apologizing for his past actions and urging the reader to learn from his mistakes. It seems some leopards can change their spots.
By Margot Leitman
Length: 4 hours and 53 minutes
Sales is all about telling good stories. If you can't leave your prospect with a compelling narrative, they'll remember the practical reasons to buy your product -- but not the emotional. And since few decisions are purely pragmatic (in fact, it's typically the opposite), you'll probably end up losing the deal.
Luckily, this guide makes telling spellbinding stories almost easy. Author, comedian, winner of multiple Moth storytelling competitions, and founder of the Upright Citizens Brigade storytelling program Margot Leitman breaks down a great story into its individual parts so you know exactly how to craft a good one every time.
By Amy Cuddy
Length: 9 hours and 18 minutes
Some people have presence. They walk into a room, and the dynamic changes. Everyone else gravitates toward them, even if they don't realize it. Unsurprisingly, people with presence tend to be fantastic salespeople.
Amy Cuddy, whose TED talk about power poses has tens of millions of views, proves in this audiobook you don't need to have been born with it. You can use simple, research-backed techniques to become more confident, charismatic, and influential. By the end, you'll have everything you need to dominate every situation.
By Matt Dixon and Brent Adamson
Length: 5 hours and 43 minutes
Do you still believe your prospects have to like you to win their business? Then you need to listen to this audiobook. Prioritizing your friendship with the buyer is completely misguided, because the real differentiator in sales is getting them to think.
And for that, you have to challenge them. Dixon and Adamson lay out exactly how to challenge prospects without pissing them off.
By Robert B. Cialdini
Length: 10 hours and 6 minutes
Persuading people is an art -- and a science, as Dr. Robert Cialdini explains in the audio version of this national bestseller. The book draws on more than 35 years of his research into influence and persuasion. It covers the six principles of persuasion, how to use them, and equally importantly, how to defend yourself against them.
Cialdini spends a lot of time on persuasion in sales, making this the perfect listen for anyone who sells.
By Sheryl Sandberg
Length: 6 hours and 27 minutes
Whether you're male or female, you should listen to this book. It covers the specific struggles women in the workplace face, combining humorous personal stories with research and data. Sandberg also provides plenty of tactical advice and lessons for navigating these tough challenges.
You may pick up takeaways that'll help your own career, or you may develop empathy for the women you work with. Or both! Either way, Lean In is undoubtedly an essential resource for any professional in the twenty-first century.
By Jeb Blount
Length: 8 hours and 26 minutes
Love it or hate it, you must prospect to be successful in sales. Not only does having a full pipeline allow you to focus on the best fits, it also means you'll rarely (if ever) have a dry month or quarter.
In this audiobook -- narrated by the author himself -- you'll get a detailed, step-by-step guide to successful prospecting across multiple channels. It's highly practical and full of customizable templates. Consistent results, here you come.
By Oren Klaff
Length: 6 hours and 12 minutes
If you want to get better at sales demos or presentations, this is the audiobook for you. Investment banker Oren Klaff is an expert in pitching, having raised more than $400 million in 13 years. He reveals his exclusive, science-based formula for success: The STRONG method.
Here's the overview:
Setting the Frame
Telling the Story
Revealing the Intrigue
Offering the Prize
Nailing the Hookpoint
Getting a Decision
Simply apply Klaff's methodology, and your results will immediately improve.
By Frank Bettger
Length: 6 hours and 15 minutes
Looking for a motivational boost? This business classic (which Dale Carnegie insists salespeople should read) will give you what you're looking for. It tells the story of Frank Bettger, who at 29 was a failed insurance rep. Eleven years later, and Bettger was the owner of a country estate and a significant personal fortune.
You'll learn just how Bettger accomplished this feat. He reveals the style, spirit, and presence all winning salespeople have in common -- and how you can develop these characteristics as well.
If you listen to one audiobook per week, you'll finish this list in just three months. Not only will you be smarter and more informed, you'll also be more motivated. So what are you waiting for -- download your first today.