So, you want to design an app? The process may seem simple enough — with over three billion smartphone users worldwide, there's a good chance you're a well-versed app user yourself. How hard could it be?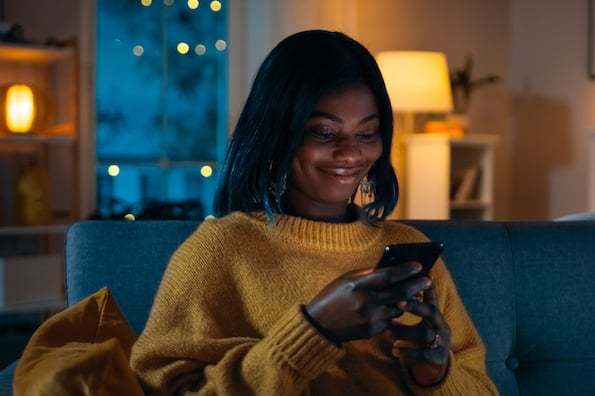 But, when it's time to put pen to paper and start sketching mockups, one quickly learns that an engaging mobile app is much easier to use than to create.
The good news is that, like with any art form, first-time app designers don't need to form their ideas from thin air. Rather, the best way to start is to take inspiration from our favorite examples. By examining these successful apps, you can identify what makes their designs so effective and apply these principles to your own work.
Just one issue: There are millions of apps to choose from, and not all are created equal from a design standpoint.
To help your planning, we've compiled 18 mobile apps that showcase a mastery of user interface (UI) and user experience (UX) design. Feel free to pick out your favorite qualities from each example and incorporate them into your own unique, innovative app.
Mobile Apps for Inspiration
Headspace
Sleep Cycle
Duolingo
Snapseed
DoorDash
Transit
Hotel Tonight
Lifesum
Digit
Qapital
Evernote
iA Writer
Libby
Sweetgreen
Days
SoloLearn
Artifact Uprising
Keezy
Headspace is a mobile app for guided meditation and mindfulness. It helps users reduce stress and anxiety, improve concentration, get better sleep, and keep an overall calmer mind.
Above all else, Headspace aims to make meditation accessible for anyone, and this mission is reflected in its pleasant design. With a soothing color palette, simple text and instructions, and light and clean UI, Headspace delivers and experience that beginners and experts alike will appreciate.
When training your mind, the last thing you need is a clunky, distracting design from your meditation app. Headspace does the opposite — it keeps the focus on your development, and everything in the design is there to serve your goals.
Speaking of better rest, Sleep Cycle is a sleep tracking app acclaimed for its recently updated UI. Use this app to uncover insights about your sleeping patterns — when you enter certain stages of sleep — and improve your overall sleep.
Sleep Cycle's special patented technology monitors your sleep movements using sound and vibration analysis. Each night, the app generates a chart of your sleep depth over time and sums up the overall quality of your rest with intuitive visualizations. Best of all, Sleep Cycle's alarm wakes you between sleep cycles, so you feel refreshed and ready to begin your day.
In addition to its generous free offerings, there are premium features like online backup of sleep data, weather display, a heart rate monitor, sleep notes, a customizable wake-up window, and more in-depth sleep statistics.
The most popular language-teaching mobile app has earned its status thanks in large part to its UX. Duolingo makes learning a new language accessible and approachable by creating a classroom-like aesthetic. The colors are bright and playful, instructions are clear and conversational, and the illustrated visuals are fun and inviting.
Duolingo also does a superb job of planning activities that work on a touchscreen interface. For example, instead of requiring users to write out words with the mobile keyboard (which can be tedious), it instead prompts users to select full words and place them in the correct order when translating sentences. Also, one's progress is clear both within individual lessons and the entire language module.
If you're trying to negotiate the interface of your feature-heavy application, look to Snapseed for guidance. Snapseed is a professional mobile photo editor app developed by Google. Highly recommended by professional and amateur photographers alike, this app packs many powerful editing features into its interface without feeling cluttered.
The design of Snapseed is modern, with slim fonts, icons, and a minimalist design. And, the latest version of Snapseed has even more options for faster editing, QR codes, a selection tool, an enhanced perspective tool, and an insights stream offering photography advice.
DoorDash is proof that you don't need to smother users with a complex interface and a flood of options to build a successful app. Instead, the DoorDash UI uses whitespace to its advantage, letting users order delivery for any restaurant of their choosing, with absolutely no obstacles.
After providing your location, you can receive recommendations for nearby eateries offering delivery and pickup, with time estimates and tracking of your orders. Every aspect of the app's experience is optimized for convenience, setting an excellent example for new designers and developers.
Transit provides real-time public transportation data in over 200 cities across North America, Europe, Australia, and New Zealand. Learning the ins and outs of a city's transportation system can be daunting, so Transit has provided the solution — it plans out your trips step-by-step, gives recommendations for mode of transportation, and syncs with real-time location feeds for trains and buses to optimize your route.
All this functionality is tied together with Transit's remarkably simple interface. Its smart use of color draws the eye to different transportation options, the text is easy to read, and navigation instructions have your back if you lose your way.
Hotel Tonight lets you reserve hotel rooms last-minute while scoring the best price possible. Its developers know users are likely in a rush, which is why Hotel Tonight first gets your location and then lists the best deals at the moment. For those with more time to spare, there are also different categories of hotel — like Basic, Hip, and Luxe — which make it easy to find the right lodging for your taste.
If you need to change the timeframe or location of your search, it's possible with just a couple of taps, and the full-screen map provides a clear picture of options closest to you. And, after choosing your option, the app will list everything you need to know about the establishment before booking.
Lifesum is a mobile app for inspiring a healthy lifestyle through habit-building. It guides you in making healthy food choices, as well as planning and tracking your exercise routines. Those developing apps with data-heavy displays can take a page from Lifesum's playbook — the UI presents its health-related metrics in a friendly manner while keeping the mood positive and encouraging.
The experience doesn't just end with visualizations either. If you like, Lifesum can send you reminders for things like exercising and staying hydrated. It also offers tips of the day, lists various diets and healthy eating plans, and presents an easy-to-read overview of your nutrition and exercise habits to help you stay on track.
Digit is a mobile app that helps users save for their financial goals. Every day, Digit checks your transactions and saves a few dollars from your account. Because it handles finances, the app implements extensive security measures to ensure your personal information is securely encrypted and stored.
Because digit is built to help users understand their spending and saving habits, its UI is incredibly straightforward and accessible. This way, users know exactly how much money they've spent, and how much they need to allocate for their savings and investment goals.
For example, when listing your expenses, Digit includes illustrations of the activity/expense paired with the price in bold text, so you know at a glance whether you need to cut down in a certain area.
Qapital is another savings-tracking app with excellent UX. The interface itself takes on a different look from Digit — namely, it's heavy on images. But, many of its features — savings tracking, financial goals, and tools for allocating your assets — are similar to Digit, and it also uses handy interface elements like progress bars to monitor your savings.
Some other standout features of Qapital are its Money Missions challenges, its automatic and free transfers to and from your bank accounts, no monthly or annual fees, and no minimum deposits.
There's a reason why Evernote is the leading note-taking mobile application — its offerings, interface, and convenience are unparalleled. The app is a masterclass in packing numerous useful features into a small space while keeping everything tidy and user-friendly.
Evernote allows you to store your ideas in several formats, including basic notes, checklists, journals, article clips, and document attachments. Beyond just writing, you can capture ideas as sketches, photos, audio clips, or videos.
For every feature it offers, Evernote features an interface that users can quickly grasp. So, the next time an idea pops into your head, you'll waste no time writing it down.
iA Writer is among the best writing applications for multiple platforms. It's a simple plain text editor designed to provide a focused experience for drafting books, essays, business proposals, and poems.
Rather than overwhelming users with customization options, iA writer comes with just two interface themes, minimalism and typography. Both themes implement a nice color palette of white and gray shades, and users can toggle between light and dark modes as well.
To prevent writers from losing track of their work, iA Writer has a convenient file browser to access all documents and a unique focus mode to facilitate concentration. Other key features include a configurable keyboard bar, synchronized scrolling markdown preview, real-time iCloud and Dropbox sync, and customized retina displays.
Libby brings the local library to your mobile device — borrow ebooks and audiobooks for no cost. Then, when you're finished, return them with a tap. Libby has accomplished the challenging task of translating a very in-person experience to the digital realm.
For instance, browsing for books is easy with its advanced search tool, as well as its filtering by category, format, availability, and more. The process of reserving titles is also easy to understand — Libby provides time windows for when you can expect to receive your copy after placing your hold.
Finally, Libby's reading interface is one of the best we've seen in the space. For both ebooks and audiobooks, users can place and review bookmarks, tag their books with custom categories, and even download books for offline access.
Sweetgreen is a dedicated mobile app for the popular salad franchise, and the perfect companion for its most loyal diners. It allows you to pre-order salads from your most convenient location. You can pay from your phone and even earn rewards for every mobile transaction.
The overall design of the Sweetgreen app is user-friendly and visually consistent, complete with maps, large buttons, a branded color palette, and helpful photographs of its salad offerings. The app also includes many handy features beyond simply ordering and payment, like modifying existing salads, easy reordering, saving favorite salads, and sharing your custom salads with friends.
The idea behind Days is simple — you set dates for important events, and the app counts down to them. On concept alone, it seems easy to churn out a plain, dull interface for such an app. However, Days keeps things engaging, minimal, and elegant.
By pairing events with photos and allowing you to place countdowns on your home screen, Days helps you mark special moments without fluff. Since Images are a significant component of the app's look, Days integrates with your phone's camera to capture photos in-app.
Some other notable design elements of Days are its beautiful full-screen event pages, categories for events for easier navigation, setting reminders, repeated events, and using gestures to swipe between events.
It's never too late to learn how to write code, and SoloLearn is the leading mobile application for picking up a new programming language. It offers lessons and quizzes to hone your skills, as well as coding competitions and an iOS code builder to build and test your programs inside.
Like we've seen with other apps here, SoloLearn does a lot with little space. Even on smartphone screens, its color coding and helpful explanations make it possible for beginners to understand the syntax of over a dozen different languages. There's a strong community aspect to SoloLearn as well — users can make profiles and share their course progress with fellow students.
Artifact Uprising creates premium quality photo prints, albums, and cards right from your iPhone. With this app, you can turn your high-quality original images into tangible keepsakes. Artifact Uprising's interface is minimal but effective to keep emphasis on your art.
Navigation is simple as well — it's easy to choose the type of product you want, specify size and quantity, and select the image(s) you want to print. It also integrates with your Instagram library as another source for your prints.
To end on a musical note (pun intended), Keezy is a family-friendly instrument for tablets and smartphones. Its primary display is a set of eight colored tiles, each triggering a different sound. The concept couldn't be simpler, yet Keezy is a fun source of entertainment for both kids and musicians in need of a simple soundboard.
Keezy doesn't distract with unnecessary UI elements — simply play. You can build as many different soundboards as you like, hold down tiles to loop sounds, and record your own sounds too. Also notable is the app's minimal use of text — its main menu is 100% icons that anyone can understand after a bit of toying around.
Apps To Shape Your Next Project
Whether you're building an app to help users book a last-minute hotel room, learn to code in C++, or write a romance novel, the design of your app and your users' experience simply can't be overlooked. Fortunately, we have plenty of success stories to draw from.
As you've probably surmised, good design goes beyond choosing the right colors (though that is certainly important!) — it's about how all the design elements function as a coherent experience. Therefore, the best way to learn is by trying these apps yourself. And, perhaps one day, a future designer will look to your own app for inspiration.