Creating and customizing a WordPress website has never been easier. You don't need to build it from scratch. You don't need to hire a developer. You don't need to learn everything about the back end of your site. You just need a drag and drop plugin.
In this post, we'll take a closer look at what this type of WordPress plugin is and why you'd want one. Then we'll look at some of the best options available on the market today.
What is a drag and drop WordPress plugin?
A drag and drop WordPress plugin is a subset of page builders that offers drag and drop functionality and pre-built components for quick and easy web design. With these plugins, you can customize and arrange elements on the page without needing to code.
These tools were initially developed because the WordPress Classic Editor lacked the functionality and design elements that users expected and needed to build their sites. But some users didn't want to install a plugin; they wanted the default editor to be redesigned. That's why WordPress replaced the classic editor with the Gutenberg editor in WordPress 5.0 in December 2018.
Now that the new block editor has been released for a couple of years, some wonder if drag and drop page builders are obsolete. Let's tackle this question below.
Will Gutenberg replace page builders?
To answer this question, we first have to understand the difference between the editing experience that Gutenberg offers and the editing experience that other WordPress page builders offer.
In the Gutenberg editor, elements like a paragraph, image, or video are presented as distinct blocks of content. That means you don't have to worry about the alignment and organization of these elements — you can just move, edit, and format each block. Each of the 25 blocks comes with its own toolbar and settings for changing things like color, width, and alignment.
While it doesn't allow front-end editing, Gutenberg does offer an approximation of what visitors will see on the front-end of your site so that you don't have to constantly toggle between the editor and preview screens. Overall, the Gutenberg editor is a huge improvement from the Classic editor, which offered fewer design options and required shortcodes, custom HTML code, and embeds to add multimedia and other visual elements to your posts and pages.
However, page builders still offer more components and templates — and therefore, design possibilities — than the built-in Gutenberg.
For example, with the image block in the Gutenberg editor, you'll find some options for aligning, cropping, and resizing the image. Beyond that, you'll have to add some custom CSS in the Advanced tab of the sidebar, or download an image optimization plugin. Whereas with a page builder plugin like Elementor, you can not only set the size and alignment of your images — you can also add a hover animation, border, shadow, opacity level, max-width, and styled caption.
In exchange for this greater functionality and flexibility, you just have to download or purchase and install these WordPress plugins since they're created by third-party developers and not built into the core software.
Now that we understand the benefits of a drag and drop page builder plugin, let's check out some of the best options available this year.
The 14 Best Drag and Drop WordPress Plugins
SiteOrigin Page Builder
Themify Builder
Spectra
Post and Page Builder by BoldGrid
Growmatik
Live Composer
GT3 Page Builder
Elementor Page Builder
BeBuilder
Divi Builder
Beaver Builder
Visual Composer
WPBakery Page Builder
SeedProd
The best page builders will not only offer drag and drop functionality — they'll also offer unique elements and modules, preview options, and more. Below we'll look at free and premium options so you can find the perfect tool for your budget.
Free Drag and Drop WordPress Plugins
Creating a custom website doesn't have to be expensive. Let's look at some free tools that can help you create a beautiful website that looks like it was created by a developer or web designer.
With over a million downloads from the WordPress directory, the SiteOrigin Page Builder is one of the most popular free tools for building a responsive design.
Its simple drag-and-drop interface, combined with its advanced row builder make it ideal for both beginners and advanced users. To create truly unique layouts, you can change the padding, spacing, and borders of your rows and widgets by filling in simple input fields instead of coding. However, you can add custom CSS for even more control, if you have the experience.
This page builder not only seamlessly integrates with other tools and themes by SiteOrigin — it's also compatible with any WordPress theme, uses many WordPress widgets you already love, and looks just like the WordPress interface. That way, you get the best of WordPress's built-in functionality and its extensions — all without needing to learn a completely new tool.
SiteOrigin also generates and optimizes all code for your page to help improve performance and offers a live view of any edits you make in real-time. The caveat? While the SiteOrigin Page Builder is free and has no restrictions on the number of site installs, getting the most from this plugin — including extra addons, fast email support, and ongoing updates — means spending the $29 on Premium access.
Price: Free
Themify Builder is one of the most powerful and intuitive page builders for WordPress that doesn't cost a dime. With this plugin, you can customize nearly every aspect of your site. Themify Builder has a back and front-end edit mode so you can drag and drop elements to create unique layouts on the back end and then make additional changes to the font, background, and border of these elements on the front-end.
Other unique features of the Themify Builder include a column and row generator that enables you to create responsive grids that display differently on desktop, tablet, and mobile, as well as over 60 animation effects, which you can add to elements that you want to pop off the page like your CTA buttons.
With more than 40 professional designs available, it's easy for site owners to simply import the layout they want, replace key text and images, and start capturing visitor attention. Themify makes it easy to preview work you're doing, undo changes you've made, and duplicate pages for quick development.
While Themify does make its standalone plugin available for free — and offers a substantive number of templates — the best themes are gated behind an $89 Theme Club. It's worth noting, however, that if you're currently using another theme on your website from a different company, you can get 50% off Theme Club access by providing your site URL and a screenshot of your receipt for other theme services.
Price: Free. Spectra Pro is coming soon and will be included in the Astra Growth Bundle (starting at $187).
While other page builders are trying to replace the default block editor, Spectra takes a different approach. Instead of using an external editor and forcing you to decide to use one tool or another, Spectra allows you to add its blocks, presets, patterns, and wireframes inside the native WordPress editor.
This makes it much easier for you to start working with it, as adding and editing these elements is the same as working with the native Gutenberg blocks. You'll also have full compatibility with all of your plugins and services.
The free version has 28 blocks and 3 extensions to modify them. A pro version with more blocks and features is under development. Spectra is a product of Brainstorm Force, developers of the Astra theme.
Designed for users of all skill levels, BoldGrid's Post and Page Builder provides an easy-to-use WYSIWYG interface that offers simple controls for beginners and advanced customization options for professionals.
Its drag and drop system is built on the Bootstrap Grid so you can drag and drop columns, rows, and containers to create unique and responsive layouts. You can add animations and control the margin, padding, box shadows, borders, and alignment of almost any element. Although the Post and Page Builder by BoldGrid will work best with BoldGrid themes, it's designed to work with almost any WordPress theme so you aren't restricted.
With a host of value-added features including the ability to quickly add animations, Google Maps, and Web Components without the need for shortcodes, this streamlined WordPress drag and drop page builder plugin stands out as one of the best free options available. Based on open-source software, BoldGrid has an active support community and is continually growing — but the sheer amount of customization options can be overwhelming for site owners just starting out.
For more blocks, blog widgets, and sliders, you can upgrade to the premium version.
Price:
What sets Growmatik apart on this list is that it isn't solely a page builder, but is backed by powerful features so you can build smart web pages that ensure a personalized experience for every visitor. Of course, the interface is user-friendly is simple for those without a design or coding background to create professional web pages.
Where the magic comes in is Growmatik's personalization features. The plugin allows you to dynamically display content based on user behavior, demographics, browsing activity, and more. Boost conversion by displaying personalized products, discounts, and content on webpages tailored to unique users.
In addition to its advanced personalization and targeting features, Growmatik integrates with many popular software tools and plugins so you can streamline your marketing efforts and drive growth.
Price: Free
Live Composer is a free front-end page builder plugin that has helped over 50,000 WordPress users create and customize a site with ease. With a front-end page builder like Live Composer, you know exactly how your page will look when published. All the headings, images, and CTA buttons you drag and drop on the page will look exactly how your site visitors will see them. Since there's no need to make changes, hit the Preview button, make more changes, hit Preview, and so on, you can create custom pages in real-time.
Live Composer comes with over 30 modules for creating custom landing pages and blog posts that are optimized for desktops and mobile devices. You can add testimonials, image galleries, call-to-action buttons, comment forms, and more simply by dragging and dropping the module onto the page.
The free Live Composer plugin offers benefits for marketers, SEO experts, business owners, designers, and developers — site owners gain access to a flexible DIY tool, SEO-friendly code, visual page composers, and the ability to customize every aspect of their WordPress site.
Potential pitfalls of using Live Composer are tied to more advanced site building — if users want access to time-saving feature integrations such as content restrictions, breadcrumbs, or Google maps, they'll need to pay for Live Composer's official extension pack.
Price: Free
GT3 Page Builder is another free, but powerful drag and drop page builder for WordPress.
With this tool, you can create an unlimited number of custom pages. GT3 Page Builder comes with a number of useful modules for creating posts and pages on a business site. These include the standard features, like an accordion and toggle, slider, gallery, blog, video, and progress bar, as well as more unique modules like one for your team, testimonials, pricing, and more. Each is customizable — you can simply fill in the input fields or add custom CSS, as shown in the image above.
Site owners can also expand the impact of GT3 with Gallery Pro — for $45, users gain access to additional image download, social sharing, text and gallery options. GT3 bills itself as "everything you need to get things done", and looking at its feature list, this claim isn't far off the mark: From the ability to display testimonials and price tables to promo text, progress bars, and message boxes, GT3 is all about making it easy to create the site you want, when you want it.
Worth noting? So far, this free plugin has registered just over 13,000 downloads, marking it as a relatively new entry into the drag and drop page builder market.
Premium Drag and Drop WordPress Plugins
To build and customize more pages in less time, you need a premium page builder. The tools below are rich with features and templates and used by thousands and thousands of WordPress site owners.
Elementor is a visual drag and drop page builder with advanced design capabilities, making it the page builder of choice for over five million WordPress users.
Elementor offers hundreds of templates to choose from. Once you select a template, you can customize it with Elementor's live editing and switch between desktop, tablet, and mobile previews to create beautiful and responsive pages in real-time. You can add forms, sliders, buttons, images, headlines, search bars, and more with the 80+ widgets built into the Elementor interface.
It's worth noting that Elementor was built with professional WordPress designers in mind. The tool offers pixel-perfect design that still produces clean code and customizable site templates.
According to the Elementor website, thousands of developers have contributed to its open-source project, in turn boosting its impact as one of the most popular and functional page builder plugins available. This professional focus is both the strength and potential pitfall of Elementor — while experienced designers can make great use of the tool for creating top-tier sites, it may be too complex for site owners building their first page.
If you're building a basic site, then check out the free version. It may offer all the templates, widgets, and animation effects you need for free.
Price: $59 for Regular License; $17.63 for 6 months of Extended Support
If you are looking for a high-quality and flexible WordPress builder, BeBuilder is worth checking out. BeBuilder comes with a drag-and-drop UI that makes it easy to customize your block's layout. Easily resize elements, adjust spacing, and move items around the page.
With BeBuilder, you can create any kind of layout you want without touching a single line of code. You can also customize your page using BeBuilder's built-in shortcodes and widgets — which make it easy when making many changes across a multipage site.
BeBuilder is the perfect responsive theme if you're looking to build a website that looks great on desktop computers as well as mobile devices. Its flexible framework makes it easy to use the same content and design elements throughout the site, no matter what device is being used to view it.
Price: One year, $89; Lifetime access, $249
Divi is another WordPress page builder used by millions of users. With Divi, you get a front-end editor so you can drag and drop elements, include special effects, add custom CSS, and review edits in real-time.
Two of its most unique features are the split testing system and the Magic Color Manager. With the former, you can create multiple versions of a page with different colors, headlines, or entire layouts and show them to different visitors to determine which variation performs better. Divi's Magic Color Manager is a dynamic color system that automatically remembers your recently used colors and stores them for easy access and also suggests new colors that match your current palette using an algorithm.
Divi bills itself as "the most popular WordPress theme in the world". While that's probably an exaggeration, more than 15,000 five-star reviews on TrustPilot suggest that Divi is doing something right. With support for design freelancers, marketing agencies, and website owners, Divi helps bridge the gap between businesses just starting out and companies with more in-depth design requirements.
If you purchase the Divi theme, you'll get the Divi Builder and over 800 pre-designed templates, along with 100 full website packs. However, if you decide on another theme, then you can still install the Divi builder on your site. Divi doesn't lack options, meaning that if you decide Divi is best for your site it's worth checking out its in-depth documentation and connecting with its active community for help.
Check out some of the best example websites created with Divi.
Price: Standard Plan, $99/year; Pro Plan, $199/year; Agency Plan, $399/year
Beaver Builder is a front-end drag and drop page builder for WordPress used by over 175,000 sites.
Editing a page is quick and easy with this page builder. You can start with a template or a blank page, then drag and drop columns of content onto your page. Once you fill those columns with text, images, and more, you'll be ready to publish.
Like Divi, you can purchase the Beaver Builder theme and get the Beaver Builder plugin included with your purchase. However, you can use the Beaver Builder plugin with any WordPress theme — though it will work best with a theme with a full-width layout and minimalist design. Beaver Builder is also developer-friendly, offering clean code, a stable platform, and well-documented PHP, CSS, and JS options. Businesses can use Beaver Builder on unlimited sites with just one license, and the tool works with other themes and plugins such as Astra, Genesis, and Page Builder Framework.
The potential drawback of this eager beaver? It's a bit on the expensive side, even factoring in the 40% renewal discount after the first year. For agencies or professional developers, Beaver Builder is a solid investment but for new site owners, free drag and drop plugins may be the place to start.
Visual Composer is another popular premium page builder that lets you customize the look of your entire website. In addition to pages, posts, and custom post types, you can modify the headers, footers, and menus across your entire website.
You can start with one of Visual Composer's professionally designed templates, or you can simply start dragging and dropping elements to build a page from scratch. For almost any element, you can add background effects, shadows, and animations, and control the padding, margin, border, and radius.
Visual Composer uses a cloud hub library to offer more than 500 content elements, templates, add-ons and blocks, all from a single plugin. And, true to its name, Visual Composer is all about delivering real-time visual design that lets you create high-converting landing pages, compelling pop-ups, and pixel-perfect pages — all with great SEO support.
While Visual Composer certainly offers the depth and breadth of tools for any company to build a great WordPress site, the sheer volume and variety of options skews this plugin toward professional designers. For first-time site builders, meanwhile, simpler and more streamlined plugins may be preferable.
Price: Regular Plan, $45; Extended Plan, $245
With over four million downloads, WPBakery Page Builder is one of the most popular page builder options on the market.
Like the Themify Builder, it offers a front- and back-end editor mode. You'll also get access to WPBakery's template library, which contains over 80 predesigned templates and layouts, and over 50 content elements.
In addition to its robust built-in functionality, the WPBakery builder can be extended with over 250 add-ons. This multitude of features and add-ons makes the WPBakery Page Builder ideal for creating complex and detailed layouts for your pages, posts, and custom post types. This building bakery isn't just frosting with no cake — sites like Forbes, TechRadar, and Web Designer have all used WPBakery to create their WordPress pages.
WPBakery extends its reach with support for both front- and back-end page building, making it possible for site owners to completely transform their WordPress site from the ground up. The plugin also comes with dedicated, Monday-to-Saturday support to help companies keep their design projects on track.
While the Regular version of WPBakery offers a substantive feature set, it's easy to end up spending more than anticipated with the plugin's host of available addons, which range in price from $12 to $30.
Price: Basic Plan, $40/year; Plus Plan, $100/year; Pro Plan, $200/year; Elite Bundle Plan, $240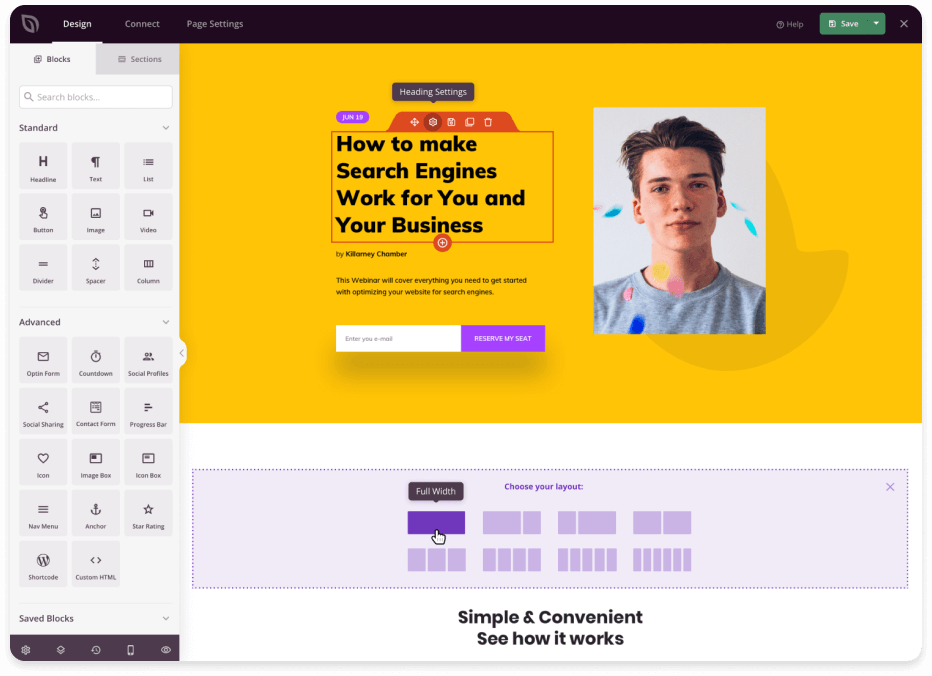 SeedProd has more than 3,000 five-star ratings from WordPress users, and with good reason — this drag and drop page builder makes it easy for users to create great landing pages in minutes. Site owners don't require any coding knowledge to make best use of SeedProd, and enjoy the benefit of a 14-day money-back guarantee if they aren't satisfied.
Key features of SeedProd include landing-page-specific blocks that are designed for maximum utility with minimum fluff, a host of landing page templates, pre-built "smart" sections that include headers, calls to action, and spam protection from bots and fraudulent submissions.
Worth noting? SeedProd's focus is high-converting landing pages rather than general page building. While it offers a wide variety of tools to help you build better landing pages, other plugins may be a better choice if you're looking for a whole-site solution.
What is the best WordPress drag and drop plugin?
Best Free WordPress Drag and Drop Plugin: SiteOrigin Page Builder
With more than a million downloads from the WordPress store, SiteOrigin offers both ease of use and advanced building features — all for free — making it a great choice for first-time site builders.
Best Premium WordPress Drag and Drop Plugin: Elementor
If you want the best, you've got to pay for the best. Elementor offers a massive variety of features, functions, and customization options that help earn it top spot on our list of WordPress drag and drop premium plugins.
Creating a Custom WordPress Website
WordPress is a powerful content management system, but most site owners extend its built-in functionality with plugins. This is true of its editing capabilities. The Gutenberg editor is an easy-to-use block editor, but a third-party page builder offers more design options and templates.
The drag and drop plugins mentioned above are some of the best WordPress page builders. Any of them can help you create a site that looks exactly the way you want it to without needing to code.
Editor's note: This post was originally published in September 2020 and has been updated for comprehensiveness.