There's no shortage of options when it comes to conferences. And while some question the value of these experiences, many more tout the inspiration that comes from being surrounded by other like-minded people who are eager to learn and meet interesting people, and network.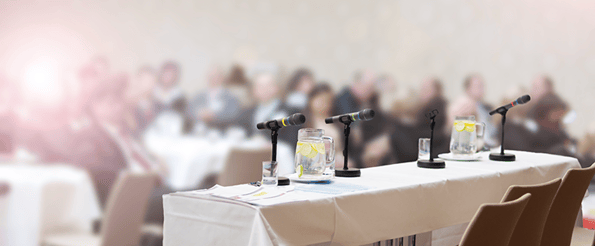 Interesting & Inspiring Conferences for Agency Professionals

It all comes down to choosing the right events, having a goal, and making a plan prior to attending. Just because a conference is the industry event to be at doesn't mean it will be valuable or informative for you business or your clients. You have to study the agenda, understand the setting, know what type of professionals attend, and be honest about what type of training and development or networking opportunities you or your team members need.
We've put together a list of relevant conferences and educational sessions for agency professionals. Mark your calendars, and get a head start on your professional development this year. (P.S. Want to learn more about inbound marketing in particular?
2018 Agency Conferences That Will Help You Succeed
January 18-19 | Nashville, TN
Hosted by David Baker of ReCourses, this two-day seminar covers how your agency's positioning can be used to drive your marketing and new business development programs. Attend if you're struggling with how to generate and convert leads, how to use a CRM and marketing automation platform to your advantage, and how to increase your visibility and expertise with your target market.
March 8-9 | Chicago, IL
Drew McLellan of Agency Management Institute hosts this training course for account executives with at least three years of experience. During the bootcamp, people will learn how to maximize the profitability of accounts, grow exisiting business, ask questions to discover the true pain points of clients, and demonstrate ROI and build budgets.
April 8-10 | Miami, FL
Hosted by the American Association of Advertising Agencies, this annual event -- formerly known as Transformation -- features top speakers from agencies, technology, media, and brands who will discuss lessons learned and provide advice on how to navigate the increasingly complex marketing and advertising landscape. This year, attendees will hear from Jay Guilford, Creative Content Strategist of Cirque du Soleil, Julie Rieger, President, Chief Data Strategist & Head of Media of 20th Century Fox Film, and Bill Koenigsberg, President, CEO, Founder of Horizon Media, among others.
April 9-10 | Brooklyn, NY
The Society of Digital Agencies is hosting its second annual workshop to advance the professional education and training for agency executives. Last year's event featured content on account management, analytics, business development, design and design thinking, innovation and product development, strategy, and technology.
April 27 | Nashville, TN
This event is for agency owners who want to improve their business practices and set a strong foundation for their agency's growth. The event from ReCourses will cover topics such as the key metrics to watch, funding agency operations, improving utilization, attracting and compensating employees, best softwares, and preserving company values.
May 8-9 | New York, NY
For two days, brands and agencies discuss what it takes to win more new business. Topics are focused on pitching, positioning and marketing an agency, lead generation, and the client-agency relationship. In addition, there is a live pitch competition, where new business reps have a few hours to put together a pitch for brand executives and search consultants.
May 21 | Virtual
This virtual event, sponsored by HubSpot, will feature webinars and AMAs from high-level agency executives and consultants. Topics include creating killer presentations, growth-driven design, trends in the digital agency landscape, improving conversions, revamping the creative process, and more. Webinars will be available on-demand for registrants.
June 18-22 | Cannes, France
Heralded as the top event in the advertising industry, this conference features big brands, celebrities, and a lot of golden statues. This year's event will have nine tracks: communication, craft, entertainment, experience, good, health, impact, reach, and innovation.
July 9-11 | Seattle, WA
SEO and content drive so much of what marketers produce today, and this conference is a great way for advanced marketers to learn best practices and uncover trends so you can keep your clients at the forefront. Speakers cover topics such as community building, CEO, analytics, mobile, and SEO.
July 17-18 | Los Angeles, CA
Small, specialized shops are getting noticed by marketers looking for experts in a specific industry or tactic. And agencies need to be ready to take advantage of the opportunities and able to manage relationships with these brands. Advertising Age's annual event is a must-attend for those looking for inspiration and practical advice on how to thrive as a smaller shop. Last year's conference featured topics such as talent and retention, company culture, new business, and technology.
September 4-7 | Cleveland, OH
According to Kapost, 79% of marketers are switching to branded content, but many organizations continue to outsource the creation as they don't have the skills in-house to either execute or manage the function. Agencies need to better understand not only how to create different kinds of brand content but also how to measure, optimize, and market content for better results. At Content Marketing World, attendees can gain a better understanding of creating a global content strategy, sales enablement, content repurposing, mobile content, and more.
September 4-7 | Boston, MA
More than 21,000 marketers and agency professionals gathered last year to listen to keynote speakers such as Michelle Obama, John Cena, Dr. Ed Catmull, and Brené Brown and learn practical tips on content marketing, conversion optimization, lead generation, and more. In addition, there's a track just for agency professionals that features content on recruiting talent, new business, agency business models, culture, and emerging industry trends.
October 1-4 | New York, NY
Last year's conference featured more than 500 events, with speakers ranging from Sir Martin Sorrell to Jimmy Buffett to Howard Schultz. The conference typically features something for everyone -- from trends in publishing and digital advertising to brand building advice to stories from agencies on their growth and unique practices.
Ad Week LATAM is February 12-15 in Mexico City, Ad Week Europe takes place on March 19-22 in London, Ad Week Asia is from May 14-17 in Tokyo, and Ad Week APAC is goes from July 30-August 2 in Sydney.
October 24-27 | Orlando, FL
The Masters of Marketing event brings together top CMOs from various different brands. Last year's event featured top marketing execs from Procter & Gamble, JPMorgan Chase, Walmart, and Cadillac, with topics including how to build a brand through digital technology, content marketing, customer experience, and structuring a team for growth. Last year's conference featured Brian Beitler of Lane Bryant, who talked about how his company supported body-positive messaging with a digital, social, and traditional marketing campaign to challenge the fashion industry's perception about body image, beauty, and fat-shamming.
October 31-November 1 | New York, NY
This conference, which sees more than 7,000 attendees over two days, is the place to be to better understand the ad tech landscape. Attendees can both learn about trends in programmatic and meet the technology vendors making management of data and optimization of creative possible.
November 13-14 | New York, NY
This event brings together top marketing executives to discuss the top marketing concerns of brands -- and how to compete in an evolving market heavily influenced by automation.
December 5-6 | Orlando, FL
This conference brings together agency owners who want to get a better handle on their profitability. The event will cover different pricing strategies agencies can employ, financial ratios, how to fraud-proof your agency, and tax strategies. These are the topics that will make a big difference on the future health and stability of your agency.
Editor's Note: This post was originally published in September 2015 and has been updated for freshness, accuracy, and comprehensiveness.