Think about the work you do day-to-day to capture, nurture, and ultimately close leads into customers. What types of content do you send out to them?
One common type of lead nurturing is free trials. A trial helps your customers not only learn about your product or service but also get to know you as a business.
However, time and time again, you might find that people say no to your free trial, and you've lost a potential customer.
This week we're going to talk about how you can use the HubSpot Growth Stack to nurture your leads into customers 30 days after they sign up for a free trial.
Lead Nurturing in the Growth Stack
Your contacts move through the different layers of your growth stack platform throughout their time in your funnel. One way to nurture them through your funnel is by offering them a free trial of your product or service.
When we refer to lead nurturing, we're discussing the practice of engaging and building relationships with your contacts via automated touches with the end goal of closing more educated and qualified customers, faster.
Nurturing your leads with a free trial allows them to test before they buy. Buyers have changed. Offering them a free trial and nurturing them during the trial helps them get to know you and your product better and helps you get to know more about them.
In this example, we'll be implementing this free trial using the workflows tool in HubSpot.
Don't have workflows yet? Try HubSpot free for 30 days, here.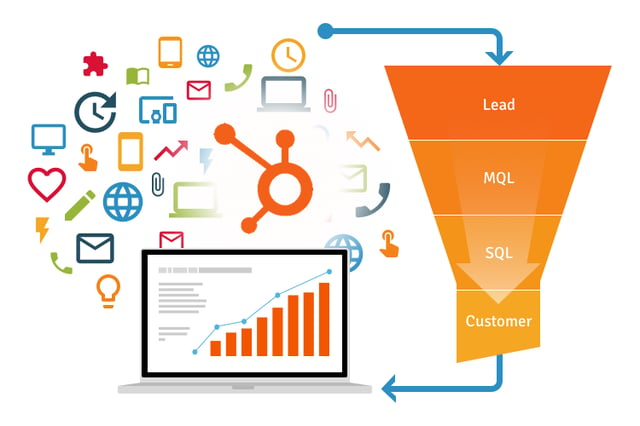 Lead nurturing trials work when you provide engaging and helpful content with context. Why would you make a purchase with a company who doesn't engage with you or help with your success? When a potential lead signs up for a free trial we want to start engaging them and showing value.
When you invest in your leads they will invest in you and your business.
We are going to be walking through a lead nurturing workflow focused around a free trial. Let's dive in!
Nurturing leads in 30 days with Hannah
First I want to introduce you to Hannah Doesschate. Hannah is a Customer Success Manager on the Customer Success team in HubSpot's Cambridge office. She's dedicated to helping her customers develop plans to grow their businesses.
When Hannah's not in the office you can find her hanging out with her dog Pigpen, riding horses, and traveling the country looking for bluegrass music.
Her goal with a 30-day free trial workflow is to engage our customers, ensure they see value, and capture the leads who don't purchase to continue nurturing them.
Below we are going to walk through three workflows. Hannah has helped her customers use these workflows in their own businesses. Creating a journey for your contacts that provides a seamless transition from marketing to sales creates delighted customers and success for you and your business.
These workflows will build off each other to help nurture your leads down the path to purchase. The first workflow will be activated after someone has signed up for a free trial.
1. The free trial workflow
The first workflow you will want to activate is nurturing your contacts that sign up for a free trial. The goal of this workflow is to nurture them toward a purchase. By setting a workflow goal you will be able to measure the success of the workflow actions.
The second piece of this workflow will be to set your enrollment criteria to propely connect your free trial to activation. Below you can see these two properties added into the workflow.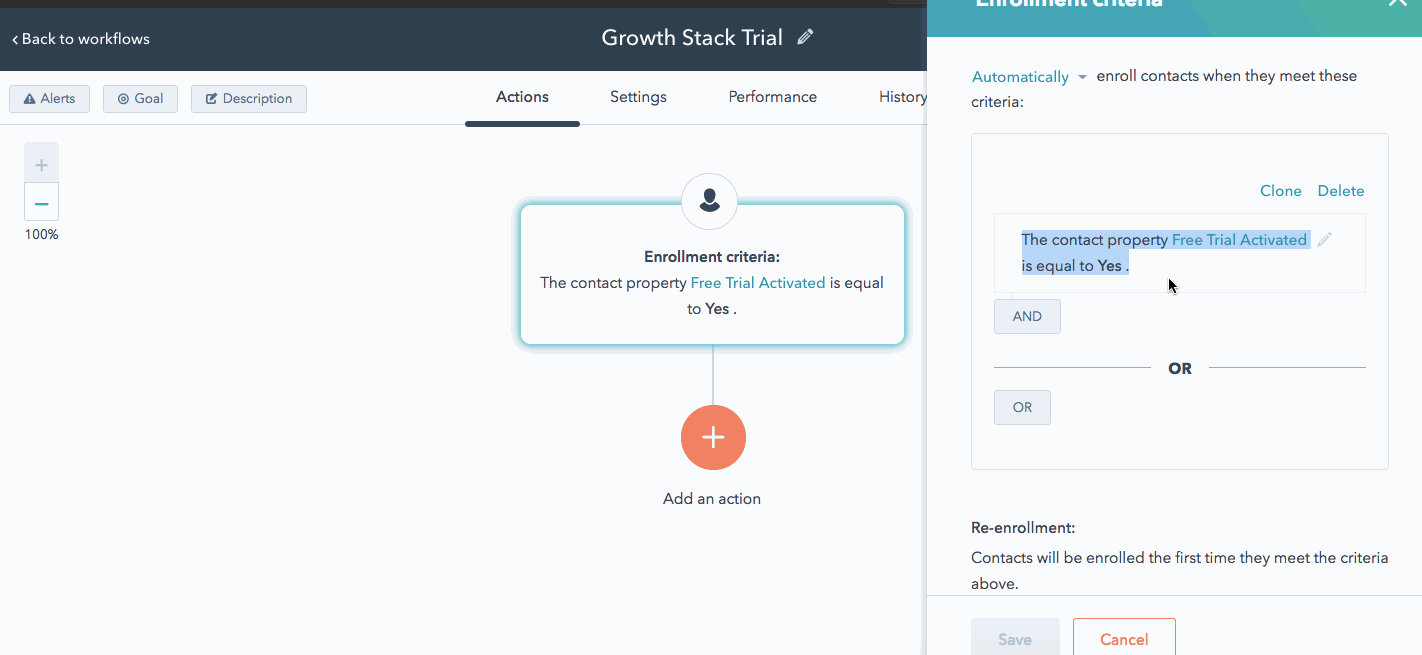 The next step you will take is setting the date of activation. You can create a contact property that is filled with the date of activation of a free trial to measure the number of days it will take for someone to complete a purchase.
The next steps will be to add the content that helps educate the contact while on the free trial. You'll also want to introduce the contact to your business.
The last steps will be to offer a demo, and if they schedule this demo or make a purchase, they have completed the first workflow.
The steps we just went through are listed below in order.
Enroll users with starting criteria of "activated free trial"
Set Activation Date Property
Use this property to send emails 1-3 times per week. Emails containing:

Help Documents
Blog posts
User Guides
Pro-Tips
Success Stories

Send demo offer email
If workflow goal is complete, enroll them in workflow three
If workflow goal is incomplete, enroll in workflow two
Want email examples? Check out our free email templates, here.
Once this workflow ends you will have two segments of people: those who completed a purchased and are ready to be welcomed as customers in a "welcome" workflow, and those who need more nurturing in a contact re-engagement workflow.
2. The contact re-engagement workflow
This workflow will have a focused timeframe of four weeks. Unlike the other two workflows you want to give the people in this workflow a limited time to take action to encourage them.
This workflow is focused on getting these contacts in one of two buckets. They are either going to be purchasing a product or they need to be nurtured by your company for longer and placed in a future re-engagement campaign.
Enroll with criteria of free trial workflow complete but no purchase
Email One: Remind them of what the free trial is for
Email Two: Encourage feedback on product or trial
Email Three: Discuss benefits not features
Email Four: Final offer and additional trial period with demo
Purchase product/service or schedule meeting with sales rep
If they do not hit the workflow goal add to contact list for future re-engagement
Want a template for this workflow? Try this HubSpot Project Template here.
Your contacts have now decided to make a purchase and are ready for a warm welcome to your company!
3. The welcome workflow for new customers
The last workflow in this series will be to enroll your contacts into a welcome workflow. This workflow will use each part of the Growth Stack to introduce your contacts to your business.
In this workflow you will want to enroll your contacts who have scheduled a demo or have made the purchase of your product or service. The Growth Stack is here to help with this process. By using the HubSpot Sales and CRM tools to schedule meetings and follow-up tasks, your contacts will be excited to be onboarded. By inserting your meetings link into an automated email, your contacts can automatically see when you are free and schedule time that best fits with their schedule. No hassle. No back and forth.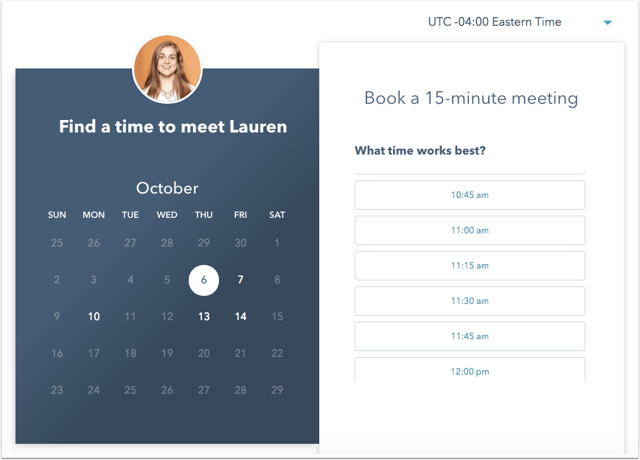 The steps of this workflow will be:
Enroll with criteria or product or service purchase

Send welcome email
Send email to introduce product or service
If further demos or calls are needed, schedule them
When these workflows come together, you are creating a seamless transition for your contacts. These contacts will be engaged with your company and know who you are to help them make an educated and contextualized purchase.
Originally published September 07 2017, updated December 20 2017