There are some people who just refuse to sincerely apologize. My favorite example of this phenomenon is taken from a U.S. television franchise called "The Real Housewives," in which the cast members have become notorious for doling out feigned apologies. Instead of simply apologizing for hurting someone's feelings, for example, it's more common for them to say something like, "I'm sorry if your feelings were hurt."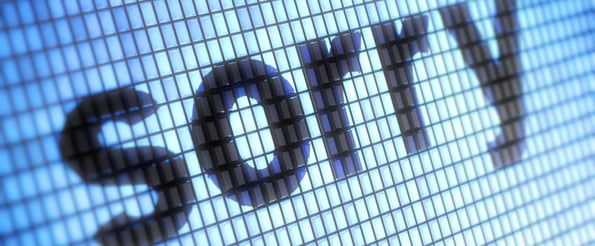 That, my friends, is not how you say, "Sorry."
I get it -- it's difficult to admit when you're wrong. There's been so much conflicting data around the word "sorry." While it's something that most parents of young children believe should be taught, there have also been claims that apologizing makes a person look weak. In fact, some companies' stock prices have fallen following an apology, depending on how it was delivered. There are even browser add-ons to prevent the use of apologetic language in emails.
But to little old me, a sincere apology goes a long way. When I sense genuine remorse, it means a lot to me -- perhaps because it's so rare, at least in my experience. Combined with my nerdy affection for all things marketing, that sentiment applies to brand apologies, too. It's not so much that I think, "Wow, that means a lot to me," but more like, "Wow, that company really nailed saying, 'Sorry.'"
So, who's done it best? We rounded up some of our favorite brand apologies to inspire you next time you make a mistake -- and need to admit your wrongdoing.
But First, Here's What Not to Do
When I was in business school and searching for an internship, a friend in a creative industry told me to try out a website that was created, supposedly, for people with my skills and background. But when I used the platform to create a profile and upload my credentials, I was turned away with no explanation. A few days later, I received the following email:
Let's outline what this apology is lacking:
Specificity. The message notes that I was turned away -- but it doesn't explain why. When you've made a mistake, acknowledge it in full, explaining exactly where you went wrong and why.
Remorse. While the email opens with some apology text, that accounts for a minute portion of the email. The majority of the copy is asking me to do something on behalf of the company that wronged me. Think about it -- if you immediately ask someone to do you a favor after you apologize for a mistake, how genuinely remorseful will you sound? Not very.
Next steps. When you've made a mistake, people want to be sure of two things:

That you're truly sorry for your wrongdoing.
That it's not going to happen again.
The above email does neither of those things, as per the "remorse point." It's also lacking any accountable language to address what it's going to do to prevent this issue from taking place again, using non-committal language like "I hope." And if you're not sure what to do to make it right -- ask.
We chose the examples below due to their inclusion of all of these factors and, in some cases, even more.
6 Brands That Brilliantly Apologized
1) Apple
Back in 2015, U.S. pop artist Taylor Swift announced a very public boycott of Apple Music. That was due to the service offering a one-month free trial of its streaming feature -- but not paying artists for any of their music that was played during the free period.
To right the situation, Apple enlisted the help of its SVP of Internet Software and Services, Eddy Cue, who went about a slightly unusual way of admitting to the brand's wrongdoing -- via Twitter.
#AppleMusic will pay artist for streaming, even during customer's free trial period

— Eddy Cue (@cue) June 22, 2015
We hear you @taylorswift13 and indie artists. Love, Apple

— Eddy Cue (@cue) June 22, 2015
Not long after this unconventional apology was issued, Swift starred in an Apple commercial, which led some to speculate that the entire incident was an orchestrated publicity campaign. That said, it does illustrate some positive points of how big-name brands can apologize. With two tweets, Apple sent the message, "We hear your grievances, we get it, and here's what we're going to do about it."
2) ZocDoc
It seems like you can use the internet to procure anything these days. From buying specialty products to scheduling meetings, so much can be accomplished and taken care of online.
ZocDoc is one such provider of these services, and provides a platform that connects users with doctors for almost every speciaity in their respective areas. There's just one problem -- sometimes, the doctors don't accurately update their schedules within ZocDoc, causing users to make appointments for times that aren't actually available, leading to their subsequent cancellation.
But ZocDoc isn't one to say, "Not our fault, not our problem." Instead, it's constantly striving to gain and use customer feedback to enhance the user experience, like it does with this email:
Here's the thing -- ZocDoc wasn't really the one responsible for the cancellation. The doctor's office was, but despite that, it still negatively impacts the user experience, which ZocDoc acknowledged and offered to make right, by not only asking what went wrong, but offering a gift in exchange for the feedback.
3) Netflix
When Netflix was looking to transition from DVD delivery to a streaming service (yes, we almost forgot about that, too), it had a few missteps along the way.
At first, the company built a system in which its streaming and DVD delivery services would become different entities with separate billing agreements. Before, members had the option of subscribing to both for $10 per month. But the split meant a 60% price increase for current members who wanted both -- the new system's fees were $8 each month solely for the DVD service, plus another $8 per month for streaming. What's worse, the company didn't really provide a clear explanation.
But CEO Reed Hastings wanted to shed light on the situation, and did so in an open letter on the company's blog. He explained why the changes came to be, and noted that Netflix was "done" with pricing changes. But there was a problem -- the company wasn't doing anything to reverse the issue affecting most customers, which was the separation of subscriptions. People enjoyed having the option of signing up for multiple services with one bill. But Hastings didn't fix that. Instead, he noted that the DVD service would not only remain separate, but would be renamed Qwikster.
Source: Netflix
Qwikster was short-lived, to say the least. Three weeks later, Hastings issued yet another apology. This time, he kept it short and sweet, and essentially sent the message, "Okay, you're right. Having two billing systems was a bad idea, and we're doing away with that." Netflix did suffer some initial damage, with a loss of 800,000 members and a falling stock price. However, the brand has since recovered and currently enjoys healthy financials.
4) Naked Wines
I've discovered a pattern to my email-unsubscribing behavior. It typically happens when I'm generally stressed out or overwhelmed, and might snap if I get just one more notification on my phone. The easy answer, of course, would be to turn off my notifications. Instead, I angrily unsubscribe from the well-meaning brand's newsletters, for which I happily signed up, but didn't really engage with.
In my case, at least, it's not the brand's fault. So if that company sent me a witty, thoughtful email in response to my cancelled subscription, asking what went wrong and what could be done to fix it, I might happily oblige -- after I calmed down, of course. And that's exactly what Naked Wines did with the apologetic email below:
Source: Econsultancy
The company openly leads with "sorry," and acknowledges that the canceled subscription was likely due to something it did. So it asked, "What was it? Let us know, so we can fix it."
5) Toronto Maple Leafs
If there's one thing that truly dedicated sports fan would be happy to never hear again, it's the phrase, "It's just a game." And no one, it seems, understood that more than Lawrence M. Tanenbaum -- chairman of Maple Leaf Sports -- after a devastating loss by the National Hockey League's Toronto Maple Leafs in 2012.
Source: National Hockey League
As a somewhat diehard sports fan myself -- go Red Sox -- I can understand the desire for accountability from a team's front office management after a bad season. And with this long, apologetic letter, that's exactly what Tanenbaum accomplished, with the recognition of not only his team's poor performance, but also, a public commitment on behalf of ownership to improve things.
6) Airbnb
In December 2015, home-sharing platform Airbnb began to come under fire for racial profiling and discrimination taking place on its site. That month, Harvard researchers released a working paper, which indicated that travelers with "distinctively African-American names are 16% less likely to be accepted relative to identical guests with distinctively White names." That data was only compounded by reports on social media from travelers who experienced that discrimination first-hand, as well as a lawsuit over such actions.
In monitoring the social media dialogue, it seems like the issue isn't quite completely resolved. However, Airbnb isn't trying to dodge it, and is actually quite proactively addressing this (big) problem. It began with this email from CEO and co-founder Brian Chesky:
Chesky addresses the fault of Airbnb early in the message, acknowledging that the brand was far too slow to respond to the issue of discrimination, and apologized for it. Since then, the company has taken several actions to prevent and put an end to it on the platform, which it outlined in a 32-page report authored by Laura W. Murphy, director of the ACLU's Washington Legislative Office. The report documented an audit conducted to evaluate where Airbnb was falling short on preventing discrimination, and the resulting measures that would be put in place. Since the report was released, the brand has very publicly campaigned on a platform of inclusion, capped with an ad that aired during the 2017 Super Bowl.
Of course, this series of events presents a much larger issue that isn't limited to Airbnb and does raise the question, "How much can a corporation really do?" And while that is far from an easy question to answer, Airbnb seems to be continuing to do its part, and acknowledging its role within this landscape.
So, Next Time You Mess Up...
...you know what to do.
Granted, admitting when you're wrong is still anything but a simple task. And figuring out how you're going to make it right isn't a process that can take place overnight. But one thing you can do immediately is to admit your mistake. Ask for feedback. Be transparent. And remember -- "I'm sorry" can go a long way.
How does your brand address mistakes? Let us know in the comments.