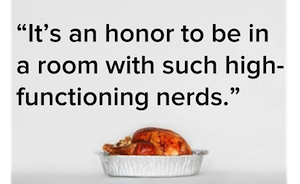 "It is, once again, an honor to be in a room with such an illustrious group of high-functioning nerds."
That's how comedian and former Daily Show correspondent John Oliver kicked off The Crunchies, the annual awards show hosted by TechCrunch, GigaOm, and VentureBeat.
If you've never attended or heard of the event, Oliver describes it as a time every year that the tech industry can "get together to celebrate and quietly criticize one another."
"It's like the Nobel Prizes being given out," Oliver snarked (he quickly picked up on the industry's general trend toward snark). "If Nobel Prizes were given out in an atmosphere of high school bitchiness."
Some highlights of the video are below, but fair warning for anyone who watches it in full -- it's not well suited for sensitive ears.
With quips about Spider-Man, NSA spying, and Larry Ellison, Oliver hit on some of the industry's high and really, really low notes this year with typical incisiveness. Here are some highlights:
"If Martin Scorcese was to do a modern-day version of The Wolf of Wall Street, it wouldn't take place in New York, it would take place on the West Coast. And it would have all the money, all the opulence, and about 10% of the sex."
"The award this year for creepiest marketing idea goes to Uber ... for their kitten-delivering scheme. Delivering kittens for 15-minute cuddles seems like a cute idea until you think about the practicality of that concept. Never has a marketing idea potentially ended with more dead kittens at the end of it."
"Cheating during a yacht race is cartoon villainy at its finest. He [Ellison] should have a handlebar mustache and a surgically attached monocle."
Oliver's keen wit was a refreshing reminder that while the industry does some cool things, we'd be wise to keep things in perspective -- and laugh at ourselves once in a while, as good roasts make you do. And if these things hit close to home with you (a few did with us here), then hey, cool, you're a tech industry insider.
Originally published February 12 2014, updated July 28 2017