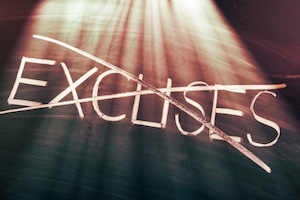 We're declaring 2014 as the "Year of No Excuses" -- and we'll have a handful to share with you in the near future. This year, we want to help your organization take the first steps to implementing an effective online strategy to raise awareness, engage new (and old) constituents, and fundraising for your organization the right way.
Of course, we can only give you the tools to do so. It's up to you to make the changes and forge ahead this year to become a rockstar inbound nonprofit. So, let's start off the New Year with 10 resolutions your organization should be making in 2014.
1) Create and follow an editorial calendar.
It's one thing to have a content and online strategy for raising awareness and fundraising, but staying organized and holding contributors accountable is just as important. Creating an editorial for all your newsletters, blog articles, social media posts, media outreach, direct mailers, and website updates is the best way to get organized.
LightBox Collaborative developed an extensive editorial calendar template using Google Docs for organizations to get started with, including suggested topics. You can also add topics specific to your organization to make it your own.
2) Start telling stories with a blog.
Incorporating stories into your content strategy (and including them on your editorial calendar) is a must this year. These can be stories told by your volunteers, your major donors, people you help in the field, your partners, or even you.
Make it a point to develop, write, and share compelling stories on your blog and via social media to attract people to support your cause. Identify activists who will share these stories as well to extend your network even further. Individuals give because of a personal connection, so tug at those heartstrings.
Your stories don't always have to be about the results. You can also create them around the problem you're trying to solve. Just make sure they're clear, concise, and include an explicit next step for those reading (or watching) the story to take to get involved and support the organization.
3) Commit to creating one or two videos this year (and don't worry about the quality).
We think video should be a major priority this year for nonprofits. By no means do your videos have to be Academy Award-winning quality. Just be sure tell a compelling, clear story.
Interviewing your staff or people you've helped is one idea for a video. Showing the results your organization's efforts produced in 2013 in video form by simply writing your accomplishments on giant poster boards and having staff members read them to the camera is another idea.
Whatever you come up with, remember to make it fun, keep it short, and involve your staff. Millennials are much more likely to watch a video than read an extensive annual report, and videos are the most shared medium on social media to date.
4) Incorporate crowdfunding into your fundraising strategy.
Crowdfunding has been around for over 10 years, but many organizations have been slow to adopt it into their fundraising strategies. If you're not utilizing crowdfunding yet, do so for at least one campaign this year.
Online fundraising and donations are rising each and every year, with an increase of 16% in November and December 2013 from the same two months a year earlier. More and more individuals are interacting with organizations online, and what better way to leverage their online networks than with crowdfunding.
This can be done through a number of crowdfunding platforms and can be incorporated into an existing campaign or even an event that is scheduled for later this year.
Allow individuals to fundraise for your organization themselves, and empower them to solicit their audiences for donations that your organization would otherwise not have access to.
Millennials are a great generation to target with crowdfunding, as the majority of them are not capable of donating large amounts yet, but could easily raise $1,000 through crowdfunding.
5) Develop a persona for Millennials.
Millennials truly are the next generation of supporters for your organization. They're ready to get involved by donating, fundraising, volunteering, and advocating for your cause TODAY. Thus, this is the year to develop a strategy to engage them, through existing and/or new programs.
Developing a new persona for Millennials will open up a whole new demographic that you may not be targeting or engaging today. If you're engaging Millennials already, then you're one step ahead of most organizations.
As mentioned, Millennials may not be able to give a lot right now, but don't discount their importance to your efforts. They will give their time and knowledge to an organization they are inspired by and for which they are passionate.
An easy way to understand this generation a bit better is to visit a local high school or university and interview students who are interested in the nonprofit sector and want to learn how to help people and make an impact. It's these interviews that will be integral in developing your Millennial persona.
6) Show the impact and results of your organization's work.
Take a step back before you get into planning everything for this year, and think about how you're going to close the loop on your campaigns and fundraising efforts.
Contemplate how you can show the results of your work, whether it's what you accomplished last year or what you're looking to accomplish this year.
Donors, especially Millennials, want to hear about your success and how their contribution of time or money has made a difference. Thus, 2014 is the year to start bragging about all you accomplish to the world. Use your online channels, like your website and social media, and your content mediums, like video and your blog, to do this.
7) Make your mission tangible by productizing your appeals.
Making your appeals tangible is a new and exciting idea. By equating what a donation level equals to in terms of the mission, your donors have a better idea of what their contribution will give someone.
For example, charity: water equated $45 to giving one person in India clean water during its September campaign. This not only prompts many people to make that donation, but it also gives them an idea of what they're providing an individual when they do contribute to the organization.
If your organization is able to equate your donation ask to something tangible like a malaria shot or clean water to one person for a year, it connects the donor to the results of their impact.
So, think carefully about what you can equate donations to in terms of specific products that your organization provides, living conditions you're trying to improve, or policies you're trying to change.
8) Define (or redefine) your organization's brand and voice.
Many organizations don't see their brand (i.e. their logo, mission statement, colors, fonts, website design, etc.) as important as raising funds. However, your brand is very important when it comes to your content and online marketing and fundraising strategy.
Individuals identify with your brand when it's consistent and clear. Making sure the organization's logos and language are consistent throughout its collateral -- both offline and online -- is very important.
Take an inventory this year of your marketing materials, including your direct mailers, e-newsletter, social media accounts, website, and blog, and make sure your brand is consistent and clear across all of them. This will go a long way in retaining your audience and attracting a new one online.
9) Optimize your website for SEO.
Search engine optimization (SEO) is still integral to achieving marketing success, so you might as well get on board this year (if you're not already).
Use our SEO checklist for your website and blog articles and make sure they're completely optimized. If you're going through a website redesign, make sure all the best practices are covered before you go live. This will make your life and content strategy much more effective and allow you to rank higher on Google and other search engines so more people find and connect with you online.
10) Stop asking your donors to marry you on the first date.
Everyone knows you're a nonprofit and you're looking to raise money. But if I'm a first-time visitor to your website, I want to learn more about your organization's work, what you've accomplished, and what you're doing in 2014 -- I don't want to be asked to make a donation as soon as I land on the site, so don't ask me to.
Instead, offer me and the majority of your website visitors who are in research mode educational information that is going to inspire us to support your cause. The donate button and ask is important, and I expect it at some point ... but not on the first date.
What resolutions are you making this year?
Originally published January 09 2014, updated July 28 2017