Disclaimer: I love Saturday Night Live.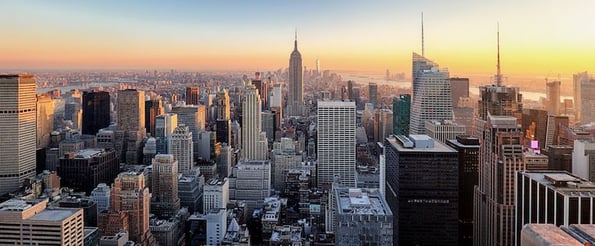 Actually, that's a huge understatement. I grew up watching SNL, some of my role models are SNL veterans, and I regularly abandon Saturday night plans so I can watch the show live.
So you can imagine my joy when SNL started going digital. After almost 40 years on the air, SNL began publishing clips from the show on NBC.com and YouTube, where videos racked up millions of views and changed how the show was watched. And since the introduction of more social media platforms, SNL has only gotten more innovative and creative with its approach to sharing comedy with the world. The current season of SNL, Season 42, is the most-watched in 24 years.
To pay homage to the Spartan Cheerleaders, the Ladies of SNL, and too many impressions to count, we're doing a deep-dive into how SNL is evolving its strategy to suit the modern viewer. The show still airs on Saturday nights at 11:30 p.m. at 30 Rockefeller Center, but SNL is also diversifying how, where, and when you can watch its hilarious skits and stellar musical performances.
How SNL Is Diversifying Content
Pre-Produced Skits for Watching (and Rewatching) Online
Does anyone else remember the iconic "Lazy Sunday" rap that went viral online and kicked off the career of The Lonely Island?
That video was SNL's second Digital Short ever, and it was released back in 2005.
Source: NBC
Since then, SNL has produced more digital shorts in addition to its trademark live skits -- pre-produced videos that aren't performed live but are still aired with the audience's live reactions. Check out its recent music video about a high school theater production's cast party:
Since the dawn of internet video in the early 2000s, SNL has leaned more heavily on creating these pre-produced music videos and commercial parodies that lend more easily to watching and rewatching online. These videos have higher production value than the live skits, confront topical political and cultural references head-on, and have made up close to one-third of the show's lineup since "Lazy Sunday" premiered.
These videos perform incredibly well on YouTube -- check out the pre-produced "Undercover Boss" parody series episode that earned almost 22 million views below:
Source: YouTube
When an episode of SNL airs, NBCUniversal publishes the full episode and all of the skits and performances on its own website. Then, it publishes the most popular videos on YouTube, where some go on to achieve viral status. And although viewers can't watch the complete episodes on YouTube, the modern accessibility of SNL online has helped the show maintain topical relevance and popularity.
Takeaway for marketers: SNL teaches marketers to pay attention to what their audience is doing and to cater to them. During the 2016 U.S. presidential election cycle, for example, SNL's YouTube channel grew 48% -- a nod to the impact of catering to viewer preferences on video metrics. Live sketches and improvisation will always be the bread and butter of SNL, but it also leans on quality pre-produced videos, a distributed content strategy, and what's happening in the world to guide its editorial strategy.
Original Skits on Snapchat
In 2016, NBCUniversal made a deal with Snapchat that it would begin creating original content for the ephemeral messaging platform. And in February 2017, SNL produced its first original skit for Snapchat.
Source: Saturday Night Live via Snapchat
We're not clear yet how many skits will be produced exclusively for Snapchat. We do know the skits are available for 48 hours after the air of the show on the Snapchat Discover tab, accessed by swiping left twice on the Snapchat home screen. SNL is expanding its distributed content strategy to include even newer platforms and audiences, and it will be fascinating to see how many of SNL's 11 million viewers will consume its Snapchat content, too.
Takeaway for marketers: SNL teaches marketers not to stay entrenched in comfortable, usual channels for publishing and to experiment with new platforms and formats, such as ephemeral content on Snapchat. Try posting disappearing content stories on Snapchat, Instagram, or Facebook Messenger to see if you can engage your audience with new content.
Behind-the-Scenes on Instagram
SNL's Instagram is another must-follow for any sketch comedy superfan. Not only does SNL use Instagram to post short clips from sketches to drive viewers to its YouTube channel, but it posts fun, behind-the-scenes looks at rehearsals, costume changes, and performances that you'd only see if you were backstage.
Everyone likes to feel like they're in on a secret -- after all, FOMO is a powerful marketing tool. These behind-the-scenes images help foster a sense of community between SNL and its viewers, and it gives viewers an incentive for following along -- they get the inside scoop on their TV show.
In a recent Instagram post, SNL promoted its series of behind-the-scenes videos, "Creating Saturday Night Live," available only on YouTube. Videos like these are for fans who want to learn more about the hair and makeup process that transforms cast members from presidents to aliens and back again, and other behind-the-scenes secrets.
Takeaway for marketers: SNL uses its Instagram to promote and repurpose content from the show, but it also creates original content to appeal to fans on a more intimate level. Marketers can duplicate this approach to drive engagement on different social channels by pushing for urgency. Publish content that's exclusive to social media, offer a contest if viewers follow your Instagram Story, and use recording features like disappearing and looped videos to repurpose video content into something more engaging and easily consumable for social media users.
"Weekend Update" on Thursdays
SNL fans and political news junkies alike rejoiced when NBCUniversal announced "Weekend Update," a popular comedic news segment on SNL, would air four episodes during Thursday night prime time TV during the summer of 2017 when SNL is normally off the air.
Source: Vulture
"Weekend Update" covers topical news stories -- primarily politics -- during its short segments near the end of the SNL broadcast. No matter where you stand in regard to the current political climate, the numbers don't lie: SNL sketches about the 2016 presidential race and President Donald Trump's administration are the show's most popular. In fact, the two most-watched videos on SNL's YouTube channel are related to the President, and sketches like these are credited with garnering over 1.2 billion views and 1 million engagements. "Weekend Update" segments are particularly popular too, regularly racking up millions of views on YouTube.
Source: YouTube
So it should come as no surprise that NBCUniversal and SNL are interested in keeping the comedy-news momentum going during the show's hiatus.
Takeaway for marketers: This lesson teaches marketers to pay close attention to the performance of content campaigns and adjust their strategy accordingly. If a campaign performs well, analyze it to find out what works, and replicate it. It's always a good idea to double down on what's working of find ways to repurpose top-performing content. This could be a great strategy for broadcasting live videos on social media or creating compelling ephemeral stories, too.
And live from New York ...
For one of the longest-running TV shows on the air, Saturday Night Live has proved itself to be one of the most innovative, too. Perhaps the biggest lesson marketers can take away from SNL's evolution into a multi-platform comedy giant is to not be afraid of experimenting. While it's too soon to tell how some of these initiatives are performing, the numbers speak for themselves: SNL is in the midst of its biggest season of the 21st century.
By embracing a distributed content strategy and adapting its creative process to viewer preferences and cultural trends, it's achieved a level of popularity and viewership most marketers would envy. Experimenting with new types of video and adapting content to new social media strategies will be key to marketers' success in the future, whether they market products, software, or sketch comedy.
Are there other TV shows with a strong social media presence? Share with us in the comments below.