Each year, it seems like most of the Super Bowl is consumed by ads.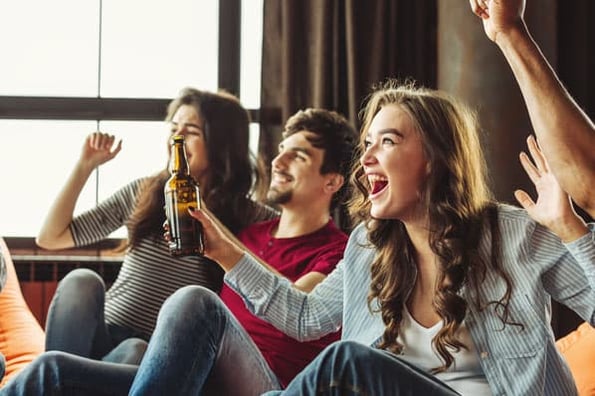 But this year, when the Super Bowl ended before 10:30 PM EST, some big-game party-goers wondered, "Were there fewer ads this year?"
In reality, the game ended at a decent hour because the Kansas City Chiefs smoothly took down the San Francisco 49ers without entering overtime. Additionally, with over 50 commercials, this year's Super Bowl aired more ads than the 2019 game -- which only hosted 42 ads.
However, in recent years, ads of 30-seconds or less have become the norm. So, although there were more ads this year, many of them were on the extremely-short side.
This isn't shocking. Each year, Super Bowl ad slots get more and more expensive. This year, advertisers paid $5.6 million for 30-second slots. This increased from roughly $5.1 million in 2019.
Although keeping an ad under half a minute obviously saved companies millions of dollars, this time limit posed unique challenges for brands that purchased shorter slots.
To be considered successful, these short ads would need to grab attention from audiences in 30 seconds or less. These brands also had to create content that would memorably stand out in a chaotic stream of other insanely high-priced ads.
If you're a video marketer, you've probably had to deal with similar time-crunches when creating content on a smaller scale.
For example, when it comes to in-stream or digital video advertising, the shorter your video is, the cheaper it will be.
Even if you're highly skilled in creating videos that are 30-seconds or less, you might also worry about the research-backed fact that the average viewer only pays attention to online content for eight to 12 seconds.
This year, while many brands that bought Super Bowl ad slots of 30 seconds or less relied on quick celebrity cameos, extreme stunts, nonsensical humor, and insanely expensive special effects to grab attention, some companies actually delivered bite-sized commercials that boosted brand awareness with clever, informative, or incredibly memorable storylines.
So, how did they do it?
To help inspire you as you build a short-form video advertising strategy, here's a list of some of the best 2020 Super Bowl ads that were 30-seconds or less.
7 Effective Super Bowl Ads That Were 30 Seconds or Less
1. Hulu: "Tom Brady's Big Announcement"
In a classic example of newsjacking, Hulu enlisted the help of the New England Patriots Quarterback Tom Brady, to highlight some of the platform's newest features. Aside from presenting the benefits of a Hulu subscription, the commercial also aims to intrigue viewers who wonder, "Will Tom Brady return to the Patriots next season?"
Since Tom Brady and the Patriots lost the playoffs, rumors have swirled about whether or not the long-time quarterback would return to the team now that his contract is up. Some have also suggested that Brady, one of the oldest NFL quarterbacks ever, would soon retire.
Although Brady doesn't give any specific announcements about his future in the Hulu ad, he gives a speech that makes viewers suspect that he will be returning to the NFL in some way next season.
The commercial begins with Brady somberly walking on to a dark football field to the sad musical overlay of the piano.
"They say all good things must come to end, so to my teammates, my family, and my friends -- you deserve to hear this from me," a narration says as you begin to think Brady will announce something important having to do with his career.
Suddenly, the music shifts to a peppy hip-hop style as Brady shockingly says, "Hulu doesn't just have sports."
"According to the script they just gave me, Hulu has your favorite cable channels, plus the greatest shows, movies, and originals of all time. So it's time to say goodbye to TV as you know it," he adds.
Just when you think that this is just a Hulu commercial, Brady looks at the camera and says, "But me? I'm not going anywhere."
This is a great example of how Hulu leverages a news topic that rumors had been swirling around. Although Hulu didn't have Brady make a specific announcement, the brand reinvigorates the questions and excitement around the news topic while still highlighting its product's best features.
2. Mountain Dew: "As Good As The Original?"
While Hulu's ad leverages news topics, Mountain Dew's Super Bowl ad plays up nostalgia with a 30-second comedic spoof of the 1980 horror film, The Shining.
In the spoof, Breaking Bad's Bryan Cranston plays the crazed character Jack, a role famously held by Jack Nicholson. Meanwhile, Tracee Ellis Ross of Black-ish plays Jack's terrified wife.
In the scene which is spoofed, Jack walks down a hallway into a bedroom looking for his wife while armed with an ax. He then creepily approaches an ensuite bathroom that his wife's hiding in, pleasantly knocks on the door, then smashes a hole in the wood. He iconically sticks his face through the hole, stares at his wife with crazy eyes, and says, "Here's Johnny!"
In the spoof, Bryan Cranston walks towards the bathroom door and says, "Come out, come out wherever you are, I've got Mountain Dew Zero Sugar, with the same refreshing taste as the original."
As Cranston smashes the door, you see an overdramatic Tracee Ellis Ross screaming in the bathroom as Cranston looks at her and says, "Here's Mountain Dew Zero!"
Ellis Ross suddenly stops screaming, grabs the drink, and says, "Well, I am thirsty."
The commercial ends with text saying, "As good as the original. Maybe even better?"
This commercial is a great use of how brands can leverage metaphors and nostalgia to tell the story of their products. Both the spoof and Mountain Dew Zero aim to be "As good as the original." This type of ad shows a skeptic viewer that a new product or brand extension is as good or better than a product they've come to know and love, similarly to how they appreciate a classic horror film.
3. Olay: "#MakeSpaceForWomen"
Olay used it's 30-second time slot to tell a space-themed story aimed at empowering women and poking fun at today's outdated gender stereotypes.
The commercial, which depicts three women known for their achievements, views on equality, and activism suiting up to go to space. On the spaceship for, "Mission Make Space for Women," sits comedian and A Little Late with Lilly Singh host Lily Singh, best-selling author and former Busy Tonight host Busy Philipps, and retired astronaut Nicole Stott.
Meanwhile, Taraji P. Henson, star of the NASA biopic Hidden Figures, monitors the flight from Mission Control.
Although the commercial is peppy and empowering, it begins by acknowledging how the news still discusses female success in an outdated way. The ad opens with award-winning journalist Katie Couric reading, "Is there enough space for women in space?" off of a prompter. She then turns to the camera crew and says, "Who wrote that? Are people still asking that question?"
As MIssion Make Space for Women lifts off, Henson says, "When we make space for women, we make space for everyone."
From the spaceship, Singh and Philipps announce that for each tweet with the hashtag #MakeSpaceForWomen, Olay will donate $1 to Girls Who Code, a non-profit that aims to empower women in STEM.
When a company, like Olay, targets an audience of a certain gender or demographic, creating ad content and philanthropic campaigns that empower the demographic adds credibility behind the company's mission. While some viewers might have just known Olay as a women's skincare line, they might watch this ad and recognize that the company cares about and wants to empower its female customers.
If your brand's target audience includes subgroups or genders that could be under or misrepresented, take a note from Olay, and identify inclusive marketing strategies that acknowledge your audience's strengths and unique qualities. Not only will this give viewers the idea that you care about your customers, but it will also help people in different groups relate more emotionally to your content.
4. Cheetos: "MC Hammer: Where it All Began"
Like Mountain Dew, Cheetos also plays up nostalgia in its short and sweet Super Bowl ad. But, instead of mimicking something that already happened, Cheetos interjected its product into an unseen moment in pop culture history.
How did Cheetos do this? In the ad, MC Hammer gets the idea for the "U Can't Touch This" melody while eating a handful of Cheetos. He starts humming it, reaches out to play it on piano, sees the cheesy Cheeto crumbs all over his fingers, and simply says, "Wait. I can't touch this."
Suddenly, he gasps and his eyes open wide with inspiration as he's stumbled upon the chorus to his now-iconic song, "U Can't Touch This."
Yes. Recreating MC Hammer's life will be impossible without the budget to hire the artist himself. But, aside from the great celebrity cameo more brilliantly tells a short fictional story.
Storytelling is a great tactic that allows your viewer to get intrigued and engaged by memorable content. While you probably can't afford to tell a story with a celebrity star in it, take a note from Cheetos and use your content to tell an interesting story that centers around your product. To learn more about storytelling, check out this helpful guide.
5. WeatherTech: "Lucky Dog"
As surprising as this sound, an advertisement doesn't always need to discuss exactly what your product does. In fact, you can use your prized slot to tell a story about something your company, brand, or leadership is passionate about. While this type of ad won't highlight your product directly, it shows audiences another side of your company and makes your brand look like it's run by actual humans, rather than emotionless executives fueled by power or money.
One great example of this strategy was the below ad from WeatherTech.
After the CEO of WeatherTech's dog was diagnosed and treated for a near-lethal form of cancer, WeatherTech used its Super Bowl slot to highlight the University of Wisconsin Veterinary Hospital, the organization that saved the dog.
The commercial, which is narrated from the perspective of the dog is incredibly heartwarming and makes both the organization and WeatherTech look like companies that care about their clients.
"Hi. I'm Scout, and I'm a lucky dog. It's not because I have this big stick or because I was on the WeatherTech Super Bowl commercial last year. It's because I beat cancer," says the dog at the opening of the commercial. "I'm alive thanks to cutting edge technology at the University of Wisconsin's Veterinary School of Medicine.
As the ad ends, it shows a video clip of Scout frolicking on the beach as another narrator concludes with, "Pets make a difference in our lives. You can make a difference in theirs. Donate now at WeatherTech.com/donate."
6. Pop-Tarts Fixes the Pretzel Commercial
While most of the ads on this list tell a narrative story, Pop-Tarts' aired an ad that humorously overemphasizes aspects of traditional TV commercials. This goofy ad spoof was positions their new Pretzel Pop-Tart as an innovation to traditional pretzels.
To add over-embellishments, Pop-Tarts enlisted Queer Eye's outgoing stylist Johnathan Van Ness to host the commercial.
Like traditional infomercials, the ad highlights a pain point and shows how the new Pretzel Pop-Tart serves as a solution -- but in an incredibly eccentric way.
The commercial opens in black and white as a woman struggles to eat ginormous pretzels. Van Ness begins a narration that asks, "Are you tired of your pretzels not being Pop-Tarts Toaster Pastries? Are you strugs [struggling] to snack?"
The commercial shifts from black and white to color as Van Ness appears on screen to help the woman who's struggling to eat pretzels. He says, "Pop-Tarts fixed that for you," in reference to her pretzel dilemma. Then, he starts highlighting the new Pop-Tarts Pretzel flavor.
Although every Super Bowl is filled with innovative ads that aim to be memorable with a deep storyline, Pop-Tarts chose to be unique by revitalizing a traditional ad style.
With this goofy Pop-Tarts commercial, the brand demonstrates that it can't hurt to still leverage the traditional "problem/solution" ad format -- as long as the content is still interesting, humorous, or eye-catching to viewers.
7. Planters: "Baby Nut"
When it came to Planters, the nut brand decided to attract attention with a bizarre two-part series of 30-second ads that culminated during the Super Bowl.
In the first ad, which circulated days before the sporting event, Planters' 104-year-old top-hatted mascot -- Mr. Peanut -- finds himself hanging off a cliff branch with two men. The men fight over who will let go to save Mr. Peanut. But, Mr. Peanut shockingly and heroically jumps off the branch to save them. He falls to his death and explodes on impact.
Odd right? The ad series only got weirder. In the Super Bowl commercial, friends of Mr. Peanut cry as he's buried during a funeral. As the Kool-Aid Man sheds tears over the grave, the dirt pile turns into plants as a reincarnated "Baby Nut" emerges in a tophat. With the same grown man's voice as Mr. Peanut, Baby Nut says, "I'm back," before asking for his monocle.
This is pretty bizarre, but the commercial isn't that far off from rebranding trends we've seen recently in the media. For example, bloggers have called Baby Nut a "Baby Yoda rip off," referencing how The Mandalorian revamped the Star Wars franchise when one character discovered "The Child" -- a baby member of Yoda's species.
While the Baby Nut announcement did gain some online scrutiny, the commercial is still effective because its bizarreness makes it memorable. Even though some criticized the ad, many viewers enjoyed the weirdness. In fact, some publications report that it "divided" social media.
Ultimately, when we look back on past Super Bowl ads, we won't just remember the ads that followed a standard format or fit into a narrative norm. We'll also remember the weirder ads and the brands that created them.
How to Capture Viewers in 30-Seconds or Less
Drawing attention from audiences in just seconds might seem like a daunting task, but the brands above have proven that it certainly is possible.
And, although you can't put all your ad dollars into special effects and celebrity cameos, there are scalable strategies that you can learn from. Here are just a few:
Make a statement: WeatherTech and Olay used their ad slots to discuss causes that their brands were passionate about. This makes your brand look more relatable and like it cares about its customers.
Don't be afraid of traditional formats: As Pop-Tarts showed us, there's no harm in creating a traditional ad format that shows a problem and how your product can solve it.
Embrace emotions: Whether it's laughter, empowerment, or even confusion, ensure that your content leaves viewers with some sort of feelings. This will help them connect more emotionally to your content, product, and brand.
Want to learn more about how you can affordably leverage some of the most common Super Bowl ad strategies, check out this blog post.