This post is a part of Made @ HubSpot, an internal thought leadership series through which we extract lessons from experiments conducted by our very own HubSpotters.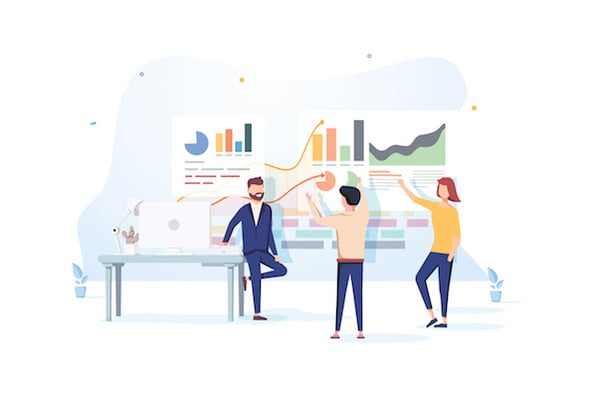 The way people shop has radically changed.
Back in the day, going shopping meant visiting a few shops — maybe some with brands you knew you liked. Now, customers have a wealth of options available online 24/7. They can compare features and prices, read recent reviews, or even get suggestions from influencers and magazines. They can go back and forth between their best options, until they find what suits them best.
In this new context, if you want your products or services to be considered when customers weigh their options, you have to be visible where they search for options. You have to be everywhere that matters — in recommended lists, comparison articles, review websites, etc. — so your brand stays top of mind. This is what we call creating a surround sound content strategy for your brand.
In this article, I'll take you through how HubSpot uses surround sound to track and improve its products' visibility and awareness.
What is the surround sound strategy?
At HubSpot, "surround sound" is the name Alex Birkett gave to a program that aims to make HubSpot products visible every time someone searches for a product-related keyword (e.g. "best help desk software" or "best live chat software").
The goal is for potential users to see HubSpot mentioned in all or most of the pages that rank in Google top results for those keywords. This is the "surround sound" effect!
How to Start a Surround Sound Content Program
If you're looking to start a surround sound program for your business, these next steps will show you exactly how to go about it.
It's important to note that this guide is based on HubSpot's last 18 months of experimenting with this program. While we learned a lot on this journey, this is still a work in progress with many opportunities to explore.
Depending on your industry, your program might need to be adjusted. So we hope these steps offer you initial guidance and help give you kick-start your own surround sound content program.
1. Define your product-exploration keywords.
As Alex Birkett mentioned in the previous post of this series, the goal with a surround sound content program should be to "be everywhere a customer is searching when they seek out products like yours".
That means that you first need to put together a list of keywords that potential customers typically use to discover their options for a given purchase. We call these product-exploration keywords (or surround sound keywords).
Product-exploration keywords are search queries potential customers use to discover, for any given purchase:
What options are available to them across the market (e.g. "language learning apps")
The most recommended solutions (e.g. "best language learning apps")
Alternatives to something they are already using but may want to change (e.g. "best Duolingo alternatives")
Start building your list by following these three patterns. Certain keyword research tools like Ahrefs, SEMRush or MozPro can suggest related terms with high search volume. That way, you can build your list much faster and get extra information, like search volume or difficulty, to help you prioritize terms.
If you're using Ahrefs, look for Keyword ideas by search volume to expand your list:
Product-exploration keywords are typically the highest intent and highest converting, but you can also expand your selection to "product-led content." This is content that is centered around your product, but typically teaches something product agnostic.
For example, a product exploration keyword for ProProfs could be "best NPS survey software," but they can also consider something like "how to create an NPS survey" as a product-led content keyword.
2. Determine your current performance for product-exploration keywords.
Once you have your list of product-exploration keywords, it's time to see how many of the top 20 search results your product or service currently ranks for.
You can do this manually by checking each of the top 20 pages for your brand mentions:
In the end, you should find yourself with a list of keywords, mentions, and visibility scores like this one:
| | | | |
| --- | --- | --- | --- |
| Keyword | Monthly search volume | mentions in top 20 | visibility score |
| CRM providers | 170 | 7 | 35% |
| sales management tools | 110 | 11 | 55% |
| enterprise CRM | 210 | 5 | 25% |
We calculate the Visibility Score as a % of mentions in the top 20. So, if HubSpot is mentioned in 7 out of 20 pages that rank for "CRM providers", then the visibility score for that keyword is:
Visibility Score % = (7 ➗ 20) x 100 = 35%
At HubSpot, we're monitoring around 600 product-exploration keywords. So, checking for mentions manually meant checking around 10,000 URLs (if we consider that some pages appear for more than one keyword).
That's where Alex stepped in and built a "SERP tracker" — a tool that calculated the percentage of search results for any given query that mentions a brand, product, or service.
The SERP tracker was a game-changer for HubSpot's surround sound content marketing program as it made monthly reporting and tracking changes a matter of hours, instead of days.
Note: If you're looking for more information about surround sound reporting, read the next post in this series. You can also geek out on this generic R script for the SERP tracker that Alex wrote about on his blog.
3. Understand your brand's current visibility on the SERPs.
To understand your brand's visibility when people are looking for products or services like yours, you need to measure your visibility at 1) a keyword level, 2) a topic level, and 3) a product level. This will allow you to understand your overall performance and track it against competitors.
At HubSpot, we track around 600 surround sound-specific product-exploration keywords grouped by feature, product, and Hub:
This allows us to either track our progress at a granular level or just look at the overall Hub performance.
Here's an example of a dashboard for HubSpot Marketing I created using a mix of spreadsheets, the SERP tracker that Alex built, and Google Data Studio.
Once you have your visibility calculated, you've got your baseline from which you can start improving.
Expect your visibility score to fluctuate over time. This is because new content is constantly published that ranks for those keywords you're monitoring. Depending on whether the content mentions your brand or not will affect your visibility score as well. There will also be fluctuations that are not related to a drop or an increase in visibility, but they are just a consequence of adding more keywords to your score calculation.
Most importantly, your own efforts to build partnerships will impact your visibility. The more successful you are at getting bloggers or review websites to mention your brand (in new or existing content), the more likely your visibility will increase.
A visibility increase can result in more referral traffic, direct signups, and generated leads, but more importantly (and far more difficult to tie to the bottom line), it can impact your brand awareness.
More people will know about and recognize your products or services simply because they stumble upon them every time they search for "recommendations of best X."
4. Identify opportunities to improve your SERP visibility.
Spotting opportunities can be challenging when you're monitoring mentions for more than 10 keywords.
At HubSpot, we monitor over 500 keywords for our surround sound program, so we built a formula that takes into account both our visibility for each specific keyword as well as the average monthly number of searches for that keyword.
Opportunity = (100% - Visibility Score) x Avg Monthly Searches
Say for the keyword "CRM software" (54,000 average monthly searches), our visibility in the Google top 10 search results is 80%. This means that HubSpot is mentioned in 8 out of 10 pages that rank in the Google top 10 for this keyword.
Opportunity for "CRM software" = (100% - 80%) x 54,000 = 10,800
To establish an order of priority, calculate the opportunity level for each keyword, and sort your list from highest to lowest opportunity value.
5. Define a clear goal for your visibility score.
Once you have your priorities in check, it's time to dig a bit deeper and look at all the URLs that don't already mention your brand. The question to ask yourself now is: Which ones of these would potentially mention my brand if I reach out to them?
Some websites, like big media publications, will never respond or update their content. So you're better off by removing these in the first place.
You'll be left with a list of potential targets (URLs and websites). To establish your surround sound goals, calculate your visibility scores for the same list of keywords — but this time, take into account the potential targets.
And there you have it: your baseline and your visibility goal.
Now what you need to do is figure out how you can persuade your target companies to mention your brand.
Types of Surround Sound Partnership Agreements
Depending on your industry and what companies rank for your surround sound keywords, you'll be targeting many types of companies to potentially partner with.
Some of the most common ones we see ranking for our target keywords here at HubSpot are:
Review websites such as G2, Capterra, and Digital.com
Other SaaS companies and competitors such as Mailchimp and Zoho
Other marketing blogs such as Neil Patel and Content Marketing Institute
Big publishers such as Forbes, Inc., and ReadWrite
Each one of these companies has its own goals and objectives. The "secret" to succeeding with your surround sound content strategy is understanding these goals and how you can help and provide value to these companies and publications. In turn, you can extract value as well.
In other words, don't expect other publishers to list you just because you reach out. You need to look at this as a partnership that you build for the long-run.
So here are some ways in which you can help your potential partners:
Promote their products or content.
Provide digital PR on their behalf.
Include affiliate marketing links to their products or services.
Once you have a battle plan of how you'll approach each partner so that each benefits from the collaboration, you're ready to execute on your surround sound content program.
6. Start outreach for long-term partnerships.
This is the part that can make or break your surround sound content program.
A good outreach plan involves a relevant, personalized, timely (think about the tough social and economic times we're transitioning), and well-targeted email sequence that's persuasive enough to get your prospects to respond positively.
Remember this is not meant to be a one-off collaboration, but a long term, mutually-beneficial partnership. Your outreach goal should be to spark a conversation with your potential partner. To work together, you first need to learn more about their goals and the best way to meet both parties' needs.
Note: If you're new to outreach, check out this post on how to write the perfect cold outreach email, this extensive guide on email outreach and this list of tools you can try out. Email outreach is an art and a science, and getting this part right is crucial.
Once you have kick-started a genuine partnership, make sure you keep track of all of the communication so Sales and Marketing can see it if needed. The best way to do that is to use your CRM software.
At HubSpot, we're lucky enough to have our own CRM to manage everything — from email sequences to project tracking and partner communications to reporting on our outreach progress.
On top of using the Google Data Studio dashboard to track our visibility progress, we use the HubSpot CRM to keep track of each individual partnership and the mentions that contributed to our growth.
Summary: How to Successfully Execute a Surround Sound Content Marketing Program
The way people shop has changed, so marketing needs to evolve and adapt, too. That's why the surround sound strategy is a tactic you need to consider for 2021 and beyond. It's a simple concept, but the execution can pose some challenges.
That's why we put together this step-by-step guide to hopefully help you structure your upcoming program. Here's a summary of what it's all about:
Start with a list of keywords that are relevant to your products and services.
Measure your visibility and opportunity for each keyword.
Prioritize potential partnerships based on opportunities.
Figure out how to get in touch with each partner and draft a message.
Schedule a kick-off meeting and get to know your partner's priorities and goals.
Keep track of your partnerships (CRM).
Measure your program results.
Communicate regularly with partners and stakeholders.
This article walked through the execution of the surround sound strategy. Next, read part three to dive into our results as well as the technical details on how we built internal tools to help us accomplish these feats.
In the meantime, don't miss part one: a behind-the-scenes introduction to the surround sound content strategy.