What do the most successful pitches on ABC's hit television show Shark Tank look like? When it comes to landing a deal with the investors on the show, the entrepreneurs in some industries have it easier than others.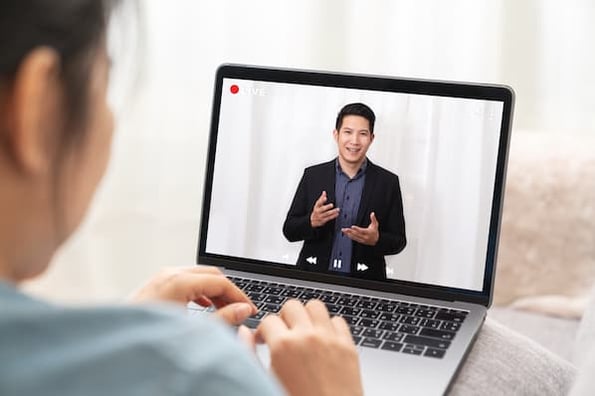 For example, a whopping 85% of successful pitches are products, while only 11% are service-based and 4% are both a product and a service.
Some of the best industries to pitch on the show include food and beverage, household and kitchen, sports and fitness, and mobile apps.
DigitalExits analyzed every single business pitch that aired on seasons one through five of Shark Tank to figure out what the most successful businesses and entrepreneurs looked like. They used the results of their analysis to create the infographic below.
Check it out to learn interesting statistics about the businesses that were pitched on the show, which types of businesses attracted investors the most, and what the perfect business pitch on Shark Tank actually looks like. And for more on what happens after you get a bid, check out this interview with Shark Tank contestant Christina Conrad.
Elements of a Perfect Pitch
Considerable Preparation
A Pressing Problem
A Viable Solution
A Bold Vision
A Compelling Narrative
A Concrete Plan
Promising Numbers
1. Considerable Preparation
Regardless of how well you can think on your feet, it's always in your best interest to extensively prepare for your pitch. You're not freestyling slam poetry or performing with an improv comedy troupe — you're making a concise, concentrated effort to convince someone to give you money. You can't wing it and expect to see results.
Have a plan and know what you're going to say. Learn every aspect and angle of your product or service to answer any questions that might arise. Your understanding of your product or service — from its benefits to its apparent weaknesses — needs to be absolutely air-tight. Preparation is how you get there.
2. A Pressing Problem
The first, most burning question your pitch has to address is big, blunt, and simple — why does your product or service exist? If there's no problem for your product or service to address, then why would anyone have any incentive to buy it? This aspect is one of the most fundamental bases of your entire pitch.
Identify the problem that prompted you to create your product or service, and be able to communicate it with detail and urgency. Make investors believe that there's a lucrative market experiencing a specific issue that your product or service can remedy.
3. A Viable Solution
Once you have established the presence of a pressing, meaningful problem your product or service is qualified to address, you have to demonstrate how that can happen. How do you solve all the specific issues you've identified? And what sets you apart from similar companies in your space? What can you do that they can't? A good pitch can answer those questions concisely and compellingly.
4. A Bold Vision
When you're pitching, you're not just trying to sell investors on your product or service — you're also trying to sell them on you. Are you someone they'd be excited to do business with? Can they trust you to make good use of the capital they're going to offer you?
The best way to convey how much you deserve their investment is to wow them with your passion and big-picture thinking. Show them why you made your product and how it will improve your customers' lives beyond the problems it objectively solves.
For instance, if you were to design an affordable exercise bike that allows you to stream spin classes, you might explain that your product would allow more people to exercise remotely. But that wouldn't be enough. You'd have to explain what that could mean to your customer base and how having access to on-demand fitness classes from their own homes would improve their lives.
5. A Compelling Narrative
In a similar vein to the previous point, incorporating a narrative into your pitch is one of the best ways to sell your investors on you. Make your pitch more compelling by explaining what your product or service means to you personally. What drove you to start your business? What events and experiences shaped your desire to solve the problems your product or service solves?
Let them know you have a story to tell and a meaningful stake in the success of your product or service because of it. A pitch needs to be compelling — to grab and keep investors' attention. One of the best ways to do that is to share a relevant, captivating story that affirms how diligent and determined you are.
6. A Concrete Plan
You've explained the problem at hand. You've explained how your product or service can solve it. You've explained the vision and purpose behind your efforts. Now, you need to explain the specifics of how it's all going to come together.
Be able to articulate a clear plan and actionable insight about your ideal go-to-market strategy, the specific milestones you would like to hit and how you intend to hit them, and other concrete figures and courses of action that demonstrate you're a competent, trustworthy, motivated entrepreneur who deserves the investment you're asking for.
7. Promising Numbers
Let's say you nail every other aspect of your pitch. You've zeroed in on a problem, offered a viable solution, articulated your vision with a compelling narrative, and have an actionable plan for where to go from here.
Do you think that will be enough to sway investors? Well, in all likelihood, it's probably not. Those investors won't believe how well you've addressed those factors without the support of solid results and promising projections. In short, know your numbers.
Go in with a realistic, fact-based, impressive picture of your company's future. You're going to need to show you were competent enough to be worth their attention, and your business is profitable enough to be worth their investment.
Examples of Winning Shark Tank Pitches
EmazingLights
EmazingLights founder and CEO, Brian Lim, brought the right combination of flair and substance to his Shark Tank pitch. His flashy product demonstration was backed by impressive hard figures, a compelling backstory, big plans for the future, and a general demeanor that all led Robert Herjavec to call him "one of the — if not the — best entrepreneur we've had [on Shark Tank]."
Lumio
Lumio founder Max Gunawan pitched his foldable lamp company with confidence and thoughtfulness — all backed by thorough preparation. He had a solid, numbers-backed answer for every question the sharks had.
He was also able to establish himself as a motivated, ethical, trustworthy businessman with his story about living in a Chinese factory for four months to ensure that his products were kept up to his standard of quality. By the end of his pitch, he had every shark vying for his business.
BeatBox Beverages
Beatbox Beverages co-founders Brad Schultz, Aimy Steadman, and Justin Fenchel came on Shark Tank to pitch their boxed fruit wine business. Their pitch was thoughtful, high-energy, and well-rehearsed. Ultimately they left with Mark Cuban's support and a $3 million valuation.
Examples of Bad Shark Tank Pitches
Throx
Entrepreneur Edwin Heaven "invented" Throx — a sock company that sold socks in packages of three instead of two. And that was it. That was literally his entire invention. The premise rested on the idea that people often lose individual socks, so it helps to have an extra sock on hand in case that happens.
There was nothing particularly unique about the socks' quality, comfort, or design, and you can't patent selling packs of three socks. The idea was so fundamentally underwhelming that the sharks turned Heaven away about as quickly as possible.
Pretty Padded Room
Entrepreneur Bea Arthur came on Shark Tank to pitch her online psychotherapy service, Pretty Padded Room. The concept revolved around offering remote, low-cost psychotherapy to a predominantly female demographic.
When the sharks started asking questions, it became abundantly clear that Artur didn't have a grasp on her sales figures or projections. The sharks quickly turned her away, and Mr. Wonderful offered this awesomely brutal story for her on her way out.
Kymera
Kymera creator Jason Woods started out strong when he pitched his electronic bodyboard company to the sharks, asking for a $250K investment for a 20% stake. His invention was unique and looked cool, and his pitch was fairly compelling — initially. Things started to fall apart for him when the pitch ran long without any real description of a business plan.
When the sharks started prying, they found out that Woods had invested roughly $130K of his own money just to develop a prototype. He had nothing in the way of actual customers or patents. After everything came undone for him, he left without an investment. And Daymond John called his pitch the worst he'd ever seen on the show.
Should you ever find yourself on Shark Tank — or delivering a pitch to investors in any other context — make sure you're incorporating most, if not all, of the elements listed in this article. Project trustworthiness and be compelling.
Let investors know you're capable, motivated, and willing to do everything you can for your business. The best entrepreneurs can take these Shark Tank pitching tips to heart and sell themselves just as much as they sell their product or service when talking to investors.
Editor's note: This post was originally published in September 12, 2015 and has been updated for comprehensiveness.