Do you have excellent communication skills? Are you a quick learner who enjoys gaining new business knowledge?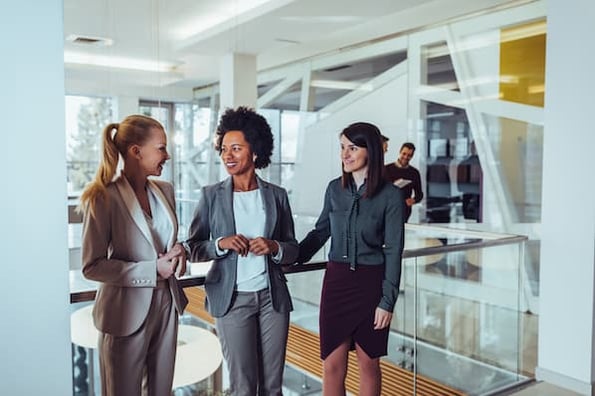 If so, a career as a business development manager could be a fantastic fit for you.
Business development management allows you to flex your relationship-building and strategic skills.
As a business development manager (BDM), you'll develop partnerships with prospective customers or existing clients to generate new leads for the company. And your work will ultimately benefit the business and help it grow.
Does this sound like a job you'd excel in?
What is a business development manager?
A business development manager is responsible for generating leads, developing new opportunities, and helping their company grow.
It's an important job in the sales department because a business development manager is directly responsible for generating new revenue.
They can do this by nurturing relationships with key clients, developing new relationships, and expanding the brand's presence.
To do this, a business development manager can track new trends, make product recommendations, propose strategic partnerships, and be involved in the long-term growth strategies.
What does a business development manager do?
A business development manager builds business relationships with prospective customers. And their ultimate goal is to grow the company by qualifying sales leads and expanding the business' reach into new markets.
Here are the core responsibilities of business development managers, plus, the skills they need to succeed in their role.
Business Development Manager Responsibilities
Research prospective customers in the BDM's target market.
Use prospecting and qualifying strategies to reach out to new leads.
Maintain relationships with current customers.
Reach out existing customers and clients for new leads.
Understand their company's product offerings, competitors in the industry, and the business' position in the market.
Work closely with the sales team to ensure the BDM is creating a high-quality pipeline of new leads and prospects.
Business Development Manager Skills
What does it take to succeed as a business development manager? These are the recommended skills a BDM should have to excel in their role.
Self-motivated: A BDM should be driven and disciplined, and have the ability to work and hit their targets with limited supervision.
Organizational skills: Business development managers should be able to manage their time and prioritize important tasks.
Communication skills: They should handle themselves professionally with prospects, customers, and colleagues. And they should have the ability to form relationships with new people.
Technical skills: Experience entering data and using a CRM database helps BDMs keep track of and manage their prospects. And technical knowledge of the software and tools their company and target customers is useful.
What is a business development manager's salary?
The average salary for a business development manager is $67,952 per year. This amount can vary depending on experience level -- for example, an entry-level business development manager will make less than one with three or more years of experience in the role. And the salary might be lower if the company offers a commission to supplement the salary.
According to Indeed, business development managers make an average of $67,952 per year. However, this will vary depending on the experience of the individual and where they choose to work.
Additionally, the average salary can vary depending on industry as well. When you search on Glassdoor for average salaries, you can filter by industry.
If the company's compensation plan structure includes a commission or offers employees a percentage of monthly sales, then the base salary might be lower than the expected average for a business development manager.
How to Become a Business Development Manager
Earn an education.
Gain experience.
Develop your technical skills.
Create a compelling resume.
Find your first business development manager job.
1. Earn an education.
While there are no formal requirements for business development managers, many employers look for candidates with a bachelor's degree in sales and marketing, business administration, or entrepreneurship.
Depending on your seniority level, you might even earn a master's degree, especially if you plan to join the upper management of a company's business development team.
2. Gain experience.
This experience can come from a previous job or internship experience. If you're looking for a role as an entry-level business development manager, previous work in this specific role might be recommended but not required.
Prior experience in sales (e.g., sales rep, account executive), marketing, technology, or customer-facing roles is often acceptable. This is because positions such as these allow you to hone your communication, negotiating, and rapport-building skills in a professional environment.
If you have experience as an entrepreneur, this is also desirable because you know the ins-and-outs of what it takes to run a business. This will help you relate to prospects as you identify their business challenges and look for solutions.
3. Develop your technical skills.
If you're interested in becoming a business development manager, technical know-how is a must. In-depth knowledge of software (e.g., CRM databases, communication and collaboration software, marketing automation platforms) your company and prospects use will be helpful. This is especially true if you plan to work for a SaaS company.
4. Create a compelling resume.
When you're ready to apply, be sure to create a resume that highlights the key skills you've learned. If you need some resume inspiration, here are a few business development manager resume templates and examples you can use to write your own.
5. Find your first business development manager job.
You can find business development manager jobs by reaching out to your network of friends, family, and acquaintances, using social media like LinkedIn, or by searching online job boards.
Put your strategic skills and business knowledge to work as a business development manager. Not only will you learn and grow, but you'll also help your company grow better.
And to learn more, check out these keys to successful selling next.
Editor's note: This post was originally published in March 2019 and has been updated for comprehensiveness.