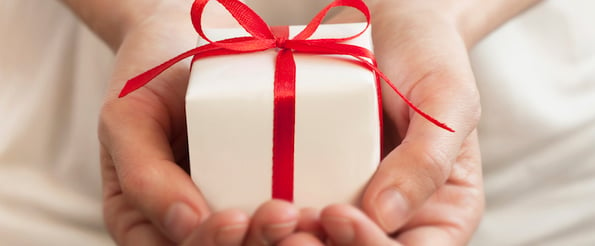 Sometimes you'd like to send a gift to a client to thank them for a referral, or to show appreciation for their continued business. It will undoubtedly make them feel good -- after all, who doesn't like to get a gift? However, there's a right way and a wrong way to go about it.
The best gifts are those that show you have paid attention to your clients' interests. If your client is into fishing, buy him or her a book with beautiful photos on great fishing spots. When your gift is tailored to their special interest, you get way more bang for your buck.
Keep in mind that a gift with your logo on it is not really a gift at all. It's promotion. (One exception to this rule: Anything utilitarian is usually appreciated.) And, of course, think about the quality and usefulness of the gift. For instance, any golfer would appreciate more ammunition for the course (golf balls for you non-players). But make sure they're top level balls, or they may never get used by experienced golfers.
If you buy a gift from a website, consider having it shipped to your office so you can personally deliver it to your client or send it to them with your return address on it. This little detail adds to the personal touch.
I highly recommend sending small gifts of thanks to clients who give you introductions -- regardless of whether or not the prospect becomes a customer. In this case, a small, utilitarian gift works just fine.
But in some circumstances, you feel compelled to give something bigger. Here are some examples of personalized gifts I've given to my clients to spark your creativity:
To a dog owner: The Wolf in the Parlor, a fun book that chronicles the anthropology of wolves to domesticated dogs.
To a New England Patriots fan: A photo of the locker room with my client's name on the back of one of the jerseys.
To a New York Jets fan: A Jets clock.
To a religious client: A framed prayer (brought tears to his eyes).
To a client who owns a horse: A bag of premier quality horse treats.
I often have my assistant contact my client's assistant to learn about their hobbies or other special interests. This helps me decide what to send.
If you have any result-producing sales tips you'd like to share with me, please send them to BillCates@ReferralCoach.com.