By enabling users to build websites and fully functional ecommerce shops without coding, website builders and content management systems have not only changed how we create and consume content — they've also changed how we shop and sell products online.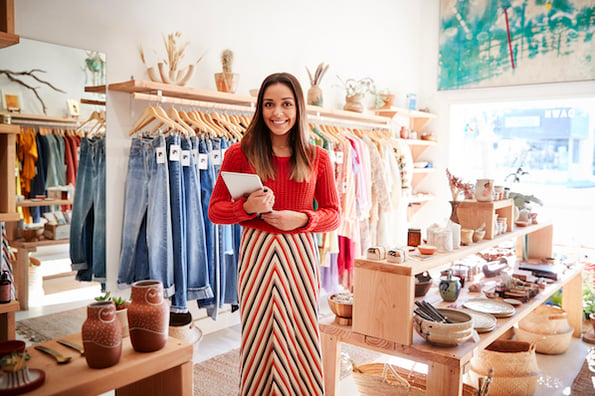 There are hundreds of ecommerce tools and platforms designed for individuals and businesses with different needs, budgets, and technical experience. While some are built specifically for ecommerce, others are multi-purpose. Faced with so many different options, it can be difficult to know where to begin.
To simplify your selection process, we'll compare two of the biggest players in the market: Magento and WordPress. Both have an impressive selection of design options and tools, but each offers a unique approach to building a powerful online store.
It's important to note that both Magento and WordPress have different variants of a core product. Magento offers Magento Open Source and Magento Commerce: the former is a self-hosted platform and the latter is a premium fully-hosted solution for enterprise companies. WordPress offers WordPress.org and WordPress.com. WordPress.org is a self-hosted platform and WordPress.com is a premium hosting service.
In this article, we'll limit our focus to the open-source variants of Magento and WordPress and explore their key differences. That way, you can better understand the experiences you'll have on each self-hosted platform before deciding where to build your store. We'll also look at how the Magento WordPress plugin can offer the best of both worlds.
You can click on any of the links below to jump to that section, or keep scrolling.
Magento vs. WordPress
Magento is a highly extensible open-source ecommerce platform designed to help users with at least a basic level of web development knowledge build and grow an online store. WordPress is a multi-purpose content management system that appeals to users with varying levels of technical knowledge. It lacks the out-of-the-box features required to create an ecommerce store but can be easily extended with plugins like WooCommerce.
Now that we've walked through a brief overview of the differences between WordPress and the WordPress alternative Magento, let's compare the two platforms in terms of ecommerce, price, SEO, blogging, and more.
Magento vs. WordPress Ecommerce
U.S. retail ecommerce sales totaled $209.5 billion in the third quarter of 2020, according to the Census Bureau of the Department of Commerce. This represents a 36.7% year-over-year growth. As ecommerce sales continue to rise, it's increasingly important to evaluate how a website building platform can not only help you create and customize a website, but also sell products and services online.
With this in mind, let's compare the ecommerce features and extensions of Magento and WordPress below.
Magento Ecommerce
As a dedicated ecommerce platform, Magento comes with built-in functionality that is essential to building and running a store online. This functionality includes product comparisons, product tiers, discounts, coupons, and multi-store management.
If you're looking for additional functionality — like the ability to track and segment customers in a CRM — then you can explore over 3,000 add-ons and apps available in Magento's Extensions marketplace.
With a vast range of out-of-the-box features and marketplace of extensions, Magento is ideal for fast-growing small businesses.
WordPress Ecommerce
Because WordPress is not a dedicated ecommerce platform, it will require you to download a plugin like WooCommerce to set up an online store. Fortunately, this set-up process is easy so that users with no technical knowledge or ecommerce experience can set up an online store.
Although WooCommerce is the most popular, there are hundreds of ecommerce plugins available for WordPress to choose from.
Not being a dedicated ecommerce platform also gives WordPress a unique advantage. While Magento only provides features and supports integrations for ecommerce, WordPress has features and plugins for virtually anything you can think of. You can integrate with major social media sites, optimize and compress your images automatically, display an event calendar, add a mega menu, and much more.
Magento vs. WordPress Price
As open-source software, Magento and WordPress are both free to download. But launching your store will require you to pay for hosting, domain registration, and any premium themes and add-ons you want to install. You may also need to hire a developer for help setting up your site.
Since you can use the same hosting providers and domain registrars for Magento and WordPress, the cost of hosting and domain registration will be similar. What sets these two platforms apart are their premium themes and extensions and developer costs.
Below we'll focus on those three factors to compare how much it will cost to build and manage a store on Magento and WordPress.
Magento Price
The costs of premium themes, apps, and freelance developers tend to be higher on Magento than on WordPress. Let's take a closer look at each factor below.
Magento Themes
While Magento does offer free themes, they tend to be simple in design and functionality. Many Magento users prefer to purchase a premium theme from the Magento marketplace or third-party marketplaces like Themeforest. Premium themes range from $17 to $499, with the majority falling between $75 and $99.
Magento Apps
Magento offers a robust range of ecommerce features out-of-the-box, particularly in comparison to WordPress's lack of any out-of-the-box features. However, you'll likely be missing a few key features and need to install extensions from the Magento marketplace.
Of the nearly 4,000 apps available in the marketplace, over 1,000 are free. The rest range in price from $25 to $15,000. Don't let that range scare you though. Most fall between a much more moderate range of $30 to $300.
Image Source
Magento Developers
The last cost you might need to factor in is hiring a developer. Because Magento is a more complex platform than WordPress, you're more likely to need to hire a developer to help set up and customize your site.
The hourly rates for developers vary based on their experience level, but a quality Magento developer will charge between $65 to $150 per hour, on average. Please note that some may charge a fixed price for set deliverables rather than an hourly rate.
Because these costs vary so widely in price, the total cost of building and managing a Magento store ranges dramatically. According to the agency Aitoc, a basic Magento store starts at $15,000.
WordPress Price
The costs of premium themes, plugins, and freelance developers will likely be lower on WordPress than Magento. Let's take a closer look at each factor below.
WordPress Themes
While there are almost 4,000 free themes available in the WordPress repository, you may need to purchase a premium theme to get the exact look and feel you want for your site. Premium themes, which are available at Theme Forest, Elegant Themes, and other third-party marketplaces, typically cost between $60 and $200.
WordPress Plugins
Since there are over 55,000 free plugins in the official WordPress directory, you can extend the functionality of your store in many ways for free. The WooCommerce WordPress plugin is free to download, for example.
But there may be some missing features that require you to purchase premium plugins. You can find these in the WooCommerce store, which has over 300 premium extensions ranging from $29 to $299, and other third-party sites. For example, if you want to add recommendations to your visitors' shopping carts, then you can pay an annual subscription of $29 for WooCommerce's Cart Add-ons extension. And if you're looking for automatic internal link suggestions and other ways to optimize your store's blog, you can buy the Yoast SEO Premium plugin for a one-time fee of $89
WordPress Developers
While WordPress is easy enough to use that you can likely set up and run a custom store yourself, you may want to hire a developer to build a custom plugin or theme for your site, run testing across multiple browsers and devices, or handle other projects.
Rates for WordPress developers vary widely but tend to be lower than the rates of Magento developers. On Upwork, the rates range from $5 to $125 per hour.
Because of these variables, building and managing a WordPress site can cost anywhere from a few dollars to a few thousand. On average, expect to pay between $30 and $3,000 per year.
Magento vs. WordPress Security
Security is one of the most important factors to consider when choosing a content management system (CMS) for your site.
Magento and WordPress are both open-source CMSs that have been developed over time to be secure. While extensions can supplement core code to add security features, site owners will have to handle managing and updating them. Let's take a closer look at the security of Magento and WordPress below.
Magento Security
While Magento Commerce comes with built-in security features, including a Web Application Firewall and DDoS services, Magento Open Source does not. That means you might need to download extensions to help protect your site. The good news is there are over 750 security apps available in the Magento marketplace. The bad news? While some are free, the premium apps range from $25 to $8,000.
If you don't want to download and manage extensions, you'll only have to worry about installing any patches and security updates that Magento rolls out to address vulnerabilities exposed in its source code. However, patches and updates need to be manually installed and the process can be difficult.
Site owners who don't have the time or resources to patch their installations will leave their stores vulnerable to hackers. Unfortunately, research shows that many site owners do. According to Sucuri's 2018 analysis of hacked websites, 83% of Magento websites were out of date at the point of infection. However, the same report shows that Magento's overall infection rates dropped from 6.5% in 2017 to 4.6% in 2018. This indicates that more Magento site owners are taking the security of their sites seriously and making sure their sites are up to date.
WordPress Security
Similarly to Magento Open Source, the question of whether WordPress is secure really comes down to what steps the site owner is taking to keep their site safe. In addition to regularly updating your plugins and themes and using safe login procedures, you can download or purchase security plugins to monitor your site. The best WordPress security plugins are free, or offer a free version of their tool, so you don't have to worry about not being able to afford to keep your site safe.
Following these best practices is particularly important when using WordPress. Because WordPress is the most popular CMS in the world, WordPress sites are a popular target for hackers. In. fact, 94% of successful cyberattacks against CMS-powered websites targeted WordPress sites in 2019.
To protect sites hosted on its platform, WordPress is built on a secure code that is constantly being updated and improved by a dedicated security team of 25 experts. And, unlike on Magento, the update process on WordPress is not manual. WordPress has an auto-update mechanism that allows users to schedule automatic updates when there is a new security patch. This is a critical — and underutilized — functionality considering that 36.7% of infected WordPress sites in 2018 were running an outdated version of WordPress.
Magento vs. Wordpress for SEO
You don't need to rely solely on social media or paid ads to drive traffic to your online store. Instead, you can optimize it for search to get more organic traffic.
Below let's compare the SEO features and tools of Magento and WordPress so you can pick the platform that most aligns with your ecommerce SEO strategy.
Magento for SEO
There are several best practices you can implement to optimize your Magento store for search engines. These include selecting a responsive theme, adding meta descriptions to all your product pages, optimizing the alt text of product images, creating an XML sitemap for your site, removing any duplicate content, and setting your checkout, my account, cart, and admin pages to "nofollow."
Since you'll have to manually carry out most of these tasks, Magento is ideal for users who are well-versed in SEO best practices.
WordPress for SEO
Like Magento, WordPress enables you to easily customize your image alt-text, meta descriptions, headings, and custom URLs and choose a responsive theme to design your store.
What sets WordPress apart is that you can download and purchase a range of SEO plugins or optimize any part of your site's underlying code. That way, more advanced users can remove any unnecessary code that's slowing down their site or preventing search engine bots from crawling and indexing it. And non-technical users can download or purchase WordPress plugins like Yoast SEO, WP Rocket, and Redirection to help simplify and automate parts of the optimization process.
By offering more features and tools for building an SEO-friendly site, WordPress enables users with different levels of SEO experience to optimize their stores.
Magento vs. Wordpress for Blogging
Adding a blog section to your online store can help attract more potential customers and boost sales, among other benefits. Let's take a look at how easy it is to add a blog on Magento and WordPress below.
Magento for Blogging
Blogging functionality is not included out-of-the-box with Magento. That means you'll need to use a custom extension to add a blog to your store. You can search the Magento marketplace for an extension that will meet your needs.
One of the most popular choices is the free blog extension by AheadWorks. Installing this extension you will add a section called "Blog" in your admin dashboard. In that section, you can configure your blog settings, add posts, organize them with categories, and more.
As you can probably tell from the interface above, blogging will be more difficult on Magento than on WordPress.
WordPress for Blogging
WordPress was originally built as a blogging platform in 2003. Though it has since evolved into a multi-purpose CMS, it offers standard and advanced blogging functionality built directly into your dashboard.
With WordPress's new block editor, you can quickly create content for your blog by dragging and dropping images, call-to-action buttons, column layouts, and other elements on the page.
You can also choose from thousands of themes and plugins that are specifically designed for blogging. For example, let's say you build a WooCommerce store with the Storefront theme. You can then purchase the Storefront Blog Customizer extension to choose different layouts for your blog and display recent blog posts on your homepage.
In short, WordPress allows you to customize the appearance and behavior of the blog section of your store.
Magento WordPress Plugin
Magento lacks blogging functionality out-of-the-box, whereas WordPress lacks ecommerce functionality out-of-the-box. A few years ago, you'd have had to pick which was more important to you: blogging or ecommerce. But today you don't have to choose. You can integrate these content management systems to get the best of both worlds — an ecommerce site with a blog section — using a Magento extension or a WordPress plugin. Let's take a look at both options below.
The Magento WordPress Integration is a free and highly-rated extension for integrating a WordPress blog into a Magento website. It makes it easy to add a blog, manage content, and improve your store's SEO.
It's important to understand that with this method, you're integrating WordPress into Magento. So you'll only have the built-in blogging features of WordPress, and cannot use a WordPress theme. If you'd like more control over your WordPress blog, then you can install Fishpig's Shortcodes & Widgets add-on. This will enable you to add any plugin that uses shortcodes, like Elementor, Gravity Forms, and more, for more customization options.
The Mag Products Integration for WordPress is a free and highly-rated plugin for displaying products from your Magento store on your WordPress posts and pages. It uses the Magento REST API to link your Magento store to your WordPress site. You can then use the shortcode [magento] to display your products on certain posts and pages.
With this method, you're integrating Magento into WordPress. That means you'll have all the WordPress features, plugins, and themes available to customize your site.
The Key Differences between Magento and WordPress
If you're looking to create an online store, Magento Open Source and WordPress are great options. Selecting the right one for your ecommerce business will require careful consideration of how its functionality aligns with your needs.
To help you pick the right solution, we've summarized the key differences between Magento and WordPress below.
| | | |
| --- | --- | --- |
| | Magento open source | wordpress.ORG |
| Software | Open-source ecommerce platform | Open-source multi-purpose content management system |
| Ecommerce | Magento is a dedicated ecommerce solution so it comes with built-in ecommerce features, like product tiers and discounts. There's also 3,500 apps for extending your ecommerce site. | WordPress is not a dedicated ecommerce platform, so it will require you to download a plugin like WooCommerce to set up an online store. There are over 50,000 thousand additional plugins for extending you website. |
| Price | Free to use the software. Costs associated with domain registration and hosting are similar to WordPress. The costs of premium themes and apps and hiring a developer tend to be higher than WordPress. Considering these costs together, building and running a basic Magento store costs $15,000. | Free to use the software. Costs associated with domain registration and hosting are similar to Magento. The costs of premium themes and plugins and hiring a developer range. Considering these costs together, building and running an average WordPress store costs between $500 and $3,000. |
| Security | Lacks built-in security features so site owners will likely need to install security extensions, which can be pricey. Magento also regularly rolls out patches and security updates, but the update process is manual and difficult. | Lacks built-in security features so site owners will likely need to install security plugins, most of which are free. WordPress also has an auto-update feature so site owners can schedule automatic updates when a security patch is released. |
| SEO | Most of the optimization process — creating an XML sitemap, removing any duplicate content, and setting pages to "nofollow" — is manual. | In addition to standard features, you can edit your source code or select from hundreds of plugins to build an SEO-friendly store. |
| Blogging | Blogging functionality is not built-in so you'll have to download a free or premium extension from the Magento marketplace, like the Magento WordPress plugin. | Offers built-in blogging functionality, a drag-and-drop block editor, and selection of blogging themes and plugins for easily adding a blog section to your store. |