This post originally appeared on HubSpot's Agency Post. To read more content like this, subscribe to Agency Post.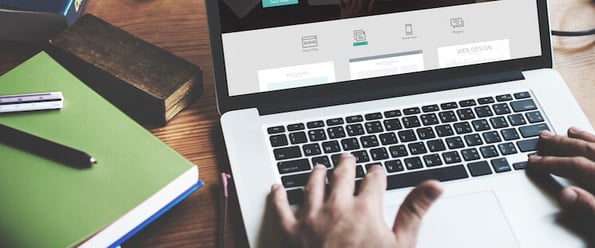 One of the biggest benefits any potential jobseeker -- or really anyone who hopes to advance their career -- can have is a professional portfolio. Designers need to showcase their artwork. Writers should show off publications. Heck, even accountants can benefit.
Done right, a portfolio helps a potential job candidate to standout -- to show rather than say he can do the work asked, which can make all the difference in landing an employer or client.
Let's take a look at the best practices in creating a strong portfolio, along with some tools to help accomplish it.
How to Create the Perfect Online Portfolio
1) Curate Your Best Work
A portfolio should not be a compendium of all the work you've ever completed throughout your career. It's not a résumé. You're not creating bulleted lists or saying you increased X by Y percent. Rather a quality portfolio should display your best work relevant to what you're trying to accomplish. This last part is key.
Let's say you're a designer who has dabbled in both web design and creating advertisements that appear in print magazines, but you're trying to build your magazine clientele. It's in your best interest to place only print designs in your portfolio even if your most well-received creation is digital. That's because any credible print publication won't care how well executed a design is if it doesn't demonstrate an understanding of the skillset necessary to create ads that appeal to a publication's readers.
Once you've narrowed your relevant portfolio pieces down, ask colleagues, advisors, and professionals you trust to provide honest criticisms of your work.
Tools of the Trade: Dribbble
Billing itself as a "show and tell" for creatives, Dribble allows designers to post and receive criticism about their work. With such a large community to provide feedback, Dribble users can better understand how their work resonates with a wider audience. Well-received submissions warrant serious consideration for inclusion in your portfolio.
2) Build a User-Friendly Website
Most portfolio creators are content with placing their work on a single, blog-style page, where each new addition pushes a previous one down. Although this isn't egregious if you only have one type of work to showcase, usually that work could -- and should -- be subdivided into numerous categories. Finding examples of one particular type of work shouldn't be a challenge.
To give an example, a writer might choose to categorize his work by type of content produced. Let's say he has created ebooks, blogs, articles, and ad copy. He shouldn't lump all of these together under one category called "writing," but rather create separate sections to house each separate content category. Additionally, these categories should be easy to find so creators should include an easy-to-use navigation bar or pull-down menu.
Rather than build a website from scratch, Squarespace lets users easily create websites using any number of templates. This CMS platform gives users tools to build and organize a website so all their content can be easily found, eliminating some of the pesky navigation problems that can come from building a portfolio website from the ground up.
3) Be Concise, Be On-Brand
When a recruiter or potential clients visits your online portfolio, there should be no confusion over what it is you offer. Your homepage should contain some combination of logo, a tagline, a list of the services provided, and a short, to-the-point (think 1-2 sentences) summary of your qualifications. Your "About Me" section should go into a little more depth about your professional experiences while remaining both personable and professional. Your "Contact Me" (a little more on this later) page should provide a clear, easy way to get in touch, whether that be through filling out a form or simply providing an email address or phone number.
Obviously, the point of consistency is to clearly define and communicate everything a potential employer or client could want in the most concise and branded way possible. Remember, a portfolio is a platform to display your creativity, not something to get too creative (read: cute) with.
That being said though, there are some tools that can help make your portfolio both concise and a little creative.
The average résumé is more than two pages and 1,000 words long. Even precisely worded experiences and accomplishments become tiresome to read, resulting in skimming. Vizualize.me takes your résumé or CV and instantly turns it into an easy-to-read infographic that visually conveys all the highlights of your career. It's creative and an even better way to deliver concise, relevant content.
And on that note …
4) Use Eye-Catching, Original Visuals
An aesthetically pleasing portfolio is expected if you're a designer but may not be quite as obvious to someone who doesn't specialize in a visual medium. Many would-be portfolio creators may assume that so long as they curated relevant work and wrote on-brand copy that a bland stock template is more than satisfactory. After all, a writer is getting hired on his or her ability to write, right?
The truth is appearances matter. And even if you're not a designer, making little to no attempt to create an attractive website only screams uncommitted, at best, and unprofessional, at worst. Obviously, there are different standards of acceptable design depending upon the area of work, but every portfolio should have some element of thoughtful visual communication.
Tools of the trade: Canva
Featuring hundreds of free and heavily discounted images and easy-to-use photo editing and design tools, Canva lets those intimidated by software such as Photoshop create compelling visual elements for their portfolio. Best of all, using Canva's catalog of photographs means that you'll never run the risk of accidentally using a copyrighted image.
5) Help Me Contact You
As briefly mentioned above, every portfolio needs to provide contact information. While you could get away with providing the basics such as a telephone number and email address, it's better to employ some inbound strategies, such as offering a subscription sign-up, buttons to follow you on social media channels, and contact and lead capture forms. Being active in giving your potential customers a way to contact you -- or for you to contact them -- is a surefire way of increasing your chances of gaining business.
Tools of the trade: Leadin
Leadin is a free tool you can use with any CMS that helps website owners capture leads and contacts for future marketing follow-up and analyze how visitors are interacting with their website. By understanding what visitors are doing, portfolio creators can create more meaningfully interactions.
6) Stay in Touch
Just because you've completely finished your portfolio doesn't mean you can sit back and wait for offers to roll in. To continue to drive interest and help with discoverability, you should produce some type of regular content (blog) unrelated to (but about) the work you're showcasing. The most successful portfolios have creators that continue to blog both on their portfolio's website and off.
Tools of the trade: Medium
Medium allows anyone with an idea to pen articles and build an audience, with the idea being that quality articles rise to the top. With the built-in readership that Medium has, writing something that resonates with your target audience can bring in thousands of views and help build your reputation.
7) Update Your Portfolio
Things change. You work on new projects. You advance your skills. You narrow down your specialties. As such, remember to keep your portfolio updated. We recommended that you reconsider what's on your portfolio website after every new project. But, at the very least, update it once a year.
Set a recurring reminder so that you never forget to revisit your portfolio. This way, your porfolio will always reflect your current skillset.