HubSpot's CMS is a powerful system of tools that helps you build and manage your website. If you've just started using the CMS, you might be looking around wondering, "Where do I start?" Before you can get started creating content, you need to understand the fundamentals of CMS Hub and what's available to you.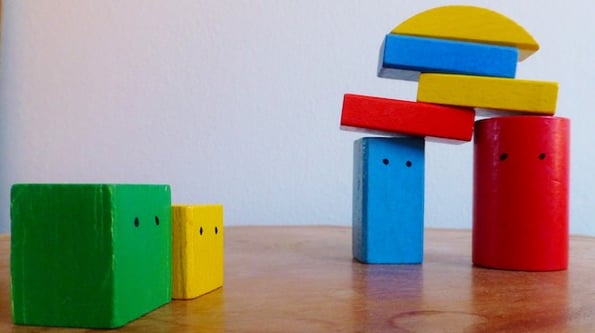 This guide will break down everything a beginner should know about the CMS before getting started in four parts:
The Beginner's Guide to CMS Hub
Part One: Advantages of CMS Hub
Part Two: CMS Tools
Part Three: Templates and Modules
Part Four: The HubSpot Marketplace
Part 1: Advantages of CMS Hub
There are countless CMS options out there, so what makes CMS Hub unique? Well, there are a few key advantages to using HubSpot to host and manage your content.
Site speed
Site speed is a huge factor when it comes to the usability of your website and your SEO. People are more likely to click away from your site if it has a slow load time, and it can also hurt your rankings.
CMS Hub comes with several built-in features to make your website load lightning-fast. These include:
Automatic image compression
Minified JavaScript
Combined CSS files
HTTP/2
Page caching
Security
You want to be sure your website visitors have a secure browsing experience and that your website is safe from outside attacks. With CMS Hub, all this is taken care of for you.
To improve site security, CMS Hub uses:
Global content delivery
Web application firewall
Included SSL
HSTS Max Age Directives
Continuous updates and sophisticated anomaly detection
Plus, HubSpot has a dedicated security team working around the clock to ensure your website is always on lockdown.
All-in-one system
One of the main advantages of CMS Hub is that all of your web content can be created, managed, optimized, and analyzed in one place. That means no more plugins to manage and keep updated, no more trying to track down different data sources — it's all right within HubSpot.
Part 2: CMS Tools
Here's a quick rundown of the tools included in CMS Hub and their purpose.
The tools included in the CMS are:
Domain Manager
File Manager
Design Tools
Landing and Website Pages
Blog
SEO
Marketplace
In addition to these tools, you have access to other free HubSpot tools to help fuel your inbound marketing strategy, including:
CTAs
Forms
Pop-up forms
Conversations
Reporting
You can also use HubSpot's CMS alongside HubSpot's CRM to manage your relationships with your contacts. This is important because it means you can have all your customer data in the same place as your website. You can then leverage that data, like a contact's persona or the pages they've visited on your website, to personalize their experience right from HubSpot.
What does each tool do?
Domain Manager: Connect your website domain to HubSpot to take your site live.
File Manager: Store and organize assets like images, PDF resources, videos, and more.
Design Tools: Tools for CMS developers to create and edit templates, modules, and coded files.
Landing and Website Pages: Create and publish landing pages and website pages.
Blog: Create and publish blog posts.
SEO: Map your content strategy using topic clusters.
Marketplace: Browse and download pre-made templates and modules.
Part 3: Templates and Modules
One of the most important things to understand about the CMS when you're getting started is the relationship between templates, modules, and pages.
What are templates and modules?
Templates are files that control the layout, style, and functionality of your pages. They're built in the design manager by CMS developers or downloaded pre-made from the Marketplace (check out Part 4 of this post to learn more about the marketplace).
Modules are the building blocks of templates. They are reusable blocks of content, such as an image, form, CTA, rich text, and so on. A template will be made up of several modules and module groups.
The relationship between modules and templates is one-to-many. The same module can be used several times across many different templates.
The relationship between templates and pages is also one-to-many. The same template can be used to create dozens of unique pages.
Think about it this way: modules are the building blocks of templates; templates are the blueprints for pages; and pages are the finished products that you fill with your unique content and publish for the world to see.
Global content 101
Global content is content that you want to create once and then reuse and remain the same across your website. Items like your logo and site header are good candidates for global content because you want them to look the same across your whole site to maintain visual consistency.
You can make any module you'd like into a global module, or grouping of modules into a global group. But once you do, it will no longer be editable from the content editors. You can only edit global content from the design tools. So for example, if you want to edit the copyright date in your website's global footer, you can locate that module group in the design tools to make your change.
Part 4: The HubSpot Marketplace
The HubSpot Marketplace is an online directory of thousands of pre-made templates and modules that you can use to build a website in HubSpot. It's an especially great resource if you don't have access to a designer or developer. You can use products from the marketplace to build a beautiful, visually-engaging website out of the box.
The marketplace provides access to assets created by hundreds of design agencies and freelancers, both free and paid. You can find blog templates, email templates, page templates, template bundles, and standalone modules.
The marketplace can seem overwhelming at first glance, but it includes several useful features for filtering products to find what you need. The most important filters are Category, Price, and Purpose:
Category - Use the Category filter to only see the type of product you're looking for (for example, only landing page templates).
Price - Use the Price filter to differentiate between free and paid products.
Purpose - Use the Purpose filter if you're looking for a product with a specific purpose, such as a "Contact Us" page or a pillar page.
For each product in the marketplace, you can view a live example as well as read customer reviews for the product. If you have any issues with a product, you can find the provider's contact information in the product details.
Looking to learn more about CMS Hub? Check out the Fundamentals of CMS Hub lesson from HubSpot Academy to learn all about the CMS tools, templates, and modules. Interested in the marketplace? Head over to the lesson on Using the HubSpot Marketplace to learn how to use the marketplace to build your website in HubSpot.
Want to connect with others on HubSpot tips, tricks, and updates? Head over to the HubSpot Community to join a conversation or start one of your own.