Say you're in the market for a new pair of headphones or a new guitar tuner. Where would you start your search? Google, right?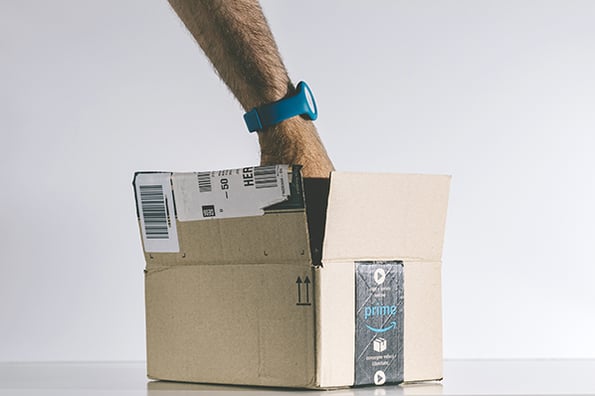 Not so fast. Amazon came away with nearly 40% of the US ecommerce market in 2018. Google still remains the top search tool for B2B purchases and services and informational queries that lead to purchases, but Amazon is the dominant front runner in ecommerce.
So what does this mean for you?
When you're thinking about your online advertising strategy, you want to meet your consumers where they are. And if you're an ecommerce company, that place is — more likely than not — Amazon.
That's where Amazon advertising comes in. Amazon has several advertising programs to choose from, but the best one to get started with is Amazon Sponsored Products.
Amazon Sponsored Products
Sponsored Products on Amazon are pay-per-click (PPC) ads that appear in strategic locations on Amazon, giving your products more visibility and purchase opportunity. You select the products you want to boost, set your bid and daily budget, and write an ad to entice shoppers to click.
The Sponsored Product ads are really just image ads — similar to display ads in Google Ads — but the cool thing is that they appear in search results on Amazon right next to the searched products. So, when I search for "acoustic guitars" in Amazon I get this:
The only visible difference between the sponsored and the non-sponsored results is the gray "Sponsored" tag that appears above the product title. You'll also see that sponsored products can appear above the rest of the results.
Does Amazon Advertising Work?
According to Ad Badger, the average cost per click (CPC) for Amazon PPC is $0.97. This is on par, if not less, than similar advertising on Google and other platforms, which means that there is opportunity for success using Amazon ads.
The real question is "Will Amazon advertising work for me?" Even more specifically, you should be asking "Will I make more revenue than what I spend on the ads?"
The success you have on the platform will depend on a number of factors, including:
Strategy
Imagine that you have the perfect product and the perfect ad. Then, imagine that you spend too much of your marketing budget on irrelevant keywords. On the other hand, you could also bid on keywords that are too broad and competitive when cheaper and better suited keywords are out there.
It's your responsibility as you advertise on Amazon to continually optimize your ads for performance. Use "negative keywords" to exclude irrelevant traffic (and minimize wasted spend). Try out different keyword strategies, and be sure to create well-structured campaigns and ad groups within your ad account. Lastly, don't be afraid to experiment and find out what works best for you.
Budget
PPC is a great model because you only pay for each person who clicks your ad. The higher your budget, the more potential clicks you'll receive. When you're evaluating your goals for Amazon ads, you'll want to ensure that your budget matches your expectations. Here's how you can do that:
Log in to Amazon Seller Central
Find the Unit Session Percentage column (This is your conversion rate per item)
This number signifies the average percentage of visitors who actually converted. That means that, with some quick math, you can estimate how many purchases to expect from the amount of clicks you expect. This will help you reverse-engineer how many clicks it will take to turn into sales and, in turn, how much budget you should allocate to achieve that goal.
Ad and Product Page Copy
In-person sales have the benefit of a sales or customer service representative who can position the product/solution, remove roadblocks to buy, and answer questions. If you're selling on Amazon, however, you don't get to provide those personalized touch points. That job rests with your copy.
Your ad copy must do its best to convince shoppers that the product meets their needs and compel them to click on the ad. This improves the ad's performance.
Also keep in mind the old marketing adage "A confused mind says 'no.'" That means that the copy on your product page must also remove roadblocks and answer any anticipated questions a shopper might have. If prospects are confused or unsure, they will not click your ad, your conversion rate will suffer, and you will not achieve the ROI you want from your ads.
Visuals
Online shoppers aren't able to hold your product in their hands before making a purchase. Even if you have the most awesome item to ever hit online shelves, you won't move much of your inventory if your photos are unattractive or unclear — no matter how much you put into advertising. This is why product photography is so important when it comes to Amazon advertising and conversion.
In addition to following Amazon's compliance requirements, images on ads and on product pages should showcase features, action shots, and different angles... all in a visually appealing way that grabs the prospect's attention and entices them to buy.
Positioning
Just because someone clicks on your ad doesn't mean that they'll buy — shoppers aren't necessarily loyal. Buyers shop around; if your positioning in the marketplace doesn't match the quality of your product or provide competitive pricing, you might actually lose out on sales.
Imagine this scenario:
A shopper is searching for a product and discovers your ad. They click on the ad and view your product page. On the same page is a "Sponsored products related to this item" section where they see the exact same product... only 25% less expensive. With all other things being equal, they are likely to bounce off your page and purchase the less expensive item.
Imagine another scenario:
Your product averages 3.7 out of 5 stars based on customer ratings. Another seller offers a similar product, only theirs averages around 4.7 out of 5. With all other things being equal, the shopper will go with the safe bet and purchase the product with the higher rating.
There are a number of positioning factors that will affect your sales, including the sales you drive from your Amazon sponsored product ads. The best thing you can do is provide stellar customer service and keep an eye on the competition to ensure that your brand positioning is helping you rather than hurting you.
Will I See Better Results on Amazon vs. Google Ads?
A major difference between Google Ads and Amazon Sponsored Products is where people are in the purchasing process when they search on each platform.
People searching on Amazon are more likely to be at the end of the buyer's journey (i.e. closer to a purchasing decision). On Amazon, they know what product they want, and they are just looking for the right deal and provider.
On the other hand, Google has more of a mixed bag of search queries, encompassing all stages of the buyer's journey. This means your ad strategy can be much more flexible, targeting earlier stages of the buyer's journey. That being said, not everyone searching in earlier stages of the buyer's journey will be ready to make a purchase in the near future (if at all).
Many product-based companies have no need to target those individuals, making Amazon just fine (and perhaps ideal) for their advertising strategy where the goal is to put a product in front of interested shoppers.
Getting Started With Amazon Ads
Now that you know the variables that can make your ad successful, you can get started with your Sponsored Products campaign. Here are the steps:
Sign up for Seller Central and follow the steps to create your account.
Create your Sponsored Products campaign.
Choose the products you want to promote with your ads.
Decide which keywords you want to target.
Determine your budget.
Create your first ad.
Unlike other Amazon ad types, Sponsored Products are launched immediately upon completion. For more information about account and campaign setup, visit the Amazon Advertising page.
Here are a few additional tips for getting started with Amazon Ads:
1. Win the Amazon Buy Box
The Buy Box is the box on an Amazon product detail page where customers can begin the purchasing process by adding items to their shopping carts.
Since many sellers may end up selling the same item, not all sellers are eligible to win the Buy Box. Amazon only awards it to sellers who meet their minimum requirements, are selling at a competitive price, and have excellent seller metrics.
According to BigCommerce, 82% of Amazon sales go through the Buy Box, so it's essential to earn it from Amazon. This can be done by performing in a few key areas, including shipping time and price.
2. Implement a Cohesive Structure in Your Ad Account
Within your Ad Account, you'll be able to build campaigns. Understanding the basic organizational structure within your Ad Account will help you optimize for performance. Here are the definitions for each component of Amazon's tiered structure:
Account - Your account is the place you'll go to access any of your campaigns and seller tools. Think of it as the biggest bucket.
Campaign - It's a great idea to build a campaign for each product category you're targeting.
Ad Group - Each ad group will contain the ad that you've built and the corresponding keywords you're targeting with that ad. The best practice is to be as specific with each ad group as possible to improve the performance of the associated ads.
3. Learn the Strategy Behind Keywords and Bidding
Just like Google Ads, Amazon Sponsored Products uses keywords to trigger your ads. Automatic targeting — allowing Amazon to choose your keywords for you — is often the right choice for new advertisers. If this does not appeal to you, or once you've accumulated some data from a running campaign, you can choose manual targeting where you pick your own keywords.
There are three types of keyword matching:
Broad Match - The prospect's query matches your target keyword, including misspellings, synonyms, variations, and different word order. This is the most flexible and non-restrictive.
Phrase Match - The prospect's query must precisely match the target keyword, or the prospect's query must contain the target keyword.
Exact Match - This is the most restrictive type. The prospect's query must match exactly to the target query. Your ad will not show with "similar" matches, only "exact" matches.
Understanding the pros and cons of each will help you determine what keywords and keyword matching to choose in order to boost your ad's performance.
4. Utilize Reporting in Amazon Ads
Success doesn't happen in a vacuum. In order to make the best choices for your campaign, you need to use a data-driven approach and monitor your results.
Amazon provides advertisers with data about searches for particular keywords. Similar to Google Ads, you have to be an advertiser to get access to this informative data. The data includes which search terms are performing the best, enabling you to add new keywords and refine the performance of your campaigns.
For each keyword, the search terms report will include data on:
Campaign
Ad group
Impressions
Clicks
Click thru rate
Cost per click
Conversions/number of orders placed
SKU for the sale
And more
If you have a product to sell, now is the time to consider using Amazon Sponsored Products ads. You'll enjoy a reasonable cost per click and have a chance to promote new products at the top of an Amazon search.