What are the best free apps for startups?
Gmail
Twitter
LinkedIn
Facebook
Mailchimp
Typeform
Zoom
Automate.io
MagneticOne
Zapier
Slack
SurveyMonkey
Databox
Eventbrite
Hotjar
HelloSign
Chances are, at this very moment, you have more then one application open on your computer or phone.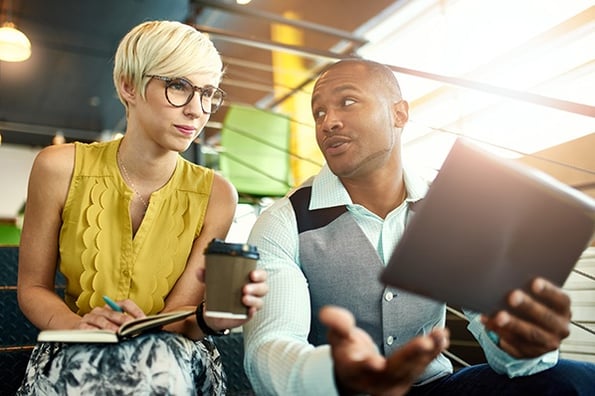 The question today is not if you should use tools, but which ones should you be using. There's no shortage of options. With over 5,300 marketing tools alone, how does someone choose the best solution? In the age of convenience, a long list of tools can feel more like an inconvenience than an advantage. Before investing time in yet another new application, businesses want to understand what their competitors are using and what's relevant to a company of their size and industry.
Perhaps most importantly, how does the proposed application compliment and integrate with my other tried-and-true tools? Ignoring that question is costly with 82% of marketers and salespeople losing up to an hour a day managing siloed tools.
Startups in particular are short on time, money, and resources, which makes the question of connectivity a vital one. The right integration should give employees time back in their day to focus on what's important -- doing their job.
At HubSpot, we have thousands of startup customers that integrate tools into HubSpot to help their company grow. We looked at the most commonly used free integrations leveraged by our startup customers, and compiled a list of the most popular free tools in use.
16 Free Apps for Startups to Help Kickstart Growth
1) Log and Track Emails with Gmail.
Log emails right into the CRM with one click. Track emails and engagement via desktop notifications on opens and clicks.
How you could use it:Track conversations in the CRM so your whole team stays in the loop. Keep prospects engaged with personalized follow up after receiving desktop notifications when a recipient opens your email or clicks a link.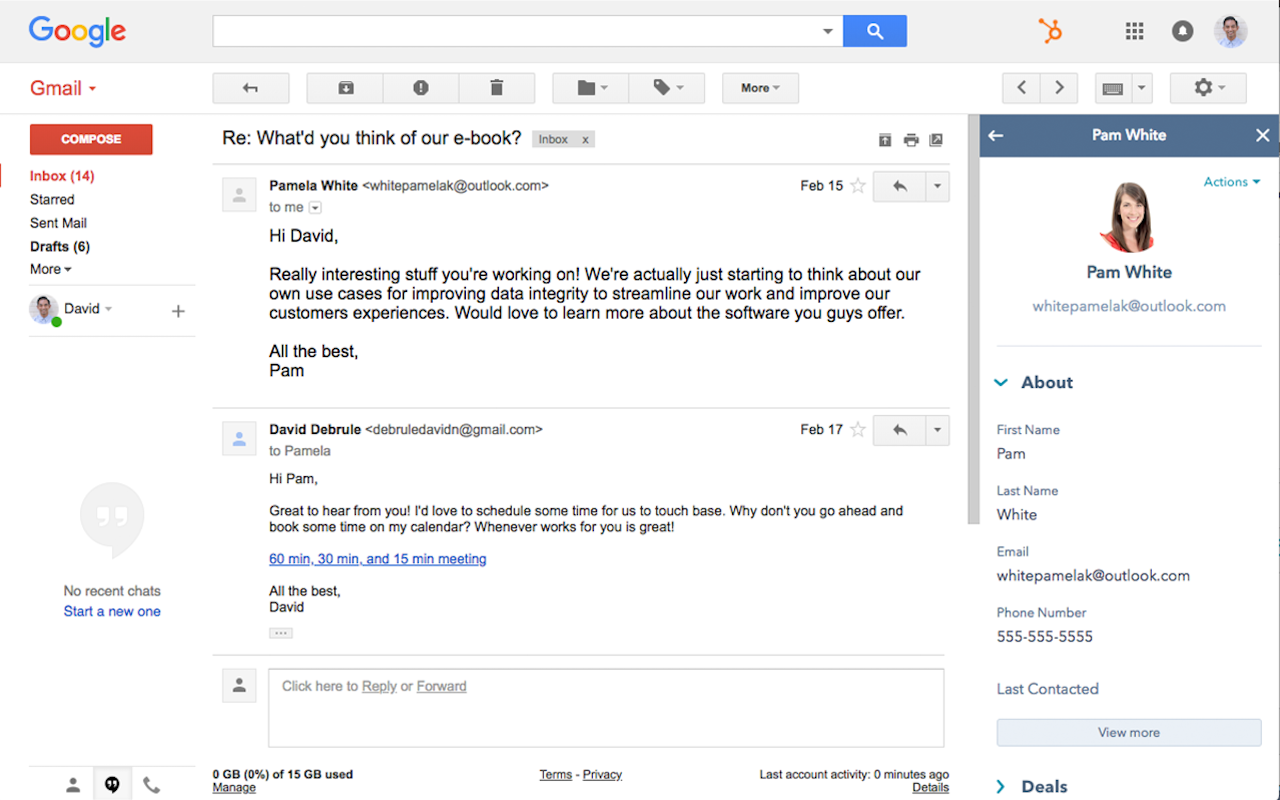 Manage your social presence across LinkedIn, Facebook, and Twitter -- all in one consolidated place.
How you could use it: Schedule social posts from HubSpot and track performance. Leverage multiple social channels to promote a marketing campaign or event.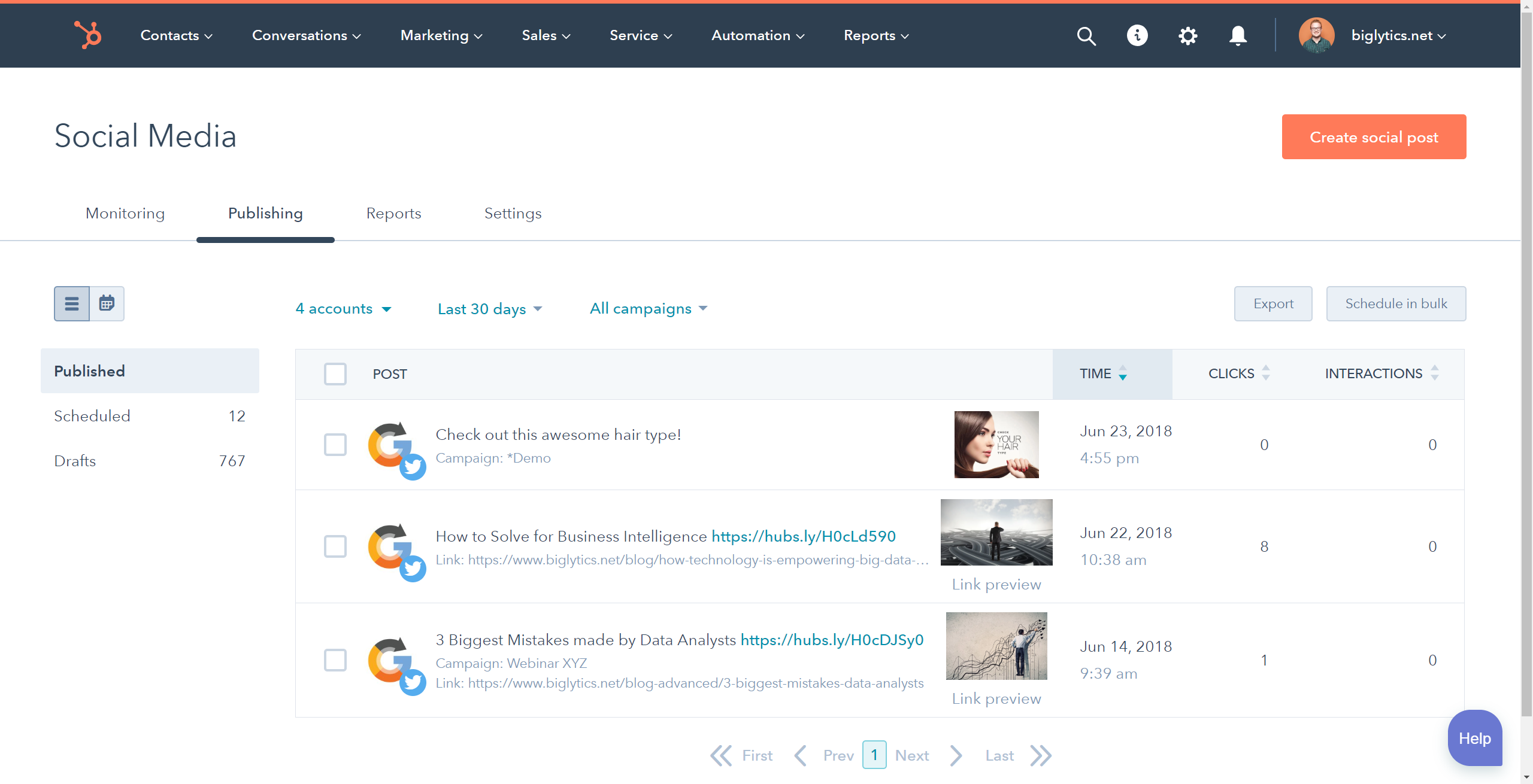 3) Build Email Campaigns with Mailchimp.
Sync HubSpot contacts into Mailchimp lists for easy follow up. Engage with contacts and segment based on conversion.
How you could use it: Use email to provide relevant content to drive value to your contacts at every stage of the buying process. Email your existing customer base to drive more value by leveraging evangelists or helping them become repeat buyers.
4) Capture Leads with Beautiful Quizzes and Polls with Typeform.
Create beautiful mobile-friendly quizzes, polls, and forms. Leverage popular expert approved templates or customize and build them from scratch.
How you could use it: Leverage a quiz or poll template to collect data on users and automatically sync responses into HubSpot properties to segment follow up.
5) Hold virtual meetings with Zoom.
Schedule virtual meetings to speak directly with prospects or customers right from within HubSpot. Keep record of past conversations with notes on the contact timeline. Zoom allows up to 100 participants per meeting on the free plan which means it's great for small to large team meetings.
How you could use it: Save time by scheduling an afternoon of prospect meetings in advance and get reminders to your phone or email before your call. No need to look up call information ahead of each call as it's sent straight to your phone or email, so you can dial in at your convenience.
6) Create Multi-Step Workflows with Automate.io.
Create complex multi-step workflows ("Bots") across applications. Automate manual tasks through custom triggers and actions to keep all your systems up-to-date.
How you could use it: Make sure none of your leads slip through the cracks by creating workflows that automatically update your internal systems, notify the appropriate internal stakeholders, and nurture your leads towards taking certain actions.
7) Convert business cards into contacts with MagneticOne.
Take photos of business cards with a smartphone to automatically add a new contact into the CRM. MagneticOne recognizes cards in 25+ languages -- making it an easy solution no matter where you go.
How you could use it: Take photos of business cards at conferences or events and automatically add a new contact into the CRM.
8) Automate Your Workflow with Zapier.
Zapier allows you to automate your workflow by connecting all your favorite apps. With over a thousand tools to choose from plus customizable triggers and actions, it's easy to automate manual processes in your daily work.
How you could use it: Keep all the your contacts and leads in one system by setting up "Zaps" to automatically sync contacts to keep your email lists up-to-date.
"Zapier enables us to distribute HubSpot data seamlessly between all of our systems and build in-house processes that just were not possible for us before. It's amazing how much company time and money you can save with something that just takes a couple of minutes to build." - Stefan Milev, CMO, Taylor & Hart
9) Automate Notifications and Tasks with Slack.
Slack is a digital workplace that increases efficiency by connecting you to the people, tools, and information you need to get work done and drive communication effectively.
How you could use it: Leverage Slack for organized conversations, searchable histories, and over 1,000 apps to connect your workplaces. Divide channels by teams or projects. Share files, create tasks, and receive notifications directly within Slack to stay up-to-date on all of your contacts.
Create and send surveys to gauge customer sentiment and action responses at scale. Don't know where to start? Leverage popular survey templates with survey scientist approved questions.
How you could use it: Create a survey to understand customer satisfaction by leveraging a template for Net Promoter Score or a Customer Satisfaction Survey. Action auto-synced survey responses in HubSpot by setting up a workflow to evangelize promoters and re-engage or follow up with detractors.
"We use SurveyMonkey to send automated client satisfaction surveys. Each response is tied to the client's contact record in HubSpot, making it extremely easy to track, analyze, and trigger different marketing workflows depending on the survey results." Ricardo Garcia-Amaya,Co-founder & CEO at VOIQ
11) Track progress and share reports with Databox.
Access all of your business key performance indicators on one shareable dashboard automatically delivered to any device. Eliminate the collection process of compiling reports and formatting charts from multiple systems and data sources by creating an all-in-one dashboard. Leverage one of Databox's 100 reporting templates to deliver meaningful insights to your team.
How you could use it: Get a daily scorecard on how your business is performing with topline metrics delivered in a beautifully customized report to your mobile, desktop, TV display, Apple Watch or Slack channels. Schedule weekly reports for your team for a quick health-check on their key performance indicators.
"With Databox, we've been able to pull together our most important metrics from disparate sources into one place, quickly and easily. This gave us real-time performance insights that allowed us to focus on the right activities on our journey to profitability. Being able to pull data from places like Google Analytics, HubSpot, Mixpanel (and more) has been a game changer for us." - Nelson Joyce, Cofounder at Tettra
12) Manage events with Eventbrite.
Create, manage, and market free events. Bonus: use Eventbrite to search for events in your industry for inspiration.
How you could use it: Set up a regional prospect event. See how your contacts have engaged with your company in the past, and use it to make an impact in person. After the event, create lists and workflows based on information synced from Eventbrite to re-engage no shows and turn attendees into customers.
"The integration with Eventbrite is smooth and simple, and great for follow-up and lead nurturing after events. I can highly recommend it." - Chris Schack Noesgaard, CCO at Adapto Technologies
13) See How Visitors Interact with Your Site with Hotjar.
Understand how visitors interact with your site without having them fill out a form or get on a call. Leverage heat maps and visitor recordings to see what people do and care about on your site -- and where you need to improve.
How you can use it: Understand visitor behavior on your most important site pages to improve important conversion points. See how your site performs and use engagement data to help with your site structure.
"We love how easy it is with HotJar to visualize the data with their site heat map and overlay. As they say, a picture is worth a thousand words - or in this case data points." - Sarnen Steinbarth, Founder/CEO at TurboTenant
14) Deliver and Collect eSignatures with HelloSign.
Easily create and manage contracts from one place to close deals faster. Request signatures, autofill contact information, and track status. View signature status and last view to know when to follow up with leads.
How you can use it: Sign, sync, and deliver contract with an average turnaround time of 44 minutes. Manage all of your contracts easily from one place. Sort documents by signature status or last view in order to time reach-out.
Want to kickstart growth? Arm yourself with the right tools. Start by adding these 16 apps for startups to your repertoire -- it might be the difference from moving from a startup to a scaleup. If you're a startup looking to leverage all these great integrations while using HubSpot at a fraction of the cost, apply to HubSpot for Startups.
What are your go-to tools?