Up until recently, augmented reality (AR) has been more of a novel luxury than a genuinely useful tool. Sure, you can catch Pokemon on your phone or use fun Snapchat filters, but other than that, you're likely not using augmented reality in your daily life.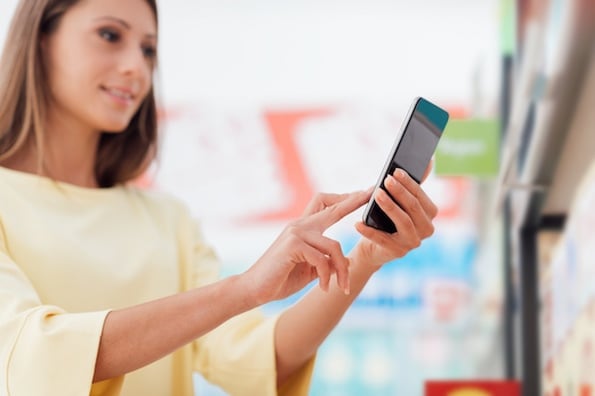 In September 2017, Apple introduced ARKit in its newest update, iOS 11. ARKit makes it easier for developers to create augmented reality apps, which are now available in the iTunes App Store and elsewhere online. Suddenly, augmented reality apps aren't a thing of the future -- they're a thing, right now.
If you're like me, you probably aren't aware of most of the augmented reality apps that exist today. For instance, did you know some of these apps can help you apply makeup or find lost car keys? Or what about the app that lets you walk your neighborhood streets with a tyrannosaurus rex?
Let's take a look at some of the coolest augmented reality things you can do on your iPhone right this minute, so you can see for yourself how AR can become apart of your daily life.
Augmented Reality for iPhone
Shopping Apps
IKEA Place
IKEA Place, an app available now in the iTunes app store, lets you place IKEA products in your home to see how they'll look in your space, and whether they'll fit. Now, you can pick out a new couch or replace that old corner desk without ever leaving your living room, and you can almost guarantee the fit and look will be as you intended.
2. Edmunds Car App
It's important to figure out if your dream car can fit in your parking space or garage, which is why Edmunds car app is so useful. Simply stand in your driveway, point your phone at your garage, and figure out if that new Lexus you're dreaming of will fit inside your parking space. Sure, you'll probably still need to test drive it, but this can help you limit your list by deciding which ones you like best in your garage.
3. Modiface
Modiface, a Virtual Artist App used by makeup companies like Sephora, can show you what a specific makeup product will look like on your face. If nothing else, it's a fun way to give yourself a virtual makeover without leaving the comforts of your home, and it can also provide information on the long-term effects of skincare on your skin. With this app, you can spend hours applying different makeup shades and choosing your favorites for purchase.
Game Apps
4. My Very Hungry Caterpillar
Whether you're trying to keep your child busy, or looking for some fun entertainment yourself, you might want to try out My Very Hungry Caterpillar, the augmented reality version of your favorite childhood book. Just hold your phone up and watch as the book's characters climbs around on your countertops or fly around your bedroom -- if you have a bug phobia, you might want to sit this one out.
5. Monster Park
If you've ever dreamed of reenacting Jurassic Park, now's your chance. Simply download the Monster Park app and watch as life-size dinosaurs roam your neighborhood or living room. Beware -- it's so realistic, it could make you jump. While there are plenty of virtual reality headsets that can make you feel like you're entering a new world, this app is cool because it brings an extinct creature into your actual life.
Learning Apps
6. Visual Body
We've seen how augmented reality can be used for fun and shopping, but what about learning? Take Visual Body, for example, an app that enables you to point at a table and visualize a human body, with all its muscles and organs, the same way you might examine a cadaver at the lab. If you're studying for an exam, or simply curious about how your joints fit together, check this out.
Useful Apps
7. Pixie
Pixie, whose slogan is "Achieve Peace Of Find", helps you locate anything you're at risk of losing. Simply scan any item you want (before it's lost, that is), and then, using augmented reality and visual navigation, the app can show you exactly where your item is when you can't find it. It's accurate down to the inch, and can even cut through walls or piles of magazines. Plus, if your phone dies and you lose it, this nifty app can still find it even if it's turned off. Personally, I'm planning on using this so I never have to search for my apartment keys again.
8. TapMeasure
While a tape measure is admittedly equally effective, TapMeasure is undoubtedly more fun. All you have to do is tap your phone at your starting point, and then move your phone along whichever surface you're trying to measure. Tap your phone again when you want to finish measuring, and your phone will give you accurate measurements. You could use this app for anything from measuring window size to picture-frame size.