If you're anything like me, you've been re-using the same password variation across accounts for years, adding or exchanging the odd number or exclamation point.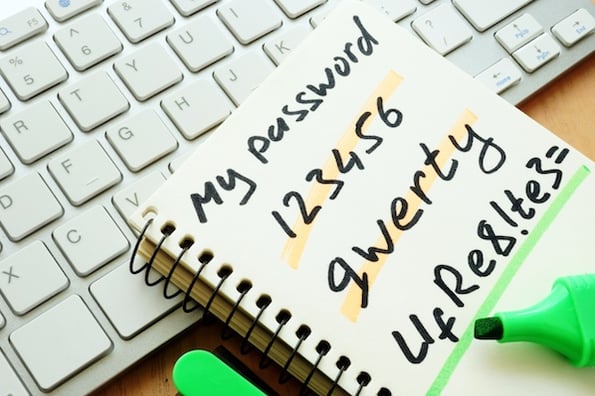 An uncomplicated password is simple for you to remember, but it's also easy for someone to hack, making you more susceptible to crimes like identity theft.
Additionally, it's frustrating when you can't remember the password to your Apple ID, because it's a slight variation from your Gmail account and your WiFi password. Why go through all that trouble when you can choose one "master" password for all your accounts?
A password manager can generate, retrieve, and keep track of long, super-random passwords across all your accounts for you -- passwords that would take hackers a lifetime to crack. Password managers also secure critical online information like credit card numbers, three-digit CVV codes, home addresses, and answers to security questions. This information is right at your fingertips, making form-filling faster and easier than ever.
Now, you're probably thinking -- okay, sounds great. But which one should I choose, and how much will it cost? Here, we'll explore the nine best password managers for every browser and budget, to ensure you have all the information you need to make the best decision.
Chrome Password Manager
LastPass
1Password
DashLane
Sticky Password
PadLock
Android Password Manager
Dashlane
LastPass
1Password
Sticky Password
Roboform
Padlock
Firefox Password Manager
Firefox Password Manager
Mac Password Manager
LastPass
1Password
Dashlane
Keychain
Sticky Password
Roboform
Padlock
Dashlane
<keychain< li="">
Free Password Manager
LastPass
Firefox Password Manager
Sticky Password
Roboform
KeePass
PadLock
Dashlane
Keychain
Open Source Password Manager
KeePass
PadLock
Accessible in the Chrome Web Store, LastPass is a free password manager that will auto-login to all your sites and sync all your passwords under one "master" password. You can add credit card information to LastPass to checkout online faster, and even attach important documents, images, or PDFs. Best of all, LastPass is free to use on any phone, laptop, or tablet, and you can install the extension on all your computers, so you can save and keep track of important information across all devices.
It's equally important to mention LastPass in app form for Android -- as a standalone app, it's incredibly intuitive and useful. The app offers a security analysis feature, meaning it will scan all your passwords and suggest areas you can improve security. It integrates with Google's Oreo-level autofill function and Android's accessibility system, so it works consistently for any sign-in you come across on your Android.
Works on: Any browser, iOS, Windows, Android.
You can use 1Password's own cloud server to sync your data, but this password manager also offers the option of syncing information to your Dropbox, iCloud, or WiFi connection, providing you with additional control over where your data is stored. However, the extra options come at a cost, both monetarily and to your user experience. 1Password costs $36 per year for individuals, and it doesn't operate as smoothly or intuitively as some of the others in this list.
Works on: Any browser, iOS, Windows, Android.
If you primarily use Firefox, it might make sense to use Firefox's free built-in password manager. To access the manager, click your Firefox menu and select "Preferences", "Privacy & Security", and then "Saved Logins …". Here, you'll find your free built-in password manager, with options to create secure passwords to keep your identity safe, see saved and hidden passwords, and import passwords from Chrome or Internet Explorer.
While the Firefox Password Manager is a safe and easy bet for keeping your identity safe from external password hacking, it's important to note someone with access to your computer will be able to log into your accounts. To protect against this, Firefox offers a "Use Master Password" option, to protect your saved logins in case your laptop is lost or stolen.
Works on: Firefox browser.
4. Dashlane (Free or $39.99/year for premium)
Dashlane is incredibly easy-to-use and has a clean user interface, making it one of the most popular managers out there. It has an auto-login feature that enables you to log into any of your online accounts or emails automatically. Dashlane claims this feature, along with the form filler, saves one user "50 hours a year".
It also provides the option to set an emergency contact for important accounts, so you can give a coworker or family member temporarily access to an account. However, the free version doesn't let you access your Dashlane passwords online or sync information across different devices -- you'll need premium to do that, for $39.99 per year.
Works on: Any browser, Android, iOS, Mac, Windows.
5. Keychain (Free on iOS)
If you typically only use passwords for websites on iOS and OS X devices, you could use Apple's free built-in password manager, Keychain. While it suits basic needs on an iOS device -- including suggesting a stronger password and managing passwords in one place -- it doesn't work outside an iOS web browser log-in, and won't sync with non-iOS devices. Additionally, you can't offer temporary access to coworkers or family members like you can on LastPass or 1Password.
Works on: Any iOS and OS X device.
While some free versions of tools are meek alternatives to their paid counterparts, Sticky Password provides most necessary components for free, including impressive features like auto-fill and form filling, password management, and two-factor authentication. Additionally, the manager is capable of saving your credit card payment information, making online checkout faster. The cloud backup is only available in the paid version, but the free version offers the option to sync your data across WiFi. It's user-friendly, and was even voted PCMag's Editors' Choice.
Works on: Any browser, Windows, iOS, Android.
Featured in impressive publications including The New York Times and The Wall Street Journal, Roboform offers some of the best features of any free password manager, including unlimited logins, an auto-fill form tool for both payment information and addresses, single-click logins, and a password generator to calculate password strength. It has a user-friendly, clean interface, and allows users to share their login credentials. If you pay $24 per year, you'll also have 24/7 support and the ability to backup data.
Works on: Windows, iOS, Android.
KeePass is primarily designed for Windows systems, and it can run on a USB stick, so you can carry important passwords and information around with you and sync it up to different devices. It's one of the best open source managers, offering strong encryption options, easy exporting, advanced search features, and more. The software also lets you sort and organize your passwords into groups, and arrange those groups into trees.
Works on: Windows systems.
This open source manager is simple and no-fuss and stores all your important information on their Padlock Cloud, enabling you to access your information from anywhere. The source is available on GitHub under a GPLv3 license. The program is able to sync data across devices. On their website, PadLock claims, "while other apps boast about their long list of shiny cool features, we focus on security, usability and performance instead."
Works on: Any browser, iOS, Windows, Android.
Password Manager Reviews
Since I don't have the time to try all of these myself, I thought I'd reach out to our marketing team here at HubSpot to get some reviews from real-life users. Here's what some of my colleagues had to say about the password managers in our list:
LastPass Reviews:
Mark Metcoff: "I've been an avid LastPass fan for years now. It makes it easy for me to keep my accounts way more secure than I could on my own. It also comes loaded with bonus features like a built-in security audit, password generator, the ability to add notes for each site, and a mobile experience that is in some ways better than the desktop. 10/10 would highly recommend."
Crystal King: "I LOVE LastPass. It's convenient, can be used across multiple devices, creates and stores strong passwords, and can manage autofill for credit cards. I'd be lost without it. LastPass can also manage family accounts, so you can have one account for multiple people and allow someone to have access in case something happens to you."
Daniela Kretchmer: "I use Lastpass - it also auto-updates the passwords."
Jeffrey Vocell: "I use LastPass which has been great."
Dashlane Review:
Eric Peters: "I've been using Dashlane for years because it keeps my passwords organized, automatically enters them on webpages, and warns me if I should update a password if a particular site has been compromised."
1Password Review:
Margot Mazur: "I use 1Password. It's easy to set up across devices, so no matter what computer or mobile device I'm on, I have all of my passwords available and ready to go. It lets me easily create strong passwords, so I don't have to worry about the security of my sites."
David Ly Khim: "1password is bomb."
KeePass Review:
Constance Starcky: "I use KeePass. Never hacked, always easy to use, open-source project, etc."