Customers are more inclined to engage with or purchase from brands they feel the strongest connection with. This isn't a new development. What is new is the definition of the term "engagement."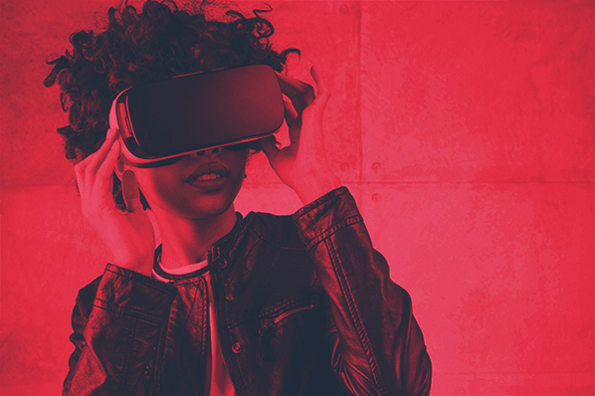 So, what defines a customer's engagement today? Among other things: interactivity.
For many customers today, an experience is inauthentic if it's not interactive. In other words, they have to be able to reach out and feel like they're grabbing the thing you're selling, which is a far cry from the days when leaving a comment on a blog post counted as a sufficient interaction.
71% of consumers think a brand that uses virtual reality is forward-thinking. And however you feel about the term "forward-thinking," one thing is for sure: these brands stand out and gain consumer attention.
Despite what you might think about virtual reality (VR), it's no longer an inaccessible marketing tactic. Creating a content marketing strategy for VR isn't that different from a written or video-based content marketing strategy -- the difference is that it requires you to understand how to engage your customers by interacting with them.
Let's explore what a sound VR content marketing strategy looks like today.
How to Create VR Content for Your Next Marketing Campaign
Know Which Type of Experience You Want to Create
In general, there are four types of VR experiences you can create, and the one you choose will depend on what you want your viewers or customers to learn (or feel) as a result. Here are those four experiences:
Live video: By taking a live-action video in VR, you can allow your viewer to watch the video from the point of view of the video's recorder, panning around to see the experience as if they were there when it happened.
Live photo: Snap a live-action photo that your viewer will be able to pan 360 degrees around and feel as if they're standing on the scene. Google Earth recently made its Street View viewable in this type of experience.
3D video: Animate a service you offer, creating a 3-dimensional demonstration that your viewers might need to see from a firsthand point of view to properly understand it.
3D model: Design a 3-dimensional model of a product you offer, such that your viewers can examine every angle of the item with their smartphone or VR headset.
In any of the VR experiences above, viewers can interact with your content in 360 degrees by moving their mobile device around or literally looking around their periphery while wearing a VR headset.
Know Which VR Tool You Want to Use
Depending on which type of VR experience you choose above -- and how elaborate you want it to be -- your smartphone's camera app won't suffice (well, it could ... keep reading).
Luckily, there are some easy-to-use apps you can download to become a quick VR designer for your business. Here are a few and what they do:
Keep Your Existing Audience in Mind
How does your ideal customer consume your content already? Is it through a weekly webinar or Q&A? Or maybe a daily vlog from the CEO's desk? Whatever content routine you've created, you can continue that strategy while incorporating VR technology.
For example, if your primary medium is Facebook video, you can start producing virtual reality content on Facebook Spaces. Although Spaces is still a new tool, it's poised to become a Facebook standard in the not-so-distant future. There's no better time than the present to start thinking of ways Facebook Spaces can benefit your brand.
Does your business have an app, either for the company website or an event you host? One emerging trend for app-based businesses is to create VR content for use with a Samsung or iPhone-paired VR headset. Take mega-ticket marketplace StubHub as an example. This company has now added a 360-degree virtual reality view to every ticket purchase, allowing customers to simulate the view they'll have from their seats on game day.
Screenshot via Recode
These virtual views have been available on StubHub for a while now, but used to be standard (rather than 360-degree) images. Thanks to the incorporation of VR, the brand has enhanced their customer's existing experience, and helped them better navigate to a purchase.
Just think of how many times you've decided against buying tickets because you weren't sure about the view. StubHub is effectively solving this problem by tweaking their existing content to enable VR capabilities.
Don't Just Create Content, Create An Experience
The notion of a content marketing strategy combined with virtual reality might be misleading. After all, VR is not about the content -- it's about the user experience. Thus, your content creation strategy should aim to be immersive for the consumer, giving them an in-depth view at your product offerings.
Here are two examples of businesses that have applied VR to their marketing strategy in different ways.
Conduct Store Walk-Throughs
Create a 3D model of your product (the fourth type of VR experience listed above), taking the customers through your store and showing them your best inventory firsthand. Shopify, the e-commerce giant, is about to release its all-new thread studio, which is a VR app that will take consumers into a virtual studio to view t-shirt designs and other apparel.
Image via Shopify
Once Shopify's viewers have mixed and matched colors and found the design that's best for their project, they are sent to Shopify's print-on-demand provider, Printful. From here, they can turn their virtual vision into a real-life, tangible product.
As brick-and-mortar stores continue to shut their doors, they'll be replaced by these virtual stores that allow consumers to walk through and browse without leaving their house.
Show Consumers What Products Will Look Like (Augmented Reality)
Giving consumers a visual of what furniture and household items will look like is an important way to encourage them to purchase.
Home improvement giant Lowe's has already added a VR element that mirrors the home customization idea. Known as Holoroom, it takes customers through a model home to provide a look at what the space would look like with their products.
IKEA has been adopting a similar concept for years, in the form of a product catalog developed in augmented reality (AR). The company also recently launched an AR app called IKEA Place.
Augmented reality is very similar to virtual reality, but in AR, artificial content is layered on top of a real background, as shown in IKEA's app below. A popular, consumer-focused example of AR today is the mobile app Pokémon Go, wherein you can catch Pokémon as they appear in the live-action environment in front of you when seen through your smartphone's camera lens.
Image via: Architectural Digest
Seek Long Distance Customers (Yes, Really)
Not that you should only seek customers who live far away, but VR will make it easier to craft content to a more widely located buyer pool.
Just think about how VR will transform the home buying process. If you're a realtor, you'll be able to take potential buyers through a completely virtual tour of your property. People from around the world can see a home inside and out like they're visiting in person.
Forbes writes about VR's influence on buyer reach in its article about VR in real estate, but it adds another possibility to the mix: Using a VR app, realtors will soon be able to allow their clients to simulate custom changes they'd like to make to a potential home. This would makes processes like home-buying much more interactive, giving clients a clearer vision of what it'd be like to live in the property.
Provide an Emotional Journey
Honor Everywhere provides a VR experience to terminally ill military veterans, allowing them to "visit" the war memorials in Washington D.C. Volunteers are bringing VR headsets into assisted-living centers to give to the veterans and let them enjoy the experience.
Image via WTOP.com
Although there's nothing quite as unique as VR made just for military veterans, you can still find ways to take customers on an emotional journey through your own VR content.
"Emotional" doesn't have to mean sadness, though. Think in terms of what your audience is most passionate about and produce content that stimulates those passions.
For example, if you're writing a travel blog that doubles as an affiliate site, your goal is to truly sell the one-of-a-kind experience a customer will feel by purchasing your vacation package. Through the immersion of VR, you can take effectively transport them to the beaches of Rio de Janiero, or atop the Eye of London in a millisecond of time.
You can even take a page out of the always adventurous MythBusters' playbook, and give consumers a first-person tour of a wrecked ship that rests in shark-infested waters. Experience it below.
There's nothing like a swim among sharks to rouse people's fears ... er, rather, emotions.
Embrace Your Location
If the goal is to immerse your virtual audience into a new space, it only makes sense to show them a fun location.
Offer them a virtual tour around your city, show them a famous landmark, or take them to a special event. If a San Diego-based company is creating VR content in mid-July, for example, it might want to show its audience around the floor of Comic Con, which takes place each summer in San Diego.
Use Crowdsourced Content
Perhaps the most underrated -- or under talked about -- aspect of content marketing is the cultivation of a community of users, many of whom can contribute their own content.
Thanks to tools like Facebook Spaces, Periscope, and now YouTube, your brand can easily integrate user-produced VR videos onto your website.
Reach out to consumers through channels like social media, email marketing campaigns, and calls-to-action on your website.
What to Do as a Content Creator
Should you overhaul your entire content strategy to make room for virtual reality? For most of us, the answer is no.
But now's the time to acknowledge not just VR's existence, but its influence, and begin experimenting with it. Don't know where to start? A/B test with and without virtual reality technology, then gauge the user's response.
Rather than dedicating your entire site to VR, start with individual posts or pages, then begin building as you see fit.