"I want the design to be deeply serious but somehow playful, modern while also vintage, colorful without having a lot of colors ... "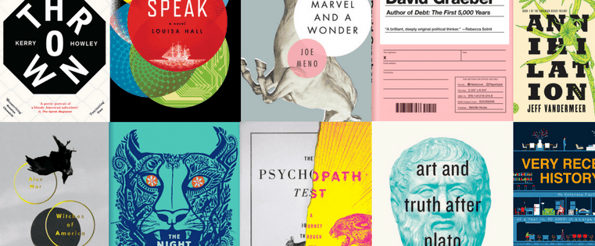 If you're a designer, you've probably received this kind of feedback before. A single piece of work is often expected to be much more than the sum of its parts.
Clients expect their entire backstories and varied influences to come through clearly in a finished design, and it can be challenging to distill so much into a single, visually pleasing product.
Book covers can teach us a lot about condensing complex ideas into simple designs that attract consumers and sell products. The best covers manage to give book browsers an idea of the book's plot, tone, themes, and genre, all without revealing too much.
To inspire your next design project, we've compiled a list of 20 beautifully designed books that beg to be judged by their covers.
20 Creative Book Cover Designs
Vandermeer's critically-acclaimed science fiction novel centers around Area X, a mysterious, sinister patch of wilderness that seems to be growing to reclaim human territory.
To reflect Area X's unnatural invasion into our world, designer Charlotte Strick entangled bold typography with a botanical illustration by Eric Nyquist.
The same illustrator/designer duo created similar covers for all three books in the Southern Reach Trilogy.
When Keith Hayes, a veteran art director for Little, Brown and Company, was tasked with designing a cover for Tartt's 2013 novel, the author had just one ask from Hayes.
"Donna's only request for the cover was that I not show the painting," Hayes wrote in mental_floss. The painting in question is Carel Fabritius's 1654 piece, "The Goldfinch," which plays a role in the novel.
Hayes ended up including the painting after all -- although just a peek. Tartt "ended up loving it, which means a lot to me, because I knew I better not screw that one up," Hayes wrote.
3) Thrown by Kerry Howley
Designer Jonathan Gray is no stranger to iconic cover art. He has designed covers for major authors such as David Foster Wallace and Jonathan Safran Foer.
For Howley's 2014 novel about cage fighting, Gray centers the cover design around a minimal shape resembling a fighting ring. It's a subtle, avant-garde way to symbolize the novel's unique topic.
This cover from designer Kelly Blair truly conveys a sense of mystery -- the perfect visual representation for Oksanan's moody historical novel set in Communist-ruled Estonia.
5) 1Q84 by Haruki Murakami
Murakami's most ambitious novel deserves an equally ambitious cover, and Chip Kidd, a legendary cover designer for Knopf, definitely delivered.
A layer of cloudy velum masks the subject's face, which is clearly visible only through the title's transparent typography. A hidden panel behind the velum reveals another, less clouded version of the subject's face. The effect is intended to evoke a feeling of two realities -- a theme that runs throughout the novel.
"I wanted a cover that avoided any clichés, and that conveyed that this is a book that deals with witchcraft in the present day, and in a fresh way," said author Alex Marr.
She found exactly what she wanted in this subtle design by Rachel Willey, who refrained from using images of pointy hats and broomsticks in favor of this iconic black raven and modern circle graphics.
Illustrator Manuja Waldia designed this whimsical new cover for Shakespeare's classic comedy. While many other covers for the play feature paintings or other historical visuals, Walida's approach is decidedly modern. She perfectly captures the tangled romantic relationships at the center of the plot with this simple crest.
Walida's version is part of The Pelican Shakespeare series, a collection of Shakespeare's classic works accompanied by related scholarship and research. She designed the covers for 14 works in the series.
Brooklyn-based graphic designer Christopher Brian King whipped up this topical cover design for anthropologist David Graeber's 2015 exploration of bureaucracy.
The straightforward design resembles a government form. In true bureaucratic style, King even included a section on the bottom right that details the dimensions of the book itself.
Koch's novel focuses on a family in crisis. After their sons commit a horrible act of violence, they must decide whether or not to turn them in, all over the course of a single lavish dinner.
This clever cover design by Christopher Brand puts the focus on a scorched tablecloth -- the perfect metaphor for the novel's simmering tensions. The burn-marks reveal the title and author's name scrawled out in handwritten lettering.
Many dystopian novels opt for flashy covers, but this book jacket by designer Helen Yentus features minimal hand-lettering and a bob hairdo painted with visible ink marks.
The faceless portrait represents the novel's main character, Fan, and the simple, hand-painted art complements the novel's serious tone.
Designer Matt Dorfman created this shocking split-cover for Ronson's nonfiction work on mental health. Equal parts hilarious and horrifying, the book investigates occurrences of psychopathy in the general population.
The ripped-away cover perfectly represents the unexpected threat of psychopathy looming beneath the surface of our expectations. The left side resembles a classic academic textbook cover, while the right side appears to be torn away, revealing a bright, snarling jungle cat and chaotic typeface.
"Modern graphic design" probably isn't the first thing that comes to mind when you hear "Plato," but this cover by Isaac Tobin might have you rethinking that association.
Tobin uses a vivid, two-tone silhouette of a Plato bust and contrasting lowercase text for the title, giving the ancient philosopher a 21st century makeover.
David Drummond designed this decidedly minimal cover for philosopher Mel Thompson's 2014 publication that explores self-reflection and the nature of self.
To represent these themes, a simple mirror graphic in anchored in the center, reflecting the book's title back at the viewer.
There's a lot happening in this cover design for Sicha's novel of interweaving narratives in a single city. Designer Ben Wiseman captures the feeling of multiple lives running parallel in close proximity with his intricate cover illustration.
The Colossus of Maroussi is a 1941 travelogue by American writer Henry Miller, chronicling his time in Greece during World War II. The original cover featured horizontal blue and white stripes across the book jacket: a minimal homage to the Greek flag.
This updated cover by designer Steve Attardo borrows similar elements from the 1941 cover, but takes them up a notch. Where the original used simple stripes, Attardo created a labyrinthine series of white lines over a blue backdrop.
It can be a challenge for cover designers to distill the plot of a book into a single piece of work, but Will Staehle does a superb job of it in this cover he designed for the 2015 novel A Darker Shade of Magic.
The book follows magicians who can travel between parallel universes in London. Staehle's design features two circular maps of London -- one red and one black -- with a caped figure jumping between them. It's a simple, elegant way to give browsers a peek at the magic tricks contained in the book's pages.
In McFarlane's debut novel, the protagonist Ruth is haunted by the sounds of a tiger roaming in the distance.
The focal point of this unique cover design by Charlotte Strick is the mesmerizing tiger Illustration by Ariana Nehmad Ross. Tree branches twist and contort to form a predatory face, all while a serene figure sleeps in the mouth of the beast.
The negative silhouette of an airplane cuts over an anonymous face in this cover design by Oliver Munday. The effect is contemporary and dramatic, a perfect fit for this speculative fiction novel.
19) Speak by Louisa Hall
This science fiction novel contemplates what it truly means to be human in a world increasingly permeated by artificial intelligence.
To capture the essence of the book on the cover, designer Jim Tierney used bold, overlapping circles, some containing signs of natural evolution and one marked by the distinctive lines of a motherboard.
A failing farm. A boy who can talk to animals. A miracle in the form of a runaway racehorse. Joe Meno's novel is equal parts whimsy and emotional heft, and the cover perfectly captures this.
Designer Jon Resh worked alongside the author to develop this design. There's something distinctly off-kilter about the racehorse illustration running vertically down the center off the cover -- an apt reflection of the book itself.
Have you seen any cool book cover designs lately? Let us know in the comments.