According to the Centers for Disease Control and Prevention, almost 80% of American adults don't get the recommended amount of exercise per week. Unfortunately, this number could ultimately affect the productivity and long-term success of your company.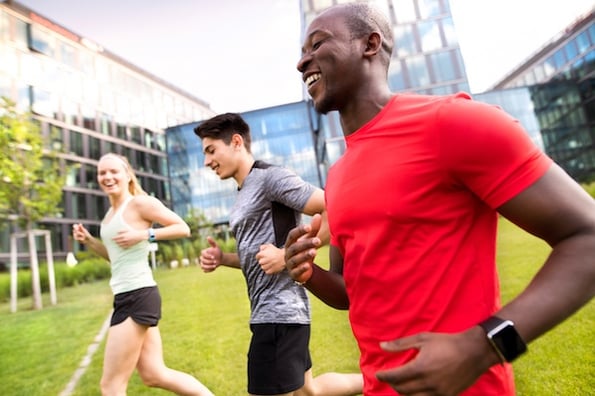 Mid-day exercise has proven to effectively boost performance and productivity in the workplace -- in fact, a study presented to the American College of Sports Medicine found employees who exercised for 30-60 minutes during their lunch break reported an average performance boost of 15 percent.
While it's undoubtedly important to achieving company long-term goals, fitness in the workplace can seem expensive and difficult to implement, particularly if you can't afford to build an office gym or offer employee discounts to nearby sports clubs.
Fortunately, there are plenty of fitness challenges that are relatively cheap and easy to incorporate into your workplace. Along with improving your employees' health and productivity, a fitness challenge is a fun opportunity to strengthen coworker bonds, create a more inclusive culture, and promote a healthy level of competition between departments -- a win, win.
Here, we'll explore seven different fitness challenge ideas that could get your team moving. Choose the one that best fits your team's culture (or, better yet, try a few).
Fitness Challenge Ideas
Create a plank or push-up challenge.
Plan a team-bonding outing that incorporates exercise.
Create an office "step" challenge.
Make walking meetings a regular occurrence.
Use a fitness app like Tribe, or YouTube videos.
Encourage employees to sign up together for a 5K or team obstacle course race that raises money for charity.
Use the Charity Miles app.
1. Create a plank or push-up challenge.
I'm starting with this one because it's likely the easiest and cheapest in our list. In fact, we already do plank and push-up challenges at HubSpot -- which I didn't know, until I was grabbing a coffee one day and stumbled across a team who had formed a small circle on the floor, heads in the center, in plank positions.
I watched as they counted down the final seconds in a three-minute challenge. After they'd collapsed on the floor, I approached one woman and asked what they were doing. "A plank challenge," she told me, "We make it harder and harder each week. We started with one minute, and now we're up to three."
You can't tell me you don't have the one-to-three minutes it takes to implement this easy fitness challenge. In-between meetings or during your lunch break, encourage your team to take part in plank or push-up challenges to strengthen both muscles and team connection.
Ideally, this is just a starting point for your team -- as they improve in their ability to hold a plank, they'll hopefully become more confident to try other fitness activities, as well.
2. Plan a team bonding outing that incorporates exercise.
Ryan Holmes, CEO at Hootsuite, has made exercise and health a priority at Hootsuite. Along with an office gym, "Groups [at Hootsuite] set out from our office for lunchtime runs and evening hikes. Over the years, we've had a hockey team, a road biking team and even a Quidditch team that does battles on broomsticks in the park."
There are plenty of fun team bonding outings you can plan that incorporate exercise. Perhaps your team can go on a hike. As the winter approaches, you might plan an ice skating or sledding outing, or find a nearby trampoline park. Additionally, you could simply walk to a nearby restaurant with your team for dinner.
Try taking a team poll to figure out what your employees want to do. Ultimately, team bonding outings don't have to solely revolve around food -- in fact, a healthy level of exercise or competition could help foster deeper connections among your team members.
3. Create an office "step" challenge.
These days, plenty of people are obsessed with meeting their daily step goal via a fitness tracker. To leverage this trend, you might consider creating a "step" challenge across departments, with the opportunity to cash-in steps for incentivizing rewards, like a half-day of work or a catered lunch.
While many of your employees likely already own a wearable fitness tracker like an Apple watch or FitBit, it's okay if they don't -- there are plenty of free apps that can track steps, such as Step Counter for Android or Stepz for iPhone.
To implement, you might tell teams you'll measure their collective steps at the end of the week, and whichever team walked the most, wins a prize. Alternatively, you could offer a specific number -- like the first team to hit 100,000 steps, wins.
4. Make walking meetings a regular occurrence.
Some meetings, like those in which you need to display a Powerpoint presentation, aren't conducive to walking -- but I'm willing to bet you can get creative, and find ways to transform other meetings into outdoor exercise.
For instance, perhaps you can transform your monthly brainstorming session into a brisk walk. Additionally, you might create walking meetings in conjunction with a department "step" challenge, like the one described above.
To make walking meetings a challenge, you could ask all departments to plan as many walking meetings as possible -- at the end of the month, the team with the most walking meetings wins a prize.
5. Use a fitness app like Tribe, or YouTube videos.
With today's technology, you don't need a fancy office gym to encourage employees to workout together. Instead, you could just use a fitness app, like Tribe.
Tribe allows sports and fitness influencers and celebrities, including big names like NFL players Corey Liuget and Jahleel Addae, to engage with an audience and provide fun workout challenges for app users. Encourage your team to participate in a challenge together, or take classes at the same time.
Alternatively, you could simply pull up a free challenge on YouTube, like the 15 Day Fit Body Challenge by IdealFit. Perhaps you can block off an hour at lunch each day for team members who want to partake in the challenge, to ensure meetings won't get in the way.
6. Encourage employees to sign up together for a 5K or team obstacle course race that raises money for charity.
What better way to kill two birds with one stone than to organize an exercise event that helps your company raise money for charity at the same time?
Start by researching 5Ks or obstacle course races in your area, and encourage team members to sign up together. To provide further incentive, your company could offer prizes to everyone who participates, or just top-finishers in each race.
Ideally, by enabling employees to give back to the community, you'll incentivize more team members to join.
7. Use the Charity Miles app.
It's likely that each employee on your team has different charities they'd like to support. Allow your team members to raise money for their preferred charities, while simultaneously promoting exercise, with the free Charity Miles app.
Here's how it works -- each employee downloads the app and chooses a charity. Then they can move however they want, whether that means biking, running, dancing, or walking. Every mile your employees move will be turned into money for their chosen charities -- fantastic incentive to move more, both during and after work hours.
Additionally, you can sponsor people on the app, allowing you to create healthy competition within your department by encouraging different teams to sponsor different people, and different causes.