Hiring the wrong freelance graphic designer can make or break your brand or marketing objectives. A designer that can't complete projects on time, lacks the ability to adapt to your brand aesthetic, or has never taken on the type of work you're doing could cause you to lose business.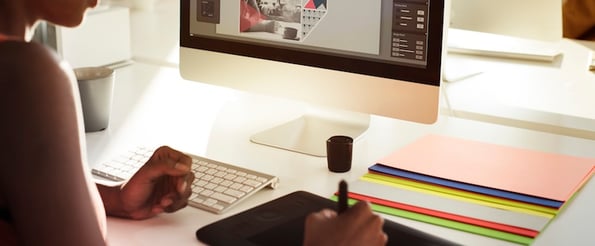 Regardless of the type of project you're hiring a designer for, it's important to make sure you're bringing in the right person for the job. Pose these six questions to each candidate before making a hire.
6 Freelance Designer Interview Questions
1) What motivated you to apply for this project?
This question can reveal a lot about whether the graphic designer you're interviewing is genuinely interested in your company and what they'll be working on. If they aren't, it'll show in the final product -- and that's a losing situation for everyone.
Ask questions that gauge their knowledge of your business and goals, and observe how well their skills and interests align. You want a graphic designer who fundamentally understands what you are building and why it's important. Ideally, they'll already be familiar with your company or will have interacted with you as a customer in the past.
2) What is your workload like?
There's a big difference between the level of attention you'll get from your freelance designer if you're providing a significant portion of their income versus sending them a small project here and there.
Before committing to a contract, set clear expectations around your requirements. Will you need closer to five or 40 hours of their time each week? Find out how booked up they are with other clients and if it's realistic for them to take on your project given your expectations and their other commitments.
3) Can you describe your design aesthetic?
A critical factor to consider when hiring a graphic designer is whether their work aligns with the overall design aesthetic you envision for your project.
If the designer you're considering has a portfolio full of edgy, hand-illustrated black-and-white cartoon characters, they might not be the best fit to work with a mature brand that wants to appear authoritative. It's a good idea to look through the designer's work to get a sense of whether their aesthetic jibes with your vision before getting too far into the interview process, but be sure to ask this question regardless.
4) What is your design process like?
The graphic designer you're considering should be able to articulate a clear path to achieving your desired results. An inability to do so could mean they don't have enough experience to suit your needs.
For example, here's how veteran graphic designer Ian Paget of Logo Geek kicks off a project with a new client: "I start my design process by creating a list of goals that can be used as a tick-list to refer to during the design phase and when selecting the best solution. We cover areas such as the brand's story, values, competition and target audience."
Having a well-defined, agreed upon design process like this is key to the success of the designer-client relationship.
5) How would your other clients describe working with you?
When a graphic designer has a page of their portfolio website dedicated to testimonials or keeps an offline copy of positive reviews they've received from past clients, it tells you their customers are happy with their results and willing to publicly vouch for them. If they don't offer to share, just ask.
However, if they're unable to produce a few positive testimonials, that's might be an indication they are unable to sustain good client relationships or produce quality results. Tread lightly.
6) Do you have a blog?
Graphic designers who have a blog and actively take steps to showcase their domain expertise are more likely to bring additional value, advice, and experience to the table --beyond the deliverables you've agreed upon. The right graphic designer with an active social media following or established personal brand can help create more than just a new style for your company; they can become a worthy advocate, too.
As for who should be asking the questions: If your graphic designer will be working hand-in-hand with other members of your content team such as writers and marketers, it's essential these stakeholders have a say during the interview process. Aside from being able to weigh in on whether they like the designer's work or not, your other team members' inputs are valuable for a few reasons: they will have a close pulse on anticipating the timing for upcoming projects, an understanding of the deliverables, and will likely be the ones interacting most with the designer on a day-to-day basis.
These six questions will ensure you come out of the interview with a clear sense of whether the graphic designer candidate is right for the job. When you and the person you hire are on the same page, you'll cultivate a better rapport and get mutually beneficial results.