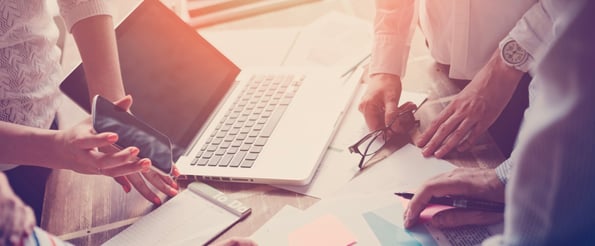 How many different productivity tools do you use?
And how many hours have you spent searching for an email, assignment card, or document, simply because you have so many tools and systems? Maybe that's why there are project managers -- the person dedicated to managing these tasks. But guess what? With the right approach, you might not actually need one.
Optimal productivity really boils down to efficient team collaboration, especially for SMBs. So what does that look like?
Well, it requires a strong communication plan across all parties working on the project, as well as the tools -- in moderation -- that help you do that. Check out the tips below on how to collaborate better, and more productively.
The Productive Marketer's Guide to Better Team Collaboration
1) Avoid designating a project manager.
As we just suggested, it seems counter-intuitive to avoid hiring a single point person to oversee a project, right? But for SMBs in particular, says Marcus Andrews, HubSpot's senior product marketing manager, using productivity tools -- instead of a project manager -- can actually help teams be more productive.
In these environments, "project management should be a shared responsibility," he says. "It doesn't make sense for SMBs to buy clunky project management software and to hire a person dedicated to managing their work. It's overkill, and will slow them down and cost them money."
Andrews suggests using a cohesive, automated productivity application -- one that eliminates the duplicate efforts and distraction of multiple tools. That's what 51% of people expect such apps to be able to do.
Here at HubSpot, we have a built-in app that does those things called Projects. Each team member is able to own his or her responsibilities, but monitor the different project pieces at the same time. That's part of the reason, Andrews says, apps like these are so good at boosting team communication.
And hold that thought about automation -- we'll touch more on that in a bit.
2) Define a clear purpose and motivation.
Be honest. Have you ever been mid-task when you asked yourself, "Why am I doing this?"
That question should be answered from the very beginning of the project. What is its purpose? Why is it important to us and the client? And what excites us about it?
Outlining a project's purpose and motivation can help your team stay engaged throughout the process. Disengaged workers have a drop in productivity -- that's why it's important to not only define a clear purpose of the project up front, but also, to maintain an awareness of that purpose throughout its stages.
Have project team member identify a genuine reason why the project matters to them, and record it somewhere conspicuous. That way, if they feel overwhelmed or disengaged, they can go back and remind themselves of the work's purpose.
3) ...but, assign specific roles.
While eliminating a project manager can aid your team's productivity, it's still crucial to make sure everyone understands the role they'll play.
When that isn't clearly defined, it's a huge blow to productivity. According to Gallup, only half of employees actually understand what's expected of them at work -- and out of that half, only 4% feel engaged at work.
We already know that disengaged teams are less productive. So to avoid it, leave no room for confusion before your team begins a project. It might be helpful to go over roles as a group before the work begins, to make sure there's no unnecessary overlap or duplicate efforts. That's also part of the point of removing the superfluous, multiple project management tools that we discussed earlier -- we want to remove any unnecessary functions that hinder the team's focus.
That goes for your team and your technology. Like having one automated app that keeps a project's moving parts organized, clearly defining roles keeps your team running like a well-oiled machine.
4) Understand how work will move from role to role.
Not only is it imperative to clearly define roles, but it's equally important to understand the next steps after each task is completed.
To me, project workflows are like baseball batting rotations -- the order in which players are supposed to bat against the opposing team. Now, imagine if there was no such list, and a game stopped in the middle of an inning because no one knew who was supposed to hit next. A number of things could happen. The team could stand around waiting for someone to volunteer to step up to bat, or wait for someone in charge to make that decision. Or, it could be complete mayhem, with everyone on the team clamoring to take over. In any case, the game -- like your project -- would experience a delay, and nothing productive would get done.
For that reason, it's important to have a workflow and sequence of steps in place. Sometimes, that can be tedious, which is why automation is so helpful in productivity. In fact, 55% of employees feel positive about the prospect of automation replacing tedious workflow tasks. Instead of taking the time to hand off a task and explain its next steps, or move it from app to app, a productivity tool that works within your existing workflow program can help seamlessly execute a sequence of tasks.
It also helps to get things done on time, by assigning deadlines to deliverables that are all organized in the same place. And that can be good for morale -- 37% of employees equate meeting deadlines with productivity.
5) Avoid having to teach the same thing repeatedly.
By now, you get it -- multiple project management apps = duplicate efforts = unproductive.
But another thing about managing projects with multiple tools? They require your team to learn multiple pieces of technology, many of which are actually built to accomplish the same thing. And learning, as well as remembering all of those different pieces takes time away from -- you guessed it -- getting your work done.
That repetition can be avoided by using a tool that already exists within your current CMS, CRM, or workflow platform. HubSpot Projects, for example, is already part of the HubSpot Marketing Platform, so it's connected to our existing productivity apps, like Calendar.
Plus, it's worth noting that Projects was developed in tandem with HubSpot Academy, says Eric Peters, senior growth marketing manager, which gives it a central repository of marketing resources and knowledge. That's "part of being more productive," he says, by "not needing to teach people things over and over."
And while it's good to make sure your team knows they can ask questions -- 75% of people feel less stressed when they can get the help and support they need -- it's also nice to have these built-in resources for them. That reduces the time they might have otherwise spent searching for information, making them more productive in turn.
6) Hold "help wanted" meetings.
Sometimes, we get so wrapped up in our tasks that we forget to check in and ask each other the questions that help get things done.
That's what Beth Bridges, a Marketing Manager for J – I.T. Outsource told Wrike. "I ask: What do you need to move forward on this project? Where is it stuck? What can we do to get to 'done'?"
Plus, when teams receive consistent, voluntary help from their leaders, they're more likely to help others in turn. But when it comes to these help wanted meetings, we suggest asking attendees to leave their devices behind -- 75% of employees say that their smartphones get in the way of productivity.
7) Gather consistent feedback.
We know that your team needs to be able to ask for help and have resources at hand. But other than that -- how's everybody doing?
Earlier, we mentioned that there are times when projects might not go according to schedule. We suspect that has something to do with a lack of two-way feedback. During these help-wanted meetings, or even one-on-one meetings between teammates, use that time to welcome feedback on how the project is generally going.
Are the tools working? Are you better suited for a different phase of the project? Does someone have a new idea?
Having a dedicated time to exchange this feedback avoids spontaneous traffic jams and conflicts that can hold up progress and productivity. And, according to research done in Germany, teams that received the most constructive feedback were three times more engaged in their work.
Teamwork Makes the Dream Work
It might seem like we're asking you to do a lot at once. But really, these are all items that you can plan for before your work on a project even gets started.
To break it down:
Avoid the using multiple project management tools that duplicate efforts. Instead, look for a single productivity app that can integrate with your current workflow, resource database, and CMS/CRM.
The same goes for designating a project manager. An app like the one described above eliminates that person's work, conserving time and other resources.
Clearly outline the purpose, motivation, roles, and steps/schedule of a project.
Create opportunities for your team to ask questions and exchange feedback.
And to learn more about how a productivity app can help you, check out HubSpot Projects.
What helps your team work more productively? Let us know in the comments.