You don't know it yet, but you need Kelsey.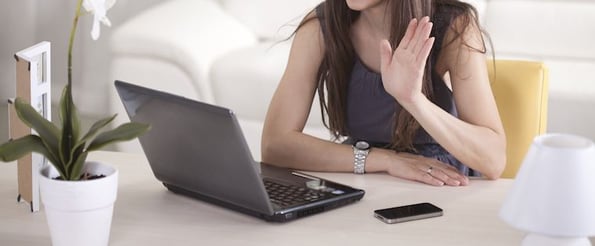 She's an ideal fit, the right mix of smarts and experience, temperament and personality. She's the missing link your department has been looking for, needing. Thankfully, the need is mutual. Kelsey is looking for a job.
Unfortunately, you don't know Kelsey exists because she lives 1,691 miles away. And you probably never will because, right now, there's a room full of candidates sitting outside your office, eager to impress in a face-to-face interview.
You'd hire one of them before spending the time and money to source long-distance talent, right? It's more convenient, after all. Not to mention less expensive, less risky. Kelsey can't compete with that local, in-person pool ... right?
Wrong. There's a trove of online tools designed to help you easily find and confidently hire Kelsey. You just need to start using them.
18 Tools to Find & Interview Remote Candidates
If you're not sourcing talent outside of your zip code, then that's too bad because your competitors are. They're using a variety of tools that streamline how they find and connect with candidates, specifically knowledge workers.
Most of these tools fall under one of three categories:
Basic video conferencing tools, which create authentic connections.
Technical assessment platforms, which test critical knowledge and skills.
Let's take a closer look ...
Basic Video Conferencing Tools
I live in Chicago. My three nephews live in Maryland. Physically, we're hundreds of miles apart. But that reality, somehow, melts away as soon as my sister picks up my FaceTime call. That's when the boys rush in from every direction, vying for their piece of on-screen real estate, giggling through their gap-toothed smiles.
It's a wonderful experience, warm and personal. It feels real, like I'm there with them.
That's what makes video calls so potent and powerful: They help us forget we're not in-person. They cut through the distance. They put Kelsey on the same plane as all those in-person candidates.
Use these tools to achieve an authentic connection with anyone, regardless of how many miles separate you:
Google Hangouts is available to anyone with a Google account. Beautiful, simple, and intuitive, the Hangouts icon has become a standard fixture on desktops around the world. Your candidate will have it.
Price: Free.

Skype is proven. In addition to video chats, it can also be used to place high-quality global calls.
Price: Free. The "Business" plan, however, runs around $2 per user per month.
Spark Hire is like Google Hangouts or Skype, except you don't have to be present during the interview. The tool lets candidates record their video answers on their own time, while you're off in another meeting, or eating lunch, or sleeping.
You can then watch and evaluate on your time, when you're ready.
Price: $99 a month will get you started.
VidCruiter can display your logo in the corner of the screen during a video interview, giving the process a professional, official veneer. The platform offers a variety of similar customizations that are simple to test and apply.
Price: Tailored to each customer, true to the platform itself.
Applicant Tracking Systems
Hiring only one person can be a long, involved process. Hiring many people, all at once, successfully, can be impossible. There are too many boxes to check, too many tasks to juggle. You'd need a team to make the process efficient and economical ... or would you?
An applicant tracking system, or ATS, is software that helps managers and recruiters streamline the hiring process by digitizing and automating essential hiring functions, like scheduling interviews or performing background checks.
An ATS can also be programed to crawl resumes and find great-fit candidates, like Kelsey. This will save you time and energy. There is no doubt it's a valuable tool, especially if you're hiring several positions at once.
Curious? Here's our list of standout platforms:
Jobvite, like any ATS, does a lot. It's a CRM. It performs crisp video interviews. It also sports a highly customizable interface that'll give candidates an honest representation of your brand as they carve through the interview process.
Price: $500 per month for less than 100 employees plus a $1500 'activation charge' (which includes training).
iSmartRecruit is a highly-scalable and customizable recruitment software designed for mass recruiters, corporate HRs, and recruitment agencies. The ATS & CRM software they provide automates and manages the complete hiring workflow from sourcing candidates to onboarding the most suitable talent faster. By eliminating manual and repetitive recruitment tasks, it reduces time-to-hire by 55%.
Price: The pricing for each plan is custom, depending on the requirement of each client. Contact for more information.
Betterteam can automatically write your job ad for you. It can then post that ad to more than a hundred popular job boards and sites, like Glassdoor, Monster, CareerBuilder, and LinkedIn.
Want to add a job board to your website? Betterteam lets you do that, too. No coding skills necessary.
Price: Free to start.
HireVue uses predictive analytics and machine learning to determine, for example, if an applicant will turnover quickly, among other invaluable tidbits. Also, if you're having trouble configuring one of the platform's many features, HireVue's paramount customer service will help you get back on your feet.
Price: The "On-Site" package will run you $499 -- $899 for unlimited interviews per location. There are also "Recorded" and "Live" packages.
Homerun lets you set up a dedicated career site that you can easily tailor to perfectly reflect your brand and culture: Control every image and word, every font and color and form.
Unlike other platforms, Homerun lets companies categorically be themselves, a quality candidates will always recognize, even if they're 1,691 miles away.
Price: €19 per active job opening per month, which is the "Pay For What You Use" plan.
Hyrell has all the bells and whistles you'd expect from an ATS: Easy interview scheduling, seamless communication features, job board posting, stellar account management, responsive technical support. Except Hyrell is optimized for franchise-based businesses.
Price: Ranges between $200 - $800 per month. There's also an "Enterprise" package.
Lever helps companies source, interview, and hire "top-tier" talent, people who may not even be job hunting at the moment.
Price: You'll have to contact Lever to get a custom quote, which, depending on the features, typically falls between $300 and $3,000.
LinkedIn Recruiter leverages the network's more than 400 million users -- along with premium features, like InMail and analytics tools -- to help you find the ideal person. You can also source from anywhere with Recruiter Mobile, a convenient app.
Price: It's $899.99 per month for the "Corporate" plan. The "Lite" version comes in at $239.99 per month.
Newton uses smart, decision-assistance tools to help small- and medium-sized organizations manage every stage of the hiring process. The platform also has a baked-in compliance feature that helps protect employers against fines and lawsuits.
Price: The basic package will run you $399.99 per month.
Proven streamlines the hiring process for small businesses, letting you post a job ad to more than a hundred popular job board sites, then categorize your responses into buckets for quick, convenient reference.
Price: Your first job ad is free. After that, you can pay-as-you-go for about $10 a pop.
The Technical Assessment Platforms
Kelsey, by the way, is a coder. A very good one, in fact. Based on her experience, you have every reason to believe her. But you can't know for sure until you test her ... live.
You could fly her in and go through the expensive motions: Airfare, lunch, hotel. Or you can send her a link and watch her work, in real time on your screen, as she takes your test remotely. The latter is easy thanks to these platforms:
CoderPad lets you watch engineers code in real-time. It supports over 20 languages, including C/C++, Swift, Java, Ruby, and Python. The platform also allows you to playback an interview, stroke-for-stroke, so you can show others involved in the selection process.
Price: You'll pay $50 per month for a "Personal" account, which allows one user to conduct a maximum of 20 monthly interviews. The cost goes up from there.
HackerRank is rooted in crowdsourced coding competitions called CodeChallenges, which you can post directly on your career page to attract candidates. You can also use the platform to run a CodeSprint, which brings thousands of programmers together to compete in the same competitions.
This process lets the best talent organically rise to the surface.
Price: You'll have to speak with sales after your 14-day free trial is up.
Interview Zen lets you create open-ended coding interviews that are as unique and role-specific as necessary. Here's an example from the site:
Write a program that prints the numbers from 1 to 100. But for multiples of three print "Fizz" instead of the number and for the multiples of five print "Buzz". For numbers which are multiples of both three and five print "FizzBuzz".
Price: Free.
Codility, like the other tools on this list, will help you source, screen, and interview technical talent. But the platform's insightful and objective assessment scores help non-technical recruiters make more informed decisions.
Price: Single users pay $159 monthly. Equipping multiple users, however, will require a conversation.
"Hi, Kelsey," you say, "how was your flight?"
"It was quick and easy, thank you for asking," she says, smiling. "It's so nice to finally meet you in person."
You smile back, eager to make her an offer.
"I know," you say, "it feels like I already know you."
What are your favorite tools for finding and interviewing remote talent? Share them in the comments below.