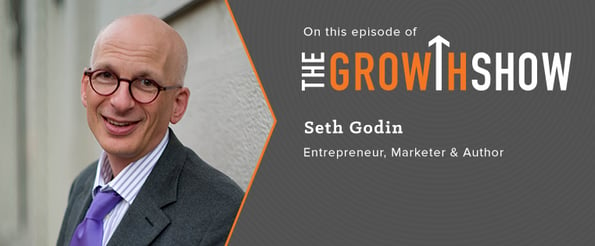 Blogging every day clarifies my thoughts -- it helps me notice things. It's one of the most important practices of my profession." - Seth Godin [Click to Tweet]
Seth Godin is a busy guy.
He's considered to be one of the best marketers on the planet. He's an entrepreneur, speaker, and author of over 20 books. Oh, and he still finds the time to blog every single day.
What's his secret?
On the most recent episode of The Growth Show, HubSpot's podcast for businesses, Seth gave HubSpot CMO Mike Volpe a peek inside his writing process. Here are his two best tips for writing and growing a successful blog:
1) Write like you talk.
One of the most common objections to blogging is "I don't have enough time to write" -- but Seth doesn't want to hear it.
"Come to me after you stop watching TV or the Internet," he says. "If you're not doing those things, I'm willing to listen to the fact that you don't have time. Everybody has time to speak. Everybody has time to talk about how their day went -- so if you write like you talk, all you have to do is write down that thing you said. It literally can take 90 seconds if you want it to."
2) Make the decision once and then commit.
Many people stop writing before they start seeing the true returns with blogging. And unlike most forms of paid marketing, "content marketing has a cumulative and compounding return." Seth shares his approach and how he's been able to stay consistent:
"If you can make a decision once, then the question isn't should I do it? It's what will I do? If you make the decision once to be a vegan, then you don't need to have a discussion with yourself every single night about whether or not to have a hamburger. If you make the decision to blog every single day, then the only discussion I have to have with myself is what's the best blog post I can write -- not should I write a post. As (Saturday Night Live Producer) Lorne Michaels has said, 'Saturday Night Live doesn't go on because it's ready. It goes on because it's 11:30.'"
Listen to the full interview on iTunes to get a behind-the-scenes look at Seth's writing process, his thoughts on building businesses, and his tip for hiring the right people.
Want to learn from Seth Godin in person? He'll be giving a keynote at INBOUND this year. Click here to learn more.