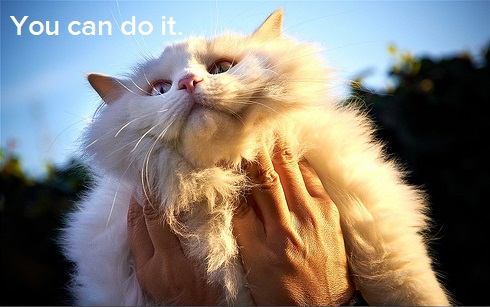 You've all heard of TED Talks, right? Their tagline is "Ideas Worth Spreading," and some colleagues of mine have surfaced one of their talks that I think has an idea worth spreading to a lot of our readers.
So, I'm blogging about it. Like bloggers do.
The TED Talk is from Google's Matt Cutts, and the central idea is that you can do anything for 30 days. "Think about something you've always wanted to add to your life, and try it for the next 30 days," Cutts says. "If you really want something badly enough, you can do anything for 30 days."
The 30-day timeline seems, to Matt, to be the perfect amount of time to add a good habit to your daily repertoire -- or subtract a harmful one. I think this is a fantastic challenge for anyone on a personal level, but I also thought maybe inbound marketers could take on the challenge in an attempt to improve their marketing.
In our office, some of us have taken on our own personal 30-day challenges (which I'll share with you at the end of the post) but I wanted to put forth both the video that explains the challenge, as well as some ideas that inbound marketers could possibly try out for the next 30 days. Monday is the start of a new month, after all, so I thought this would be a good time to noodle over what we could do every day for the next month to improve our marketing.
Here is the video clip (it's short, just a couple minutes), and some possible 30-day inbound marketing challenges we could take on below it.
The 30-Day Challenge: What Could You Do in 30 Days?
Some 30-Day Challenges for Inbound Marketers
1) Write 500 Words
Many inbound marketers cite content creation as a challenge, which is why I was immediately struck by an example Matt gave in his TED talk:
"Have you ever wanted to write a novel? Every November, tens of thousands of people try to write their own fifty thousand-word novel from scratch in 30 days. It turns out, all you have to do is write 1,667 words a day, for a month. So I did. By the way, the secret is not to go to sleep until you've written your words for the day. You might be sleep deprived, but you'll finish your novel."
This really resonated with me as a content creator, because when you're suffering from writer's block (or just really don't want to write), the best solution truly is to just do it. So, consider writing 500 words a day for one month. You could use the content for an ebook, blog post, whitepaper -- whatever. Heck, some of it might be total rubbish that you never even publish. But you'll get used to writing content, and after 30 days, I have a hunch you'll feel a lot less intimidated about content creation, and be much better and faster with it, too.
2) Learn a New Tool in Photoshop
... or another visual content editing or creation tool, if Photoshop isn't your jam. We all know visual content is hot, but we don't all know how to take advantage of it in a practical way -- because we're not all designers, and we can't all afford to hire one. At the end of this post is a free visual design crash course. That's a good place to start if you're looking to up your design chops, and maybe center your 30-day challenge around improving your ability to create visual content.
3) Learn a New Excel Function
Effective inbound marketers make data-driven decisions. If you're comfortable using Excel, you can do a lot of really cool number crunching that sheds remarkable insights on your marketing activities. Spend 30 days trying to learn new Excel functions -- you can start simple, and as you get more comfortable crunching numbers, experiment with weirder and geekier functions. Your marketing will certainly thank you.
4) Call One Customer
Marketers are typically pretty closely aligned with their sales organization -- or at least they strive to be -- but its easy to forget about leads once they become customers. But if you're truly practicing inbound marketing, you're trying to solve for the customer, not just the close. So perhaps a month of talking to customers could help you get back in touch with what it's really like to use your product or service, if you feel out of the loop. For instance, our CEO Brian Halligan makes it a habit to speak to at least three customers every week. It's an invaluable source of feedback that can help you make better Marketing and Sales decisions.
5) Sit on a Sales Call
Or perhaps you don't feel as connected to your sales organization as you wish. Spending a little time every day listening in on a sales call is an excellent use of time to get some insight into the kinds of questions Sales is fielding. You could use the information to guide your content creation, SEO, and sales enablement strategies.
6) Use a New Social Network
Sometimes people give up on those things too fast. We just don't have the time, you know? It might be time to give one of those new social networks the old college try, though. See if Pinterest really could work for you. Or Twitter. Or LinkedIn. Or Quora. If you don't put in a concerted effort on a consistent basis, it's really hard to make anything work well.
7) Run a New A/B Test
A/B tests help inbound marketers make incremental improvements to their marketing -- backed by data, not feelings. Imagine if you ran a new test every day for a month. The impact on your marketing would be huge! If it seems insane to run that many A/B tests, just check out this blog post -- there are 25 experiments in there that you can run on your email marketing alone.
8) Read for 30 Minutes
It's so easy to get into work, open your email, and dive into your work -- tasks, calls, meetings, etc. Before you know it, your day's over, and you start it all over the next day. When do you have time to actually learn new things, though? Challenge yourself to spend 30 minutes a day just ... reading. Industry news, inbound marketing news, a book, or even brand new sites you've never heard of before. I even recommend reading stuff that has nothing to do with marketing or your industry at all. It gives you perspective that helps you do your job better, spurs ideas for new types of content, and keeps you sharp when you're working with people outside the four walls of your company.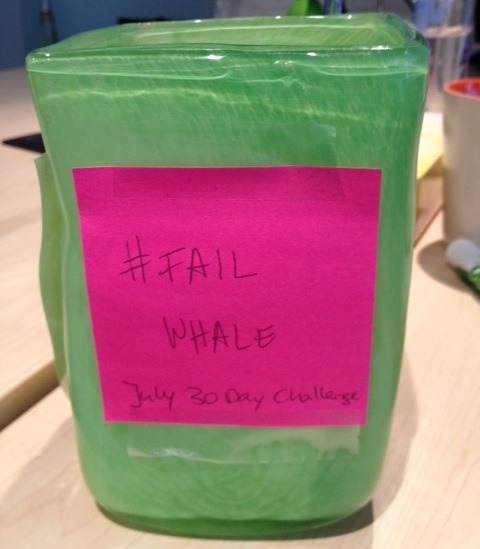 And, If You're Curious What We're Doing ...
A group of us are supporting our fundraising campaign for our partner, charity: water. We're taking on more personal challenges -- things like no sugar or no coffee (aaah!), or adding in things like reading 20 pages or working out every day. Any day we fail to live up to the challenge, we're donating a dollar to our #failwhale jar, which you can see to the right. So, you know, it makes failure a little less dire. ;-) I, personally, am taking on a 30-day challenge to not slouch, and a marketing challenge to not leave work until my inbox is under 20 emails (when you work in editorial for an inbound marketing department, that is a very real marketing-related challenge).
Whether you choose to do a personal challenge or marketing-related one, take one last piece of Matt Cutts' advice to heart:
"When I made small sustainable changes, things I could keep doing, they were more likely to stick. There's nothing wrong with big crazy challenges -- in fact, they're a ton of fun -- but they're less likely to stick ... The next 30 days are going to pass, whether you like it or not. So why not think about something you have always wanted to try, and give it a shot for the next 30 days?"
So, what will you try? Share your ideas in the comments -- or, if you've already done this challenge in the past, share what you did, and whether you stuck with it after the 30 days were up!
Image credit: Moyan_Brenn