Nearly every smart marketer wants to create content that puts their company on the map and attract more customers.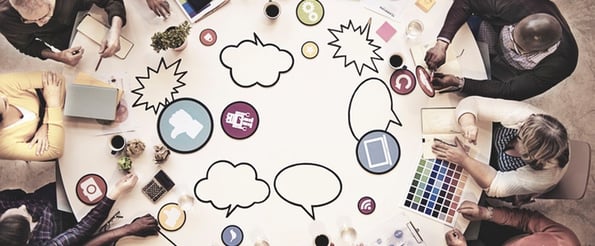 According to HubSpot's research, inbound marketing and content marketing have been the most effective method of doing business online. It's no secret that high quality and shareable content is in high demand, but it is becoming exceedingly difficult to create top-notch pieces that cut through the noise.
A big piece to the inbound marketing puzzle comes from social media. The reality is that a lot of great content goes undiscoveed due to improper optimization. Social platforms can be a highly effective advertising tool for content, but unfortunately it's all too easy to miss the mark on your strategy -- and ultimately, engagement suffers right along with your ROI.
One of the primary focuses of content creation today is shared content optimization (SCO). Shared content optimization is the process of optimizing content to increase the likelihood of social shares, impressions, and even sales.
Without including shared content optimization into a content strategy, marketing efforts can quickly fall flat. The idea behind SCO is to create magnetic content that resonates with the audience, which encourages sharing throughout various channels.
What are The Benefits of Shared Content Optimization?
SCO helps content perform its best on social media platforms. For example, you likely wouldn't post the same content on LinkedIn as you would on Twitter or Instagram.
In addition, social content optimization ensures that marketers effectively reach the target audience on the right platforms.
As a shared content optimization strategy encourages social sharing, it will naturally lead to more shares. In turn, this increases the exposure of social media profiles and can lead to an influx of followers -- especially if the shared content is highly relevant and engaging for the audience.
This blog post will teach you how to apply the best optimization techniques for social media content. It will also explain how to use proper elements such as CTAs and graphics to enhance social shares.
Furthermore, marketers can learn how to properly optimize schedules based on channels and create snack-sized content that's easy to consume. While shared content optimization isn't rocket science, there is certainly a method that needs to be applied in order to get the best results.
Further Defining Shared Content Optimization
There are several steps to creating shared content optimization, which includes optimizing for impressions and enhancing the likeliness of sharing.
However, the first step is to understand the true definition of SCO -- which is the process of adding relevant hashtags, commentary, questions, and media to spark engagement and increase social shares.
It's also important to understand that the process optimizing content will vary across social platforms and channels.
In order for shared content optimization to work for a content strategy, there must be a deep understanding of the audience, as well as the ability to track and monitor progress so efforts can be adjusted as needed.
Creating Content for SCO
Marketers can use several components for developing SCO content, including a call-to-action, graphics, hashtags, targeting specific groups, and even using videos.
Once there is content prepared to share with an audience, it will need to be optimized to maximize impressions. This can be achieved in several ways, with one of the most effective methods including the use of trending hashtags.
10.21.15 #TheFutureisNow #PepsiPerfecthttps://t.co/DCcND4SlDU

— Pepsi™ (@pepsi) October 5, 2015
However, there needs to be relevant in terms of the trending hash and the topic at hand—otherwise, the content will simply be viewed as spam.
Other ways to enhance the number of impressions with SCO is adding a call-to-action or graphics to a social post.
A call-to-action can be as simple as asking for a retweet or a Facebook share. As long as the call-to-action is compelling and provides incentive to the audience, increased social sharing and more impressions are sure to follow.
Follow @Wendys to play 30 Days of Bold and enter to win daily prizes! #getbold http://t.co/en0yEEZb

— Wendy's (@Wendys) September 14, 2012
Enhancing Messages with Visual Elements and Helpful Tools
Graphics are a big part of correctly optimizing content for social media sharing.
In fact, social media posts with images generate more engagement and have up to an 87% interaction rate with followers. Including graphics, videos, and even GIFs can greatly influence an audience to share content.
For example, take a look at BuzzFeed. BuzzFeed is known for its entertaining GIFs, and it's one of the many reasons its content is shared so frequently on social media. This brand has effectively harnessed the power of shared content optimization, and they use interesting and engaging media for maximized impressions.
Image Credit: Cleverwood.be (via BuzzFeed)
Aside from animated GIFs, marketers can also consider adding CTAs and visual cues on graphics, which will help increase shareability.
There are several ways that marketers can create graphic and video content for SCO. Adobe Photoshop is one of the most popular tools for graphic design; but if you don't have time to navigate through this complex software, you can use a user-friendly graphic design program such as Canva.
In addition, video production can be quite simple if you use tools such as VideoMakerFX, which is template-based and easy to customize.
Keep in mind that it's important to use consistent branding elements across all social media channels.
Marketers need to think beyond their logo and cover images, and expand consistent fonts and color schemes into visual elements. This will ensure that the content is completely connected with your brand, and the audience will realize its original source.
Thinking beyond the logo is demonstrated brilliantly by the Always #LikeAGirl campaign by Procter & Gamble's:
Optimizing Channels for Maximized Sharing
Data and tracking are critical to optimizing your channels for maximized sharing. One of the most important considerations to track and consider is the audience location and habits, which can help you determine the right schedule for the chosen channel.
Nearly every social media channel offers some form of analytic data. Marketers can dive into these insights to learn more about the target demographic in terms of age, income, education, marital status, and more.
Furthermore, marketers can also discover the best performing posts. This data will help marketers understand the type of content that resonates with audiences the most.
Once marketers have a solid understanding of the audience, best performing content, and peak hours for publishing content, the strategy can focus on SCO, based on audience preferences.
Automating the sharing process will increase productivity for marketers of every level. Consider using tools such as HubSpot's Social Inbox to publish posts in advance, which also allows marketers to plan out their social strategy on one convenient platform.
Selecting The Best Social Media Channels
While it's tempting to promote content on every social media channel, this method can actually be counterproductive. Marketers need to focus their time and energy on social platforms that bring them the best ROI and engagement.
Social media channels that offer the best customer interaction, comments, and shares should be the primary focus of any social media marketing strategy. Once the best social media channels are established, marketers can focus on optimizing the content in a method that makes sense for the specific platform. This means to publish posts during peak hours, use relevant hashtags, and appropriately-sized graphics.
Increase Sharing Success with Shared Content Optimization
Shared content optimization doesn't end with graphics and hashtags. Something as simple as asking the audience to share content can help increase impressions.
Best of all, the CTAs can be directly embedded into visuals -- or marketers can just simply ask for the share or retweet by using text.
Another way to increase sharing success is to create bite-sized content. Bite-sized content is easy to consume and it's fun to scan and share.
Keep in mind that the average attention span of an adult is only 8.25 seconds, so marketers face the challenge of creating content that is quickly absorbed yet engaging.
There are several ways to get your audience to bite on snackable content. For example:
Promoting large campaigns with bite-sized content
Offering bits of playful content
Re-sharing content about your brand that is submitting by users
Keeping your content suspenseful -- make the audience wonder what will happen next
Lastly, marketers can also add content suggestions to encourage extra sharing. This helps further promote existing content while encouraging additional shares on social media.
Motivate The Audience to Share on Social Media
Unfortunately, simply asking for social shares sometimes isn't enough. However, there are still ways to grab attention of the audience and motivate sharing over multiple channels.
One method is to add a human element and include emoticons within your posts -- this will add an extra layer of visual interest, and make a brand stand out from the competition.
Getting started with video? https://t.co/aw9VNEtcZZ A Modern-Day Marketer's Guide to Creating Epic Video Content 🎥 pic.twitter.com/KPOtT7w7fd

— Buffer (@buffer) August 24, 2016
Graphics are always a go-to method of increasing social shares. There is no denying the power of using graphics to optimize and promote content, and numerous studies have shown that graphics can earn content more impression than only using text.
Promoting Optimized Content
Once the content is ready to go, it's time to put your shared content optimization strategy to the test.
Publish your content on free social media channels to begin testing what works best for your schedule and audience. Do research on demographics on each platform, and carefully review data of your posts while you consistently tweak your strategy.
Furthermore, there is always the option to boost visibility with paid content campaigns. Facebook advertising is relatively inexpensive, yet it can yield great results. Be careful while optimizing paid campaigns, and be sure that the right keywords and demographics are targeted for best results.
One of the last pieces to the puzzle is recommending the content on content distribution channels. This will help promote your hard work to the largest amount of people possible, while ultimately spreading your content far and wide.
Increasing Clickthrough Rates
When you're working hard to promote and optimize your content, you don't want to forget about CTR (clickthrough rate). Driving traffic to your website from social media isn't as complicated as you think -- and it all comes down to a few simple strategies.
The first step is to ensure that your posts are attractive and cohesive. Be sure that your graphic or video is properly optimized for your social platform, and your text is free of spelling and grammatical errors.
The next consideration is to give your readers a reason to share your posts. For example, you can create content that hits a pain point and draws readers to your website for a resolution.
You should also try to alternate headlines, use actionable words, and be responsive to your followers on social media.
Enhance Your Content Strategy with Shared Content Optimization
Is shared content optimization part of your digital marketing strategy? By creating quality content, promoting with the right tools, and tapping into the target audience, marketers of every industry can see a boost in online sharing.