When it comes to determining what you want your WordPress website to look like, you'll first need to consider the theme that you plan on installing — that's because WordPress themes are how you actually design and customize the look of your entire website.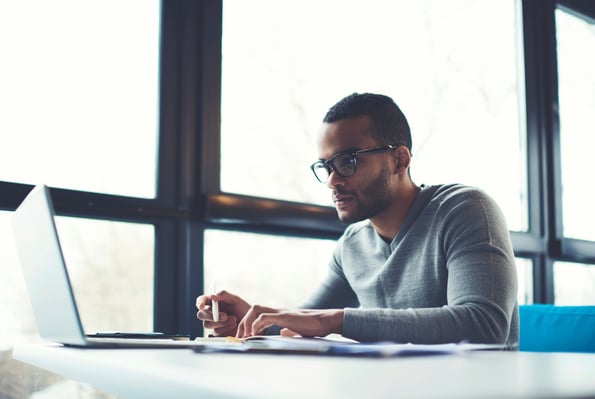 No matter what industry you're in or which style you're envisioning for your website, a simple theme — meaning minimalist, clean, and well-organized — is often ideal for businesses, visitors, and customers.
However, with the hundreds of simple WordPress themes available, finding one that fits your needs may seem like a daunting task. That's why we've done the work for you and compiled this list of our 18 favorite simple WordPress themes for you to explore.
18 of the Best Simple WordPress Themes
We have categorized 18 of our favorite simple WordPress themes by need and industry to help you determine which option is best suited for your website. Whether you need a theme to display your photography, manage your online store, complete a variety of different tasks, showcase your writing, or share your creative work, there is a simple WordPress theme option that could work for you.
Simple Multi-Purpose Themes
Whether you're looking for a simple theme for your business, blog, photography, or creative website, these multi-purpose themes can be manipulated and designed to fit your exact needs.
Inspired by modern blogging sites, Icon is one of X Theme's 4 pre-built templates. It provides minimal design to allow the written word to take center stage. Paired with X's extensive customization options, Icon can be easily edited to fit your brand personality and reflect your style.
Icon is also ideal for building a portfolio or even a WooCommerce site with a modern and minimalistic flare.
A popular feature of Icon is the option to change the background color of each post format in WordPress. You can use the same colors for multiple formats, different colors for each, or none at all. It's completely up to you.
Key Takeaways:
Modern and minimal design
Custom colors for post formats
Multiple layout options
Salient is a simple, multi-purpose theme that offers over 250 different templates you can use to customize your website. There are also hundreds of ways to customize your color scheme and typography to keep your site on-brand and matching your company's aesthetic. Salient is a lightweight theme which means it's speedy, efficient, and takes up less space on your server.
Key Takeaways:
Over 250 different customizable templates
Hundreds of color and typography options
Lightweight theme


Infinite is a simple WordPress theme with WooCommerce integration and a variety of installable demos suited for different industries such as creative, corporate, e-commerce, and other niche businesses. In addition to customizable demos, the theme also offers access to the Google Fonts library which includes over 770 different fonts. Infinite is automatically responsive on all devices, meaning you don't need to worry about creating another version of your website for mobile and tablet usage.
Key Takeaways:
WooCommerce integration
Customizable, installable demos
Access to Google Fonts library


Montblanc is a simple, multi-purpose WordPress theme ideal for creative and e-commerce use. Whether you're an author, photographer, videographer, blogger, or graphic designer, this theme has a wide range of features including five different shop and homepage layouts that allow you to display your work in a unique way. Montblanc is WooCommerce integrated so you can also sell your artistic work directly from your site.
Key Takeaways:
Creative, multi-purpose theme
Five shop and homepage layouts
WooCommerce integrated
Simple Photography Themes
If you are a photographer or want to display your artwork, these simple photography themes will allow you to share your content in a way that looks nice, organized, and doesn't detract from your work.
Avant comes with 7 Header layouts, 5 Blog layouts, 3 Footer layouts, Full site color settings, SEO settings and lots more built neatly into the WordPress Customizer so you can edit & make changes easily. Avant integrates seamlessly with WooCommerce and page builder tools like Elementor or SiteOrigin. Avant is built to be flexible, so you can create any type of website you desire.
Source
Vogue is easy to use, fully responsive, and fast loading. It overs multiple layouts, custom WooCommerce design, multiple blog layouts, and additional customizations all built beautifully into the WordPress Customizer.
Source
Fargo is a minimalist WordPress theme built for artists who want to share their photography. The theme offers unique transitions between photographs as well as Smart Galleries that seamlessly move visitors between types of content, such as text to photos to videos. If there are certain aspects of a photo that you want to make sure your viewers see, this theme offers zoom-in and zoom-out features that add a "cinematic experience" to your still photography.
Key Takeaways:
Unique transitions between photos
Smart Galleries
Zoom-in and out features


Luisa is a simple theme preferable for photographers, graphic designers, and artists who want to include written content or blog-type content with their photographs. Each photo is displayed as a portfolio post-type, meaning your projects are beautifully formatted in categories of your choosing with the option to include text if you'd like. The theme also supports videos. Lastly, Luisa is SEO-optimized to help you organically attract more traffic and visitors.
Key Takeaways:
Portfolio post-type
Option to include video
SEO-optimized


Shape is a simple WordPress theme ideal for artists who want to tell stories through photography. Shape is known for their Filterable Galleries feature which offers smooth transitions between pictures and videos as well as the ability to add written descriptions of your photographs, display your content in a way that is unique to your site, and add a comments section for your visitors. The theme even has social media support so you can post and link to your social accounts (like Google+, Twitter, and Facebook) straight from your website.
Key Takeaways:
Filterable Galleries
Ability to add comments section
Social media support


Simple Business and E-Commerce Themes
These simple business and e-commerce themes are ideal for a distraction-free and intuitive online shopping experience for your customers.
Revolution Pro is a simple WordPress theme created by StudioPress that works well for businesses and online stores. The theme is pre-styled for WooCommerce, an ecommerce platform for WordPress websites, making it easy to integrate your online shopping experience. The typography options and multiple areas of whitespace allow for a simple, focused, and straightforward experience for your visitors.
Bonus: WP Engine hosting plan users get free access to all StudioPress themes.
Enterprise is a simple, multi-purpose WordPress theme meant for businesses and corporations. The minimalist and modern-looking theme offers a variety of pages you can customize for your customers, such as FAQ, forums, support, and a knowledge base. The theme has built-in shortcodes so users without coding knowledge can still easily build their website.
Key Takeaways:
Ideal for corporations
Customizable pages include FAQ, forums, knowledge base, and more
Built-in shortcodes


Presence is a business, e-commerce, and education-focused simple WordPress theme that provides you with pre-built layouts, blog pages, and different designs. These designs are created for different industries including corporations, online stores, hotels, and real estate companies. Presence also has a drag-and-drop page builder to make website creation even easier.
Key Takeaways:
Pre-built layouts
Different designs based on industry
Drag-and-drop page builder feature


Simple Writing Themes
No matter the type of writer you are, these simple themes are ideal for featuring your work — there are options for news writing, editorial writing, business writing, blogging, and more.

Newspaper is a simple WordPress theme ideal for writing and posting articles and blogs on your website. The theme offers a newspaper template so your pieces are formatted in a layout that's easy to read for your visitors. Newspaper also has social media and YouTube integration so you can seamlessly share your content with your followers on all mediums.
Key Takeaways:
Ideal for news articles and blogs
Newspaper template
Social media and YouTube integration


If you're a blogger of any kind, Writee is a great way to share and display all of your content. This simple WordPress theme can be translated into multiple different languages and has customizable features to fit your blog no matter what you write about — whether it's food, lifestyle, fashion, or marketing. Writee also has a number of options to help you feature your photographs and other visual content in a way that complements your written work.
Key Takeaways:
Ideal for bloggers
Can be translated into other languages
Customizable options to pair written and visual content


The Breaking News is a simple, minimalist WordPress theme created for news sites and online magazines. The clean design includes distraction-free styling, whitespace that keeps visitors focused on your content, and simple typography. The theme also provides you with a number of ways to feature your most relevant, popular, and important articles.
Key Takeaways:
Ideal for news sites and magazines
Distraction-free styling and formatting
Options to feature your relevant and important articles


Simple Creative Themes
The following simple themes are ideal for any professional looking to share their creative works such as art, writing, photography, in a minimalist format.


Kalium is a simple theme ideal for any type of creative professional. The theme offers installable demos that include entire website concepts so you can simply customize the content within the theme to get your site up and running as quickly as possible. Kalium is already translated into over 16 languages and includes a wide range of portfolio layouts so you can display your work in a way that makes the most sense for your specific business and industry.
Key Takeaways:
Installable website demos
Translated into over 16 languages
Multiple portfolio layout options


Corner is a simple, creative WordPress theme that includes over 16,000 color variations to customize your website's look, WooCommerce integration to allow for a simple online shopping experience, and a clean layout for a great user experience. The theme also has several custom widget options so you can include buttons on your site that direct visitors to your social media profiles and other content.
Key Takeaways:
16,000+ color variation options
WooCommerce integration
Custom widgets


Kleanity is a simple, creative theme for anyone looking to share their portfolio. The drag-and-drop page builders allow you to easily showcase your work. There is also a Live Customizer feature that allows you to edit your pages with your content on them and view your changes instantly. The theme also auto-updates so you'll never have to worry about downloading any new software.
Key Takeaways:
Ideal for displaying portfolio work
Drag-and-drop page builder
Live Customizer feature


Simple WordPress themes are a great way to build a minimalist, clean, and straightforward website that improves user experience while getting rid of unnecessary fluff and content. Simple themes allow you to create a focused online experience for your customers and visitors that is unique, on-brand, and appealing to the eye.
No matter your industry, there's a simple WordPress theme option that works your website, buyer personas, and company. So, if a minimalist and clean design is what you envision for your site, try installing one of these 15 options and implementing your own content to see what a simple theme could do for your website.