According to Statista, retail ecommerce sales worldwide amounted to 4.28 trillion US dollars in 2020 and are projected to grow to 5.4 trillion US dollars by the end of 2022.
As online shopping continues to be one of the most popular online activities across the world, you might want to create your own ecommerce store, and there are few combos better than the WordPress CMS and a WordPress ecommerce theme.
With a content management system like WordPress, building an online store is easy. The most important steps are downloading the WooCommerce plugin and picking a WordPress theme with a clean design and ecommerce options that will enable you to transform your WordPress site into a fully functional ecommerce site.
Below are the best WordPress ecommerce themes available to try today:
How to Choose a WordPress Ecommerce Theme
Price, customization, and SEO friendliness are just a few things to consider when choosing a WordPress theme. Choosing an ecommerce theme will require you to look for a few extra features.
First and foremost, you'll want to make sure it's compatible with the WooCommerce plugin. That will allow you to set up and customize the appearance and functionality of an ecommerce site.
Next, you'll want to consider its selection of ecommerce templates. Is there a demo for your specific business niche? Or one that you can customize to work for your small business? That will make it easier and faster to create an online store with the look and feel you want.
You'll also want to make sure the theme is responsive. That way, your site visitors can easily browse and check out on your site whether they're using a desktop, tablet, or mobile device.
Finally, consider what your customers will want and expect. Do they know exactly what products they want, or do they want to browse? Do they know about your brand or need to learn more? Depending on your target audience, you might want a flashy design with animations and parallax scrolling, or a simple design that lets your products speak for themselves.
Best WordPress Ecommerce Themes
Let's take a look at some of the best ecommerce WordPress themes for shop owners on a budget, small businesses, and those looking for themes with responsive or simple designs.
Free WordPress Ecommerce Themes
A free WordPress ecommerce theme is an excellent way to keep costs low when you're first establishing an online presence for your business. The free themes below offer everything you need to set up shop, including predesigned ecommerce templates and customization options.
What we like: Neve is one of the best one-page WordPress themes for creating any type of site, including online shops. In addition to being Gutenberg-ready, it supports integrations with the most popular WordPress page builders, including Elementor and the Divi Builder. That means you can select from over 40 ecommerce-specific starter sites and customize the demo to create a truly unique ecommerce site.
What we like: Ecommerce Solution is a clean and minimal theme with a responsive design. This ecommerce theme has an image gallery, multiple sidebar layouts, and customization options for the header, footer, CTA buttons, and other parts of your site so you can attract and convert visitors into customers.
What we like: The multipurpose OceanWP theme was made to be both user-friendly for beginners and flexible for experts. It comes compatible with several leading WordPress page builders as well as WooCommerce, and much of its functionality comes as extensions which you can selectively install to keep your ecommerce site lightweight and fast. Another perk is that the core of OceanWP is free, and you can pay for only the features your site needs.
What we like: Bricksy is a flexible WooCommerce theme that lets you customize your site using the native WordPress editor and Full-Site Editing. You can tweak every part of your store using blocks and the included block patterns help you get up and running.
The built-in WooCommerce features and support for WooCommerce Blocks also make it easy to fully customize your store using the native WordPress block editor (Gutenberg). If you don't want to design your store from scratch, you can also choose from four included starter sites.
What we like: Botiga is an excellent choice for store owners looking to build a clean, fast online store using WooCommerce and the block editor. Thanks to five demos made with conversion in mind, it couldn't be easier to start. But what really makes Botiga shine is that everything is customizable - from your product cards and checkout style to product search and cart layout. It's also lightweight and optimized for SEO, so sit back and watch those sales roll in.

What we like: You would be hard-pressed to find a free WordPress themes list that doesn't mention Astra — it's one of the most-downloaded WordPress themes of all time and one of the most acclaimed and powerful free options on the market. Astra was built for speed and for compatibility with Elementor (as well as other popular page builders). Plus, it comes with several pre-built ecommerce website templates, so you'll have no trouble getting started.
What we like: As one of the best mobile-friendly WordPress themes, Hestia is an excellent option for ecommerce sites that expect a lot of mobile traffic. Designed to enable you to set up an online store in minutes, Hestia offers a deep integration with WooCommerce and user-focused one-page design with a Shop section. To customize your online store, you can use the WordPress Customizer or a popular page builder like Elementor.
What we like: Vantage is another quality free option for aspiring ecommerce site owners on a budget. Sporting over a million downloads to date, this theme packs the essentials to get your online business off the ground. It's fully mobile responsive and made to work with the SiteOrigin drag-and-drop page builder. Additional perks include Google Fonts integrated into your customizer and compatibility with all SiteOrigin widgets, letting you add special elements like testimonials, accordions, and more.
What we like: Superb eCommerce is a simple, easy-to-use, and fully-customizable theme with all the fixings needed for a great eCommerce website. A one-time-purchase will give you access to 41 premium themes, unlimited updates, and full support and documentation. The themes are professional and clean so your products will really stand out. Features include SEO optimization, WooCommerce slider compatibility, multiple blog layouts, customizable buttons and sidebars, and more.
What we like: Rife Free is a multipurpose theme that can be used to create an ecommerce site that attracts and delights your visitors. Its demo WooR includes animation effects, a parallax section, and grid-based section for displaying your products or services in the most engaging way possible. Using the built-in WordPress Customizer, you'll find over 450 options for customizing your store.
What we like: Despite its name, we'd argue this WordPress theme does more than suffice. This free multipurpose theme comes with 11 starter sites to bring your website to life, including three for ecommerce. The designs probably won't blow you away, but they're enough to engage users if you're willing to bust out the creativity. Plus, the minimalist designs are fast-loading and easy to work with.
What we like: Another great option for Elementor fans, Sydney comes from developer Athemes, acclaimed for its professional-looking WordPress themes and site templates. In fact, this theme specifically has been officially recommended by the team at Elementor.
Its layouts are clean and intuitive, with plenty of room for customization and a focus on minimalist design. You also get access to multiple desktop and mobile header options, extended WooCommerce tools, and additional Elementor widgets.
What we like: Woostify is a free WooCommerce theme that's designed to improve your ecommerce site's conversion rate. Coded according to WordPress standards and only using vanilla JavaScript instead of heavy frameworks like jQuery, Woostify is optimized to load quickly by using as little resources as possible.
To create your shop, you can choose from four product page layouts, three listing layouts, and two checkout pages. You can add videos to your product galleries and include swatches on product pages thanks to Woostify's advanced functionality, and change the appearance of your site with the WordPress Customizer.
What we like: EightStore Lite is a feature-rich WooCommerce theme designed to help you build an online store quickly and easily. In addition to providing a highly customizable homepage demo, this free theme offers advanced features, including a product slider, wishlist, featured product list, and promo ticker.
You can also embed a youtube video in a popup banner on your homepage, and choose between multiple layouts for displaying different categories on your homepage. You can add blogs, testimonials, multiple sidebars, and more to your store as well.
What we like: Storefront is the official theme designed for WooCommerce sites and has been downloaded over five million times. Storefront offers a responsive layout, nestable grid system, built-in SEO, and limited selection of core features so you can set up a store fast.
This theme is so flexible that it offers three ways to customize your store's appearance: you can use the built-in WordPress customizer, a page builder like Elementor, or create a child theme.
What we like: Our final free ecommerce theme is another option from Athemes. Botiga was built to work with WooCommerce, offering pleasing product-centered showcase layouts that you can tailor to your liking. Items may be displayed on cards, in galleries, and in a recommendations section. All of these, plus the product search and checkout interfaces, are highly customizable. It's an impressive flexibility, especially for a free ecommerce theme.
Premium WordPress Ecommerce Themes
A premium WordPress ecommerce theme will provide more flexibility and functionality than a free one. In addition to providing more features and templates out of the box, it will offer plenty of customization options and third-party app integrations to enhance your ecommerce site. Below are some of the most feature-rich and powerful ecommerce themes.
What we like: Avada is more than a simple WordPress theme — it's like a hugely popular theme and a drag-and-drop page builder combined into one product. So, with Avada, you won't need to worry about installing a separate page builder to work with your theme. The theme also comes with over 80 of pre-built website packs including several for online stores of different niches. Download one, then add dynamic layouts and sync it with WooCommerce.
To see what Avada can do, check out our list of cool websites that use the Avada theme.
What we like: Woodmart is a fully customizable and high-performing WooCommerce theme. It comes with over 60 demos for a wide range of business niches, from furniture to electronics to fashion. There's a visual drag-and-drop header layout builder, built-in mega menu, off-canvas hidden sidebar, and variable product pages with color swatches and images.
To optimize your ecommerce website's performance, Woodmart splits all CSS and JavaScript files into parts and loads only the required files. It also delivers separate pages without heavy elements to mobile devices. And everything from Woodmart's full-screen search to pagination, links, and widgets are powered by AJAX for the best and fastest shopping experience.
What we like: Divi is another option that's hard to miss if you're in the market for premium themes. It's a multipurpose theme that serves as both a theme and page builder combined into one. Divi is best known for its front-end editor. After installing, Divi transforms your WordPress page builder interface into a complete visual editor that lets you drag dozens of elements into place and add effects. Then, you can preview these changes to your website in real time.
Here's an example of how Divi works — check out this slider tutorial from its official YouTube channel:
Curious to see how a Divi site looks? Check out our favorite websites made with the Divi theme.
What we like: Porto is a customizable, easy-to-use, and fully responsive theme for WordPress. It's also optimized for speed so your shop loads fast on any device.
Offering over 35 ecommerce specific demos for medical shops, grocery stores, bookstores, bike shops, and many more, this theme is suitable for any type of ecommerce site. What sets Porto apart from other ecommerce themes is that you can mix and match sections from different demos to create the exact site you want.
What we like: Betheme is a WordPress theme that offers everything you need to create a professional website. It's responsive, easy to customize, and packed with options. You can use it for your business, portfolio, blog, or any type of site.
With over 650 pre-built websites, Betheme has one of the largest collections of pre-built demo sites available. So, if you're building an ecommerce store, there's likely to be a pre-built demo that'll help speed up the process — regardless of the type of store you run. Additionally, hundreds of the pre-built sites are WooCommerce or Elementor compatible, making it easy to get started in no time.
What we like: The multipurpose Salient theme packs some of the best pre-built website demos and page templates we've seen from any WordPress theme, including ecommerce themes. This popular option includes a front-end visual builder, a library of exclusive page elements, and WooCommerce compatibility to support your store. With all these features, Salient websites stay fast and high-performing.
What we like: Basti is an award-winning, lightweight WooCommerce theme that's designed to take advantage of the new Full-Site Editing features (FSE) in the native WordPress editor. This means that you can design every single part of your store using blocks and the WordPress editor, including your header, footer, and menu. Basti also comes with four pre-built starter layouts, along with support for Global Styles so that you can easily change up the look of your site.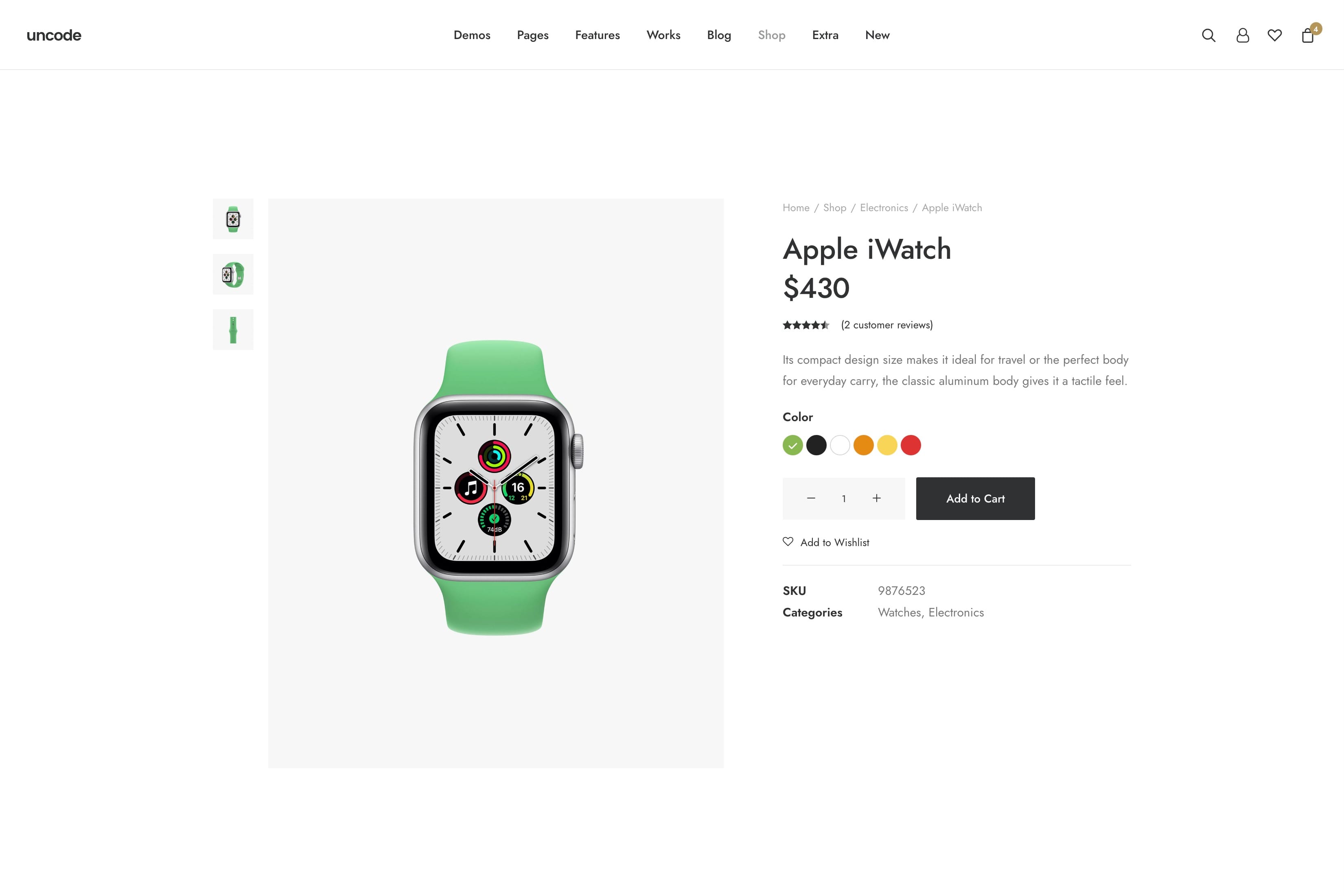 What we like: When it comes to ecommerce, you can't overlook this theme's drag-and-drop WooCommerce page builder. It has a "product builder," a customizable cart and checkout page, Ajax filters, and much more that allow you to build an online shop exactly how you want it. This includes several page layouts to choose from so you can create a user-friendly shop interface that's easy to navigate and encourages visitors to make a purchase.
What we like: For grocery store or supermarket businesses, Nest provides a clean and organized theme to sell packaged and fresh food products online. There are eight pre-built homepages, multiple layouts for the shop pages, built-in megamenu, product tabs, product filters, and more. The theme is built on Elementor so you can easily drag and drop any widget, with zero coding required.
What we like: Electro is a highly rated and downloaded WooCommerce theme, with over 22k+ sales and a nearly 5 star rating. It's built with electronics stores in mind, and well-suited for vendor-based marketplaces or affiliate websites. The one-time purchase comes with 11+ complete websites that are highly-customizable and mobile-responsive.
Electro has deep integrations with the most popular plugins to help you build a sales-oriented eCommerce website. Most notably, the Electro Extensions plugin is bundled with the theme and provides advanced features like live search, megamenu dropdown, products carousel, advanced reviews, store directory, and more.
In addition to its comprehensive and up-to-date documentation, you can also access video guides and tutorials from their YouTube channel to help you get the most out of your theme.
What we like: Shoptimizer is a WooCommerce theme from CommerceGurus built around the twin objectives of speed and conversions. Research has shown that even a one second delay results in a 7% reduction in buyers checking out, and Shoptimizer scores extremely well across all speed benchmarking services.
Shoptimizer has implemented many of Baymard's research on the topic of conversions with features such as trust badges, a distraction-free checkout and one-click order bumps incorporated.
CommerceGurus' own CommerceKit plugin is included which further extends core WooCommerce and facilitates easy integration of variation swatches, grid-based gallery layouts, instant search, and much more.
What we like: Bridge is the top-selling creative WordPress theme, and for very good reason: It comes with over 580 website demos (yes, you read that right) which you can import instantly and build off of with Elementor or WPBakery. Its designs are minimal while staying stylish and colorful, making it ideal for online stores that appreciate a bold, modern look. If you're not happy with an out-of-the-box demo, leverage Bridge's wealth of customization options to build your dream store.
What we like: Flevr is a minimalist WooCommerce theme with seven supported content types, including portfolios, slideshows, services, features, teams, partners, and testimonials. On the homepage, you can drag and drop these sections and add custom widgets, including social networking icons and a newsletter opt-in form.
What we like: FireUp is a WooCommerce theme with a clean and responsive design. This theme comes with a widgetized homepage so you can easily rearrange the existing modules, including the LayerSlider-powered slideshow. LayerSlider — included free with the theme — makes it easy to showcase your products with a variety of slide transitions, sizes, and styles.
FireUp also comes with multiple page templates including an archives, full-width, blog, and grid template. You can customize any of these templates with a custom logo, navigation menu, and widgets.
What we like: Uncode is another highly-rated ecommerce theme that for WordPress. It's packed with features that enable you to create an advanced online shop quickly, like a built-in front-end editor, over 70 complete demos, and hundreds of wireframe layouts. These wireframe layouts enable you to add pre-built sections, like footers, call to actions, counters, pricing tables, forms, and more, to pages to speed up the development and design process of your ecommerce site.
What we like: If you want easy editing options, unique demos, custom widgets, and more, Jevelin is the ecommerce theme for you.
Offering a library of website demos, Jevelin lets you install demos in one click and customize them with the built-in Unyson drag-and-drop page builder. You can add testimonial carousels, video backgrounds, maps, social media icons, and over 40 animation effects, among other design elements, to these pages to create an interactive online shopping experience for your visitors.
What we like: StorePro is a fully-featured WooCommerce theme. It comes with a responsive design, drag-and-drop homepage, and custom widgets for building a traditional ecommerce store. You can add interactive sliders, social networking buttons, and a blog to enhance your site.
What we like: Designed for the health, wellness, and lifestyle niches, Essence Pro is a beautiful, clutter-free theme for blogs, business sites, and online shops in particular. It's been pre-styled for WooCommerce so you can easily set up your shop and start generating revenue.
Built on the Genesis Framework, Essence Pro is a fully customizable, SEO-friendly, and secure option for your ecommerce site. You can customize the theme's design with the Gutenberg editor and WordPress Customizer. You can also enable Accelerated Mobile Page (AMP) compatibility and accessibility enhancements to provide the best experience to every visitor in a few clicks.
What we like: Goya is a minimalist ecommerce theme with all the features you need to build an online store quickly and easily. It offers 10 pre-designed ecommerce demo sites and powerful shopping tools, including a mini cart, wishlist, and filter options that can be placed at the top of the page, in a side bar, or as a slide-out menu.
In addition to the 10 demos, Goya comes with an About, Contact, Careers, FAQs, and Store Locator pages as well as product, checkout, and blog pages. You can customize any of these pages with the bundled WPBakery Page Builder plugin.
What we like: Biagiotti is an ecommerce theme specifically designed for beauty and cosmetic shops. It comes with six homepage demos and predesigned portfolio and blog pages. It also comes with dozens of widgets for adding a dropdown shop cart, a blog list and slider, and Twitter and Instagram social icons, and shortcodes for adding product carousels, image galleries, and pricing tables.
WordPress Ecommerce Themes for Small Businesses
According to a survey by Visual Objects, nearly one-third (29%) of small businesses planned to start using a website in 2020. If you're like these small businesses, then you'll need a theme to help you create an engaging and effective website. The theme should meet some (or all) of the following criteria:
Use easy-to-read fonts
Be optimized for fast loading
Offer a selection of pre-designed templates
Display clear call-to-actions
Include contact information or a contact form
Offer an intuitive navigation system
Below are some of the best ecommerce themes for small businesses that check off the items above.
Image Source
What we like: XStore is a highly-customizable WooCommerce theme that can be used to create nearly any type of e-commerce site. Choose from over 100 pre-designed templates for nearly any type of goods you may sell, from bikes to furniture and shoes.
With XStore, you also have over 350+ included blocks that make designing pages even more streamlined.
What we like: Ciyashop is ideal for any small business. It has over 90 predesigned demo sites for all types of businesses, from honey shops to fashion stores.
It also comes with ecommerce features out-of-the-box, including an option to authenticate product pages with embedded videos, size guides, and zoom, a product request form, and a product quick view option.
What we like: The Gem is another high-performing WordPress theme that can be used for any ecommerce niche. In addition to being responsive and fast-loading, The Gem provides over 400 demo sites (including 14 ecommerce-specific ones), over 150 amazing page designs, and over 250 styling elements. That means you can create a truly unique site for your unique small business.
What we like: Raboda is a responsive theme that is best suited for creating a fashion or electronics shop. The theme includes multiple homepage layouts and customization options. It also comes loaded with ecommerce features like a product quick view options, Ajax shopping cart, wishlist, compare product function, and zoom.
Best Responsive Ecommerce Themes
In 2017, mobile retail commerce sales made up 34.5% of retail ecommerce sales in the United States. In 2021, that percentage is expected to increase to 53.9%.
With mobile expected to make up the majority of ecommerce sales this year, it's never been more important to have a responsive website. If you don't, then you risk losing mobile traffic and sales.
Creating a responsive ecommerce site on WordPress is easy thanks to responsive themes. While most themes on this list are responsive, the themes below are responsive, optimized for speed, and have a reputation of high performance.
What we like: H-Code offers super sleek designs for modern ecommerce sites and, despite what its name suggests, gives you tight control over your site's front end without needing to write a line of code yourself. You can add parallax scrolling, image galleries, testimonials, forms, and a lot more out of the box. Build your site from scratch, choose from one of 50 demo sites to import, or combine any of its nearly 200 demo pages into one unified store.
What we like: In addition to having a responsive design, Flatsome is optimized for speed thanks to its clean and lightweight codebase. It also comes with a built-in responsive page builder, called the Live Page Builder, so you can easily create and add elements like sliders and grids to your online store that will look good on any device.
Flatsome also includes over 15 pre-made Shop pages, which you can import in one click. You can even mix and match sections and elements of different demos — like headers, pages, colors and fonts — using the Theme Option Panel.
What we like: eMaxStore is a top-rated ecommerce theme with advanced functionality and features, including a parallax slider, stepwise checkout process, product slider widget, related products carousel, and fixed floating navigation.
What's unqiue about eMaxStore is that it has a fluid design — not a responsive design. The difference is that a responsive website uses breakpoints to rearrange or eliminate elements on a page, while a fluid website resizes them. While a responsive website might appear quite different on a desktop versus a tablet or a smartphone, a fluid website will look consistent across devices. Fluid design isn't an ideal solution for every ecommerce site — but it will benefit sites that are relatively light on text, media, and interactive features.
What we like: TheFox is a WPBakery-powered theme that, unlike many other options here, doesn't have a massive library of importable demos. Still, what it does offer is very high quality, including some great ecommerce importable sites you can use. In addition, TheFox packs some handy features for beginner site owners like a shortcode generator, CSS animations, and over 250 design details you can toggle to your liking.
What we like: Puca is an ecommerce theme that offers over 50 pre-designed homepages and advanced ecommerce features, like product quick view, product sale countdown, product wishlists, smart filters, customer reviews, and more.
What sets Puca apart from other ecommerce themes is that it was developed mobile-first. Meaning, the code was optimized for mobile devices (i.e. the smallest screen size) first and then scaled up to display on larger screens. As such, Puca offers layouts that have been specifically optimized for mobile, a smart and flexible mobile menu, and an "Add to Cart" mobile popup that shows the variations of a product in a popup on the same page. That means, mobile customers can add the exact product they want to their cart without leaving the page or opening a new tab.
Simple WordPress Ecommerce Themes
A simple WordPress ecommerce theme will offer a minimalist design that emphasizes simplicity, balance, alignment, and contrast. In web design, this translates into lots of white space, large images, and little text. Beyond aesthetics, the goal of minimalist web design is to only offer the features and content a user needs to accomplish a specific task, like making a purchase.
Below are the best options for a simple WordPress ecommerce theme.
What we like: Block Shop is a minimalist WooCommerce theme that's designed to only offer the features and customization options you need. You get four archive page layouts, nine product page layouts, nine blog layouts, and five landing page layouts for building out your shop.
To customize the look and feel of your shop, you can upload a custom logo, adjust font sizes, set different color schemes, and select a pagination style (classic pagination, infinite loading, or a "Load More" button) — all without installing a plugin or coding.
What we like: With a clean, grid-based design, Product is a minimalist theme that is suitable for any ecommerce shop. In addition to featuring products on the homepage and Shop page, you can display social media icons in the header, recent posts in the sidebar, and paragraphs of text in the footer.
The theme has a mobile-friendly design so visitors can easily browse your products whether they're on a smartphone or desktop.
What we like: While it might be tempting to throw all your store's offerings at visitors at once, The Retailer theme isn't afraid to strip things back and give users only the essentials. Easy to set up, lightweight, responsive, and compatible with popular drag-and-drop editors (and WooCommerce, of course), this theme is worth considering if you want to nail the fundamentals of a well-built online store.
What we like: Metro is another minimal theme for online stores that was designed for WooCommerce. The interface avoids any flashiness, putting all the focus on the quality of your products in a mobile-friendly display. It also integrates with the Gutenberg editor and Elementor for a seamless building experience, and a healthy selection of ecommerce page templates to support almost any minimalist store.
What we like: Designed using a combination of user research, psychology, and behavioral science, this theme is optimized to lower your bounce rate and boost your conversions and sales.
WooCart comes with a drag-and-drop homepage and unlimited colors, backgrounds, and sidebars for building out your site. Once you have that building blocks in place, you can add design features like AJAX filters, carousel-based categories, parallax sections, and an animated mobile menu to engage and delight your customers.
What we like: The WooCommerce WordPress Auction Theme from Sitemile was the first on the market, launched in 2012 and still going strong today. It's one of the most advanced auction theme on the market, allowing you to launch an auction website like eBay. It can also handle dutch auction, reverse auction, and other types of auctions.
What we like: With more than 31,000 online stores powered by ShopKeeper, this easy-to-use theme is one of the most popular themes for WooCommerce.
It's much richer in functionality than the two themes, above but is designed to be as beginner-friendly as possible. You can choose from dozens of pre-designed templates and customize them with the built-in WPBakery page builder, dragging and dropping elements like "Add to Cart" buttons, FAQs, and banners on the page.
Selecting Your WordPress Ecommerce Theme
Before selecting a WordPress ecommerce theme for your business, you have to prioritize your needs and goals. If you're just starting your online store and need to keep costs low, you may need a free theme. If you can afford a premium theme, then you may want one with a fully responsive design or a very simple design. By carefully considering and selecting an ecommerce theme, you'll establish a solid foundation for your online store.
Editor's note: This post was originally published in April 2021 and has been updated for comprehensiveness.