The perfect vacation combines rest and relaxation. You have a good book in one hand and your favorite beverage in the other as you sit on the beach hearing the soothing sounds of ocean waves.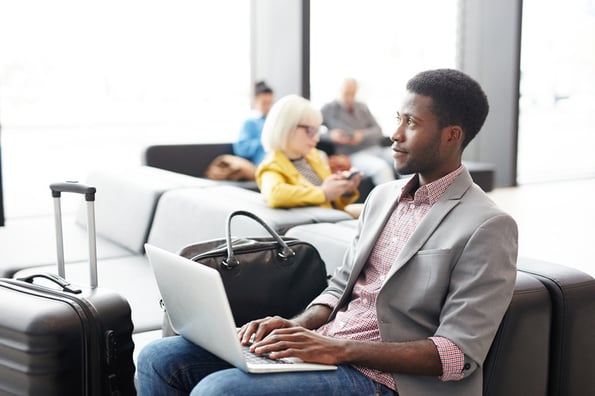 But for most customers, their travel journeys start in front of their computer, on a travel site scouring though vacation packages online.
Your travel business site serves as an information hub for customers to learn about the best destinations, get the latest travel tips, and map out their plans with inspiration from other travelers. That's why it's important for you to build a website with specific web pages and content to help your customers have the best travel experience.

In this post, we'll cover how to create a travel business site using WordPress along with several theme and plugin recommendations to enhance your visitor experience..
Key Elements of a Travel Business Site
An effective travel business site tells a story behind the brand and informs the visitor about booking the best traveling experience. To achieve this goal, you'll want to include the following web pages and content on your site.
Travel Site Web Pages
No two travel business sites are the same. However, below are a few essential web pages all sites need to attract customers and run an online travel business.
About Page
On your About page, you'll want to give visitors a company overview of your brand. Tell them the story of how your business started and highlight your core principles. This page is also great for showcasing your senior leadership team. And don't be shy—mention any notable awards and philanthropic efforts.
Support Page
Be fully accessible to your customers to answer their questions or to respond to their feedback. Most travel businesses will offer multiple communication options. You can have customers contact your company by phone, email, or live chat.
Destinations Page
A Destinations page highlights recommended travel locations for your visitors. Include the name of the city and an overview of things to explore. You can add a Google Map showing the exact location, top hotels in the city, and popular activities to do. You'll want to post eye-catching pictures of the city, too.
Booking Page
This page provides visitors with details about their travel reservations. They can verify their destination, travel dates, and any other accommodations. It's also where your customers can securely process their payments for their bookings.
Types of Travel Website Content
Beyond the necessary web pages, you'll want to create engaging travel content for your visitors. That way, your business becomes a one-stop shop to learn about travel and to book trips.
Featured Getaways
Travelers desire quality travel experiences and want to know exactly what they get and for how much. You can feature specific getaways, like last-minute trips and romantic rendezvouses to showcase your travel packages. It's a great way to sell travel bundles with a flight, hotel, and car.
Travel Tips
Novice travelers need help to prepare for their trips. You can offer sound traveling advice to your customers with blog posts about what to pack in their suitcases, when to arrive at the airport, and how to keep their valuables safe during a trip.
Social Proof
No one likes missing out on a great travel experience. You can display pictures of your customers traveling to entice hesitant buyers to book on your site. You also can ask customers to submit testimonials for you to display on your site. Just make sure the testimonials provide a detailed description of how your business had a positive impact on the customer's experience.
How to Create a Travel Business Site Using WordPress
WordPress is an easy-to-use platform for building your travel business site. The platform gives you the flexibility to customize content and add visuals to match your brand's style. We've researched the main components of creating a travel business site and found the following details to be helpful.
Travel Site Hosting
While WordPress is free software, you'll still need to purchase hosting to get your travel business site live on the internet. The best hosting providers offer reliable services with security to protect your site from hackers and performance tools to speed up your page load times.
Travel Site Themes
WordPress themes are professional templates to help you design your travel business site. It removes the need to hire a designer to make your site pretty. Instead, themes make it easy to create visually stunning sites. Here are a few travel-related themes you can choose from.
Travel is a responsive design theme with pages to highlight your hotel, resort, and beach villa packages. It comes with pre-built templates, like the About Us, Contact Us, and Testimonial pages. You can customize this theme with the drag-and-drop builder Divi.
Source: Pennyblack Templates
Travel Tour is a comprehensive tour management theme to help your travel business site stand out from competitors. You'll get a high-quality, pre-made website with the ability to add editable booking forms to gather more customer information. You also can accept multiple customer deposits and manage them in a single dashboard.
Source: Envato Market
Kallyas lets you set up a full website in a matter of minutes. The visual builder offers an easy user experience for any novice without requiring any additional plugins. Take your pick of multiple homepage layouts, hero scenes, and custom page designs. There's even an option to add a photo gallery to display your social proof.
Source: Envato Market
Travel Time is the perfect theme for any travel business, including agencies, hotel chains, and tour companies. You get a flexible design to post your top destinations to customers. Other powerful features include animations to build interactive pages, form builders to create contact forms, and custom widgets to add social media icons.
Source: Envato Market
Travel Site Plugins
Every theme won't offer all the tools you need to create a travel business site. That's where plugins step in to give your site extra functionality to improve the visitor experience.
WP Travel Engine is a booking plugin to create travel and tour packages. Its smart booking process feature adjusts the price automatically for your customers based on the number of guests selected for the booking. You can send custom email notifications to your customers informing them about their booking details. Plus, you can easily create destination pages to spark visitors' interest in specific cities.
Source: WordPress
Timeline Express helps you build animated vertical timelines on your travel business site. This plugin is perfect for your About page, so you can highlight the history of your travel business to your visitors. You get access to hundreds of Font Awesome icons to make a unique timeline.
Source: WordPress
Next up is Gallery Bank, a responsive photo gallery plugin. With Gallery Bank, you can make a thumbnail or slideshow collage of images. You can display your photo gallery in a post, page, or widget area. This plugin is a good resource for showcasing destination images or customer photos as social proof.
Source: WordPress
With Stellar Places, you can give your customers insight into a location using Google Maps. You can pinpoint your customers to nearby stores and local events at their destination. The plugin's user-friendly interface offers a simple way to embed maps to your site using shortcode.
Source: WordPress
Strong Testimonials helps you collect and publish your customer testimonials. With its drag-and-drop feature, you can sort by oldest, newest, or random order to display your reviews. This tool also integrates with several translation plugins to help you attract and communicate with an international audience.
Source: WordPress
Take your customers on a remarkable travel journey from selecting a top destination to booking their trip with ease. It all starts with creating a travel business site using WordPress. With beautiful themes and purposeful plugins, your customers get to book an awesome travel experience and your business earns more revenue.