Even though blockchain is arguably one of the most revolutionary emerging technologies right now, do you think you could name a blockchain company off the top of your head?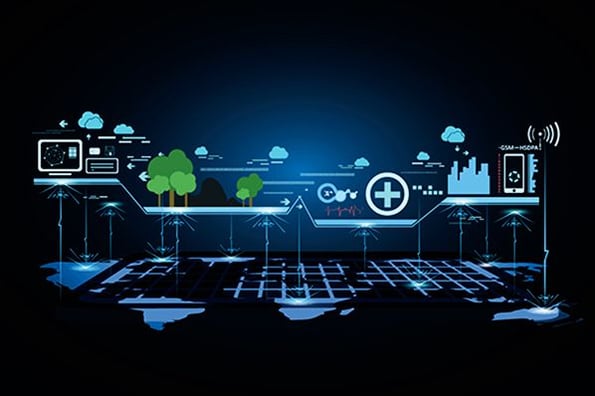 It's hard to name more than a handful of blockchain companies today -- the cryptocurrency and blockchain space are still relatively new, so most blockchain companies don't get a lot of exposure.
But let's say blockchain explodes in popularity soon. Knowing which companies already make headlines and which ones are due for some press would be useful -- if you know which blockchain companies are poised for success and which ones aren't, you'll be more likely to pick the right blockchain company for your business and the right crypto assets for your investment portfolio.
With that in mind, read on to learn about the 11 blockchain companies you should be paying attention to today.
11 Blockchain Companies You Should Be Paying Attention To
Steem is like YouTube on blockchain, but instead of paying content creators in fiat currency, publishers use Steem to pay content creators in STEEM, the platform's cryptocurrency, which is easily convertible to Bitcoin and Ether. Similar to how YouTube pays top content producers to create the platform's best videos, publishers who use Steem can reward their top content creators and curators for publishing popular content.
To prove that Steem can be the future of content monetization, they built a social media network called Steemit on their platform. Steemit is still in Beta, but it has attracted over 920,000 users who publish more than 1.5 million posts each month. Steem has also paid content creators over $40 million in its digital asset, which are called smart media tokens, proving the platform's viability to publishers everywhere.
According to the Institute of International Finance, global payments cost $1.6 trillion each year and usually take an average of three to five days just to settle. Brad Garlinghouse, a former executive at AOL and Yahoo!, knew he could solve this frustratingly prevalent problem with blockchain technology, so, in 2012, he founded Ripple.
The company has its own payment infrastructure, RippleNet, and through it, banks, payment providers, and digital asset exchanges can connect with each other to seamlessly transfer money, no matter where they're located.
Ripple's technology allows banks to settle cross-border payments in real-time, lets payment providers use Ripple's own cryptocurrency, XRP, to lower liquidity costs, and enables corporations to instantly send global payments to their beneficiaries. Over 75 banks across the globe have implemented and tested Ripple's technology with their own internal payment systems.
Chain is a blockchain development company that builds cryptographic ledger systems for the financial services industry. Their blockchain-based tools help banks, stock exchanges, and credit-card companies quickly and securely store, trade, and manage financial assets.
By setting up strategic partnerships with financial titans like Capital One, Citigroup, Visa, and Nasdaq, Chain has accelerated Wall Street's adoption of blockchain technology.
Founded in 2007 as a mobile app development company, IntellectSoft has evolved into a software solution development company that provides custom software development and consultancy services in emerging technologies, like blockchain, Internet of things, artificial intelligence, augmented reality, cloud computing and more.
For almost 11 years, they've helped organizations design, develop, implement and maintain the latest software solutions in their businesses. Their blockchain experts also boost enterprise and Fortune 500 companies' security by integrating distributed ledger technologies, identity solutions, and smart contracts into their processes.
Using Cloud Foundry, an open source cloud application platform, Altoros can build, test, deploy, and scale their customers' blockchain frameworks easier and faster than other software development companies.
Throughout their blockchain consultancy process, Altoros helps enterprises evaluate the viability of their blockchain-based solution, design and develop the solution's architecture, and maintain and enhance the solution for their client's customers.
Celsius Network is like a blockchain bank -- users can deposit, borrow, and earn interest on their crypto. For instance, you can hold your cryptocurrency in the network and earn up to 5% interest, use your cryptocurrency as collateral for dollar loans at a 9% interest rate, and short Bitcoin or Ethereum if you feel bearish about the crypto market. It's like banking on blockchain.
In 2008, Leeway Hertz launched one of the first apps on Apple's AppStore. Now, they've jumped into another new industry, blockchain, to help enterprise companies develop Blockchain applications, like distributed ledgers, smart contracts, and decentralized apps.
As a custom software development company with a proven track record in IT consultancy, they plan to be the leading blockchain developer for the biggest brands in the world.
OmiseGo is a Ethereum-based financial network for payment services, merchants, and financial institutions. Their public OMG network and decentralized exchange enable transparent, peer-to-peer transactions of any asset in real-time.
Digital wallet providers can also connect to the OMG network through their open source SDK to enable wallet-to-wallet transactions of crypto and fiat currencies and asset trades from different blockchain protocols. In August 2017, OmiseGO became the first Ethereum token with a market capitalization over $1 billion.
Blockchangers isn't like most blockchain companies. Even though they help their clients understand and leverage blockchain technology through lectures, workshops, consulting, and development services, like other blockchain companies, they consult their clients based off the assumption that governments will regulate cryptocurrency one day, which the creators of blockchain aimed to fight against. This is the most realistic way to consult clients who want to use crypto and blockchain -- the only way governments can fight cryptocurrency fraud is by regulating it.
Blockchangers also hosts Northern Europe's largest blockchain conference, Oslo Blockchain Day, and their clients include PwC, DNB Bank, and more.
ChromaWay is a blockchain platform that provides smart contract solutions for real estate and finance companies. In 2017, they made headlines for building the Green Assets Wallet -- a platform that connects green investors with potential investment opportunities -- to help meet the goals of the Paris Climate Agreement.
After a group of Indian engineers founded Techracers in 2012, the blockchain solutions provider experienced so much explosive growth that they had to move its headquarters to the U.S. in 2017. They're now one of the most robust blockchain solutions provider on the market.
For their clients, Techracers build customized solutions in every facet of blockchain technology, like ICO launches, smart contract audits, smart contracts development, cryptocurrency development, cryptocurrency wallet development, cryptocurrency exchange development, and private blockchain development.