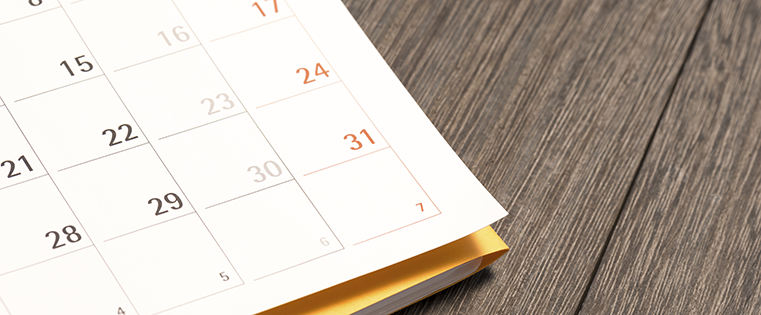 We have a 9 a.m. meeting? Hold on, let me just click around the internet like a maniac trying to find something for the morning tweet. Who schedules 9 a.m. meetings, anyway?
I digress. The point of that little scenario is that things come up. We have meetings. We run late. We have shifting priorities and new deadlines creeping up left and right. And it's really, really hard to get any meaningful amount of work done when you have the next social media update looming over your head every 30, 60, 90 minutes. For Twitter. And then Facebook. Also LinkedIn. Oh and you're giving Google+ a shot, too. Can't a marketer get a moment of peace?
The thing is, social media marketing doesn't have to be hard -- it just moves so insanely fast that it's hard to fit it all in. Which is why pre-scheduled content should be your best friend in the world! Here at HubSpot, we've created a templated schedule that we fill in at the same day and time every single week for the following week's social media content. That means when we burst through the office doors at 9 a.m., it's not in panic mode looking for something to push out to our Facebook fans -- we already took care of that last Friday before we left.
So we thought it was high time we share that social media scheduling template with you, and walk you through exactly how to fill it out. And good news -- it's not complicated. This is one of those things that, when you download, you can keep on your desktop and pull up for a short chunk of time each week ... then set it and forget it. This blog post will walk you through the process with screenshots, but you can also just download the template now and make this walk-through interactive. You're going to love how much easier your life is after this!
How to Use Your Social Media Publishing Schedule

Alright, if you open up the social media publishing template, you'll notice the bottom of the Excel spreadsheet has several different tabs, most of which are dedicated to a specific social network.

The reason you'll want a different worksheet for every social network is simply that every social network is a little bit different; you can't just craft one social media update and use it across LinkedIn, Facebook, Twitter, and Google+! Now, you may promote the same piece of content across all four of those networks, but that doesn't mean you'll craft your update the same way. This section will walk you through how to fill out each of the four tabs you see in this template -- the updates for Twitter, Facebook, LinkedIn, and Google+.
This section will also demonstrate how to modify this template so it can be uploaded to a third-party publishing app (if you're using one) to make your social media publishing even more efficient. Since I can't walk you through every single third-party social media publishing app, I'm selecting HootSuite for the purposes of demonstration (which, did you know is now integrated with HubSpot?!) -- though you can certainly use this template with any other publishing tool you choose to plan your updates in advance!
Twitter Updates
Alright, ready to roll? Let's get started and skip over that first tab you see (it's a cover sheet so you can have the summary in this section of our blog post with you at all times) and start with the tab labeled "Twitter Updates." The first four columns, "Day," "Date," "Time," and "Date and Time" are there for your convenience, and if you choose to use a third-party app for pre-scheduling your tweets, these columns will also play a role that we'll explain momentarily.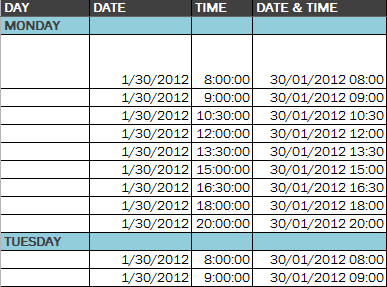 So for now, just fill in the date on which you'd like your updates to publish to Twitter, and the time at which you'd like them to go out. The "Date & Time" column will automatically change based on what you input in the previous two columns -- and this is the column something like HootSuite will read.
Now, let's move over to the "Tweet Copy" column.

In the "Tweet Copy" column, simply input the copy you'd like to appear in your tweet, bearing in mind you should keep it under 114 characters to allow enough room for a link. This spreadsheet will auto-calculate the number of characters you've entered to keep you on point. After you've composed your tweet, paste the URL you'd like to include in your tweet in the "Link" column; in the last column labeled "Tracking Token," include the tracking token you'll add to the end of that link to track the source of your traffic. Remember, tracking tokens are how you'll know whether all of these tweets are actually driving traffic, leads, and customers for your business!
Now, if you would also like to upload these tweets to HootSuite, you can! Simply convert this spreadsheet to a .csv, and delete all of the columns except "Date and Time," "Tweet Copy," and "Link" -- being sure you've added the tracking token from the last column to the end of your link before hitting delete. It's also important to double check your link once you add that tracking token to ensure you don't have two slashes, as often your URL will end with a forward slash, and your tracking token will begin with a forward slash. Once you've double checked this, you'll have a .csv that is ready to upload right to HootSuite!
Facebook Updates
How easy was that? Now, let's talk about how to set up your social media content in advance with this template ... but for Facebook! Navigate on over to the worksheet in your template labeled "Facebook Updates."

Facebook updates work similarly to Twitter updates. The first three columns, "Day," "Date," "Time," and "Date and Time" are there for your convenience, with "Date and Time" also playing a role if you choose to use this spreadsheet to upload updates to HootSuite, as that's the date and time format that app accepts.
But first, let's head on over to the column labeled "Update Copy" and start by simply inputting the copy you'd like to appear in your status updates, corresponding to the days and times you'd like those updates to run. Then move to the "Link" column and input the link you'll be, well, linking to in the update! Finally, insert a tracking token in the last column to ensure you can track all of the traffic that comes from Facebook.
If you're using HootSuite to upload your Facebook updates, you'll follow the same protocol you followed when uploading your tweets: Save the spreadsheet as a .csv, add the tracking token to the end of your link (bewaring of the double slash), and delete all the columns except "Date and Time," "Update Copy," and "Link." But be forewarned! HootSuite doesn't automatically pull in the thumbnail images from each link when you bulk upload Facebook updates! That means updates will post to your wall without an image. If you want an image to appear when uploading via HootSuite, you'll have to insert each link into HootSuite manually.
LinkedIn Updates
LinkedIn updates are the most unique of all, because you have both Company Pages and LinkedIn Groups to consider. To demonstrate the difference between Company Page updates and LinkedIn Group updates, let's navigate over to the column labeled "Title (For Group Discussions Only)."
LinkedIn Groups let you post a few kinds of updates, one of which is something called a Discussion. You will only fill out this column if you are looking to post a Discussion to your LinkedIn Group -- because Discussions are the only update you'll be posting that requires a title. If you're not posting a Discussion to a LinkedIn Group, you don't need to fill out this field, because your update will not have a title.
You'll fill out the next column, "Update Copy," for every type of update you post, whether it's for a Company Page or a Group. Simply input your copy into this column, and then navigate to the next two columns, "Link" and "Tracking Token," to input the URL to which you're directing readers, and the tracking token you'll use to track them.
And if you were hoping to bulk upload and schedule your updates to LinkedIn via a third-party app, you're out of luck; they're pretty tight-lipped with their API and as such bulk uploads and auto-schedules for LinkedIn aren't possible. Get ready to input these updates manually!
A note on tone: Notice that the sample LinkedIn update in the template (and screenshot above) is far less casual that what you'll see in our sample Twitter and Facebook updates. LinkedIn is a network for professionals, and while you needn't be stodgy, the updates you see posted there are typically more, well, professional in tone than what's posted on the other social networks featured in this blog post.
Google+ Updates
Finally, we come to Google+. Start in the "Update Copy" column and input your status update. Then move over to the last two columns and input the link to which you're directing readers, and the tracking token you'll use at the end of that URL to track visitors coming to your site from Google+.
You can upload your Google+ updates via a third-party app like HootSuite, but like Facebook, your images will not come through unless you manually publish them. If you do choose to use HootSuite to publish your Google+ updates, you'll follow the same steps as you did with Facebook and delete all the columns except "Date and Time," "Update Copy," and "Link" -- after you added the tracking token to your URL, of course!
Where to Source Social Media Content

This template also provides you with a worksheet called "Content Repository," which should help you maintain a healthy backlog of content to make sourcing social media content each week a breeze.

The Content Repository helps you keep track of the content you have in your arsenal that can be promoted on social media. As your inbound marketing strategy grows, you'll have accumulated an impressive bank of content and offers that you'll want to resurface and promote via social media. To ensure you don't lose track of all of that great content, record it on this tab so you're never at a loss for social media content! If the content you're promoting is not evergreen, however, be sure to include an expiration date in the column marked "Expiration" so you don't promote it when it's too late for readers to take advantage of it.
This tab will not only help you breeze through updating this schedule each week since all of your content is right at your fingertips and easily sortable -- it will also ensure you have a healthy balance of content. That means you're not just publishing, say, links to blog posts you've written. Nope. You're publishing lead generation content like ebooks, webinars, coupons, consultations, and free trials, plus tons of visual content to keep your network on their toes! And you're balancing that self-promotion with third-party content, too, like industry blogs and news developments. That seems like a pretty big mix of content to come up with every day, but when you've got it all indexed and easily sortable through the magic of Excel, suddenly it isn't so daunting!
Don't Forget ...

Whether you use this spreadsheet to plan your content out in advance or upload to a third-party app, you'll still need to supplement these updates with on-the-fly content. Breaking news hits? Whip up a quick update and tracking token to share it with your network. Someone in your network tweets something interesting? Give it a retweet with some commentary. Got a fascinating comment on one of your updates? Respond with a "thank you" for their interaction. This is all to say that coming up with and scheduling your social media content in advance is a huge time-saver, but you still need to monitor your social presence throughout the day to ensure you're not missing any newsjacking, customer service, or PR opportunities, and regularly engaging with your network, too!
Finally, we encourage you to experiment with your social media publishing. This template provides publishing dates and times for each social network, but you may find those are way too many updates for you to fill -- or perhaps even too infrequent for your booming social presence. Adjust your social media publishing frequency based on each individual network, and of course, your individual audience.